Hitori No Shita 2: Zensei-Hen

Genre:
Supernatural, Drama, Action
---
---
---
Synopsis
After an intense tournament, Chou Soran is finally the winner of the Raten Tournament. Gaining the right to become next Tenshi (celestial priest), Chou Soran becomes suspicious and refuses to accept the ceremonial Rules of the Tenshi, which enrages the Old Tenshi as he enters into a fury.
On the other side of things, Zensei is targeting the 8 secret arts attack Chou Reigyoku. In order to quell the fights, Chou Soran heads toward the battlefield. What is the purpose of Zensei? Will Soran and Houhou find their answers they seek?
Characters & Voice Actors List
Chou Soran

Voice Actor: Atsushi Tamaru
---
Soran learned the 'Kinko' curse and 'Yougorai' techniques in his childhood, and can use the 'Kitai Genryuu', one of the eight secret ancient techniques. His grandfather told him to never use this technique in front of other people. Soran can be considered a very normal person at first glance, but he's a delicate and careful person. In order to discover the truth about his grandfather, Soran provoked and defeated Reigyoku Chou during the 'Raten Tournament' and became the leader of his clan. However, he had doubts about the 'celestial laws' he has to accept to become the leader of the clan and couldn't ask Rou Tenshi for the answers he was always wanted to know.
Fuu Houhou

Voice Actor: Saori Hayami
---
She's a mysterious and immortal girl. She possesses strong resilience and she always looks like a very young girl. Fuu looks very natural and always wears slovenly clothing, but she's a really beautiful woman. During the 'Raten Tournament' she fought with Ou Riken, we learned that her spirit and soul may not be connected.
Chou Reigyoku

Voice Actor: Keisuke Toriumi
---
Reigyoku is the last disciple of Rou Tenshi. He is very innocent and gentle. Polite, he respects his master a lot. Because of a mistake he made in the past, he wasn't able to acquire the 'Yougorai' ancient technique. During his fight against Soran in the 'Raten Tournament', he throws away his immoderate passion for the 'Yougorai' technique and came to accept being true to himself.
Natsuka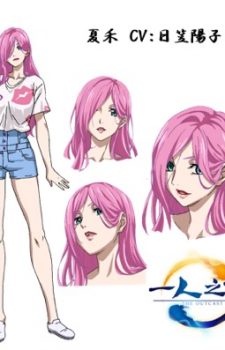 Voice Actor: Youko Hikasa
---
Natsuka is a member of a strange syndicate named 'Zensei', she's able to use her looks to seduce other persons. This ability is called 'a bone cut sword'. During the 'Raten Tournament' she changed her appearance and blended in with the audience of the Ryukozan.
Rou Tenshi

Voice Actor: Masafumi Kobatake
---
A Celestial Priest (Tenshi) at Ryukozan and one of the 10 elders, Rou Tenshi has the apprentice of the brother of Chou Soran's grandfather, Chou Shakurin. He promised Soran to tell him the truth about his grandfather if he wins the tournament, but it seems that this 'truth' is somehow connected to the ceremonial rules of the Tenshi.
Riku Kin

Voice Actor: Taiten Kusunoki
---
One of the 10 elders, he inherited the power of his best friend.
He has a deep connection with Zensei and his good friends with Rou Tenshi.
Den Shinchuu

Voice Actor: Tomoyuki Maruyama
---
One of the Elders of Ryukozan. He was a master with Rou Tenshi and Chou Soran grandfather, Chou Shakurin, as his apprentices. When he was younger, he was in charge of bringing back Chou Shakurin to the Tenshi at Ryukozan, but due to the fierce fights, he lost his legs and he claims that he wasn't able to find Chou Shakurin. However, the actual truth is slightly different...
Other Title
The Outcast 2: Zensei Chapter
Theme Songs

Opening Song: Kizudarake no Bokura by NormCore, WuYa by Zuixue

Adaptation

Manhua


Main Staff

Original Creator: Mier
Director: Chen Ye, Wang Xin
Character Design: Li Shiwen
Animation Director: Jin Rongzai
Sound Director: Wu Ting, Takumi Itou
(Credit Honey's Anime when you use our description.)