One series that was a real flop from the winter anime 2017 season had to be Hand Shakers. It gave us promises of K's—otherwise known as K Project—great plotline and beautiful animation. While Hand Shakers' plot was a complete disappointment, viewers still could not help but be in awe of the beautiful animation in Hand Shakers that was so reminiscent of K. The city of Osaka was brought to life with beautiful animation (featuring some rather interesting CG choices) and vibrant colors that could only be a work of GoHands. And in the city of Osaka, nothing was more prominent in Hand Shakers than its setting: Dotonbori, Osaka.
Dotonbori is a major entertainment area which runs along the Dotonbori Canal in Osaka. It has become a place where tourists are drawn to thanks to the iconic signboards and buildings, especially the Glico running man. If you are looking to see the part of Osaka that Hand Shakers is mainly based in, Dotonbori is your place. Join us as we discuss our Dotonbori Anime Hot Spot experience!
Dotonbori Info
| | |
| --- | --- |
| Location | Dotonbori is accessible from JR Namba Station and Namba Station. The walk is about 5-10 minutes from the Station and along the way. |
| Cost of Admission | Free |
| Hours of Operation | Dotonbori does not actually really ever close. Some restaurants are open 24 hours a day, while others are open until late. Not all restaurants will be open 24 hours, however, and Dotonbori is a place many flocks to at night. |
The Experience

No matter which station you end up at, it is easy to just follow the hoards of people heading in the same direction to find Dotonbori. When you find yourself feeling overwhelmed by a number of people taking pictures, you have arrived. Welcome to Dotonbori! You can picture yourself in GoHand's key visual for Hand Shakers standing amongst all of the signboards. This is the place where you feel transported into an anime.
If you are near the long line by the bridge over the canal, you are clearly at Kani Doraku, one of the many iconic signs in Dotonbori. If you recognize this sign, it was featured in Hand Shakers when Hayate and Chizuru decide to dine here after their failed match against Tazuna and Chizuru. This is one of the places where tourists are drawn to try crab because everyone loves crab, right? Crab sushi is sold at the counter, which is where the line stands. Crowds of people wait to be allowed within the establishment. You can dine here, but you may want to keep walking to consider your options. Also, heed Hayate's warning; Kani Doraku is not cheap!
From here, you can walk through Dotonbori, imagine yourself as Tazuna, as he walks past Dotonbori into the Shinsaibashi Shopping Arcade, which is extremely busy. and the streets are not wide enough to deal with the crowds, especially on weekend nights. The shopping arcade goes on forever, and even when you cross major streets, it continues into other ones. There's so much you can eat, see, or do that you will be overwhelmed and won't know where to start.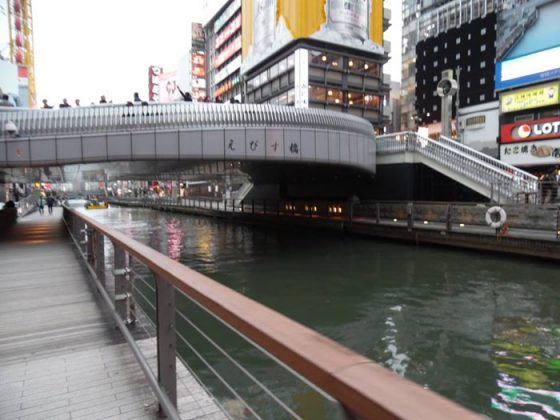 Back at Dotonbori, you can walk in either direction to follow the Dotonbori Canal and see more iconic shops and foods. One major ramen chain has no signage aside from the large dragon on its signboard. Still, hundreds of people wait to dine here and at one of the other many establishments. If you see a very angry looking Japanese man sign, welcome to one of the most popular kushikatsu restaurants, Kushikatsu Daruma. It can be rather intimidating, but this is one of the most well-known restaurants that serves kushikatsu, skewered foods that are fried. Try the mochi kushikatsu!
Anime-wise, you might not come across much. There are not many anime shops although there is an owl cafe if you follow one of the shopping arcades down the ways. There are a lot of pachinko parlors, clubs, host clubs, and all sorts of things to keep you occupied at all hours of the day. Dotonbori has so much to offer everyone that it's astounding if you have to leave for anything at all (sleep?).
Still, if you're looking for something fun, there is a Disney Store located down one of the shopping arcades and a Sanrio store. There are also arcades of all sorts if you are too young to play pachinko. Do not forget the UFO catchers. Do not you want to win yourself a cute or anime-themed souvenir to take home? There's a lot here in Dotonbori and do not run off just because you do not actually see a large Animate anywhere (see additional info below).
---
Additional info

As we were mentioning before, Dotonbori intersects with multiple shopping arcades so you can literally spend hours here. You can find almost anything you want here including traditional wagashi shops, souvenir shops, Daiso, coffee shops, restaurants, desserts, etc. etc. The options are endless!
Do you have any anime foods you've been dying to try? Osaka is the place to try them all. They say that Osaka is the kitchen of Japan and most who visit Osaka come for the food. Luckily, if you're at Dotonbori, all of Osaka's specialties are right within a couple of steps from each other. There are many ramen shops (including a whole street of ramen options!), supposedly award winning okonomiyaki restaurants, kushikatsu, takoyaki, and yakisoba—all of which are the specialties of Osaka (minus the ramen; that's just Japan as a whole). Don't forget the crab! Of course, if you don't care for local specialties, there are other treats in Dotonbori like a restaurant specializing in katsu, croissant taiyaki (our favorite yum! You're welcome for the tip), crepes, waffles, Kobe beef, melon pan ice cream sandwiches, etc. There's no way you'll go hungry in Dotonbori (nor go home without gaining weight).
If you plan on dining at Michelin guide restaurants like the very discreet looking yet Mizuno (that line could take an hour), we suggest dining alone to bypass the line faster. If Kani Doraku or Kushikatsu Daruma are restaurants on your hit list, do not hit up the iconic ones right in the center of Dotonbori. The lines are long. There will be multiple franchises located throughout all of the shopping arcades with shorter wait times so don't subject yourself to a long wait when you are starving. This is also true of Ichiran, which is a tourist favorite all around Japan when it comes to ramen, and there is one located right on Dotonbori that always has a line while the other one does not! We are a generation that lines up for their food, but do you want to line up even if you do not have to?
Let us not forget that earlier, we mentioned host clubs. Why yes, there are many a host club in Dotonbori and its neighboring shopping arcade, so if you want to experience that since you first heard of them in Ouran High School Host Club, Gintama, or much other manga, it will be easy to find a host club here. You will see buildings with the face of their #1 host or all of their hosts advertising a host club. And do not worry, guys, there are hostess clubs too. Much like maid cafes, if you think this is a must-do Japan experience, well, it is available. Just beware of what that experience could cost you. Figuratively and literally. You have been warned!
If you want more anime goods, don't forget to visit nearby DenDen Town, Osaka's electric town, or take the JR Namba Line to Tennouji Station to hit up Animate. DenDen Town is like Tokyo's Akihabara but on a smaller scale. You will find a few electronics shops, a few shops selling anime goods, and a few arcades. Dotonbori does not have anime shops, but it is not far from the places that do!
---
Final Thoughts
The setting of Hand Shakers is a beauty and in real life, Dotonbori is one heck of a location to visit regardless of your feelings about Hand Shakers itself. It is a place with a lot of entertainment, shopping, and restaurants that are iconic to Osaka itself. If you ever find yourself in Japan and heading over to Osaka, you might want to consider checking out this Anime Hot Spot.
If you have already visited Dotonbori, let us know what you think about it! If you have not do you want to go? What are your guys' thoughts on Dotonbori, or Osaka as a whole? Let us know in the comments down below! And do not forget to check back with us here at Honey's Anime for your next favorite article.