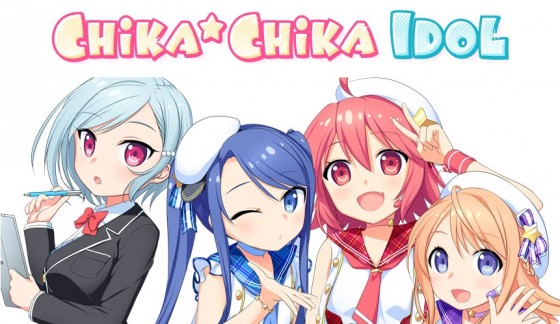 Have you ever dreamt of supporting your favourite anime idol group? Or helping make a brand new anime? CHIKA*CHIKA IDOL lets you do just that! But what's it all about?
CHIKA*CHIKA IDOL is a new CG animation project being produced through crowdfunding. This heartwarming idol anime depicts the passionate performances and everyday lives of three "underground idols" - young fledgling idols mainly active in live music venues, yet to appear on the media.
New CG animation? Underground idols? Crowdfunding?! Tell me more!
Born for this very project, Symphonium was established by animation director Hiroshi Nishikiori and producer Yasutake Honjo in July 2015 with the vision to create a brand new form of anime.
Omg! They've made some of my favourite anime! But what if our readers aren't so good with names? Let's introduce them!
Director:
Nishikiori Hiroshi
A freelance director who graduated from Tokyo Designer Gakuin College and has worked for T2 Studio and Nippon Animation.
Nishikiori made his directorial debut with the TV series I'm Gonna Be an Angel!. Some of his other works include Angelic Layer, Azumanga Daioh, Melody of Oblivion, Jyu-Oh-Sei, Ghost Slayers Ayashi, A Certain Magical Index, Trinity Seven, and Milky Holmes TD. He has also worked on such films as The Doraemons: Doki Doki Wildcat Engine, Magic Tree House, and A Certain Magical Index the Movie.
Producer, Original Planner, Scriptwriter:
Honjo Yasutake
A graduate of the Keio University Department of Literature and Philosophy. Honjo has edited comics as well as directed, produced, and written the scenario for many bishoujo games. He is the CEO of Symphonium.
His standout works include the doujin visual novel Resign (scenario writer, director), and bishoujo games including Seifuku Tenshi (scenario writer, director, producer), which won the Moe Game Award 2012 for Best New Brand. In addition to producing the CHIKA*CHIKA IDOL project, Honjo is also in charge of the scenario for the comic and anime.
They really are a talented team! But I bet our readers want to know more about this shiny new anime - tell them about the interview!
Okay! Just the other day, we got the chance to go to
Tokyo Otaku Mode
's office to meet Mr. Nishikiori and Mr. Honjo in person!
They'd already talked about what makes their production process unique, but we wanted to know what exactly makes CHIKA*CHIKA IDOL an anime worth watching - and getting involved with!
That's right! It was great to talk about anime with anime pros! Let's hurry up and share the experience with our readers!
Interview with Mr.Nishikiori and Mr.Honjo
Honey-chan
(Honey's Anime)
Honey-chan
(Honey's Anime)
---
Director Nishikiori, please tell us what CHIKA*CHIKA IDOL is about!
CHIKA*CHIKA IDOL is about ordinary girls who become involved in the underground idol scene and find something extraordinary in their ordinary lives.
It's about how their activities as idols, such as singing and dancing, are just one aspect of their lives, but also the catalyst for their development as characters.
There has been a kind of idol anime boom recently. What makes CHIKA*CHIKA IDOL stand out from the others?
We're taking a totally different approach from anime such as THE IDOLM@STER and Love Live! School Idol Project in that it's less about the idol industry and more about the characters as individuals.
Obviously there are some aspects of the idol industry reflected in CHIKA*CHIKA IDOL, but it's not the central focus.
A lot of the idol anime you see today is about the characters working hard to be acknowledged. Once they're acknowledged, they're produced and marketed and put on stage.
CHIKA*CHIKA IDOL is about the characters thinking for themselves - it's about their beliefs and their journey as they try to discover how to get their voices heard all over the world.
So it's more about their journey than them trying to compete in the idol world?
Yes. Unlike a lot of idol anime where the characters are always aiming for bigger and better stages, CHIKA*CHIKA IDOL is more about the starting point.
And much like the underground idol performances in Akihabara which inspired this project, sometimes things go well, sometimes they don't.
It's about the characters' growth and how they get to the point where they're performing on stage as idols.
Also, one of the big differences between CHIKA*CHIKA IDOL and other idol anime is that it focuses on their activities as a club.
A lot of underground idols in real life perform for the fun of it - some want to enter the entertainment industry, some don't.
Some want to become famous, some are happy as long as they can bring joy to their audience - that's what we want to capture in our anime.
Then as a genre, would you say that it's more slice-of-life than an idol anime?
Yes, I don't think CHIKA*CHIKA IDOL could be considered an idol anime as such. It's much like K-On! in that there is no premise of entering the entertainment industry as a final goal.
So if readers enjoyed K-On! they will like CHIKA*CHIKA IDOL?
That's right. I think fans of slice-of-life anime like K-On! and Lucky☆Star will definitely enjoy watching CHIKA*CHIKA IDOL.
Rather than it being about normal girls leaving behind their daily lives and jumping into the world of idols, it's about them finding something special in their everyday lives through singing and performing.
One difference between anime like K-On! and CHIKA*CHIKA IDOL is that you use the latest 3DCG technology. What is it about this medium that makes it such a great choice for this project?
There are several reasons. The first is that we want viewers to enjoy the live performances in the anime - with 3DCG, we can portray the camerawork and dance moves in a way that wouldn't be possible if this was completely hand-drawn.
Another reason is that we don't want CHIKA*CHIKA IDOL to stop at one episode. We want this to be a continuing work, and using 3DCG makes creating more episodes easier.
Also, it's important to be aware that there are various different styles of 3DCG. The technique that we are using is actually close to hand-drawn style, so we hope that even those who generally prefer hand-drawn anime will also enjoy and really get into CHIKA*CHIKA IDOL.
Is there any preparation that readers can do in order to enjoy CHIKA*CHIKA IDOL to the fullest?
As this is an original anime, we want readers to get to know our characters - their personalities, how they think, their goals in life. That's why we've put together a
comic
, which is now over fifty pages long. Of course, it also has an English translation!
The comic is just the start, too. We've also created a four-minute long PV, and we're working on various other contents and campaigns for readers to enjoy.
Finally, what kind of experience can readers gain through supporting CHIKA*CHIKA IDOL on Kickstarter?
We'd like readers to think of it as participating in the project rather than simply supporting it, and we want them to enjoy the whole journey, not just the final result.
This is a brand new way of making anime - in fact, we believe that it's the future of anime production. By participating in the crowdfunding, readers can experience the creative process right alongside us and share in the joy that it brings.
Of course, even if they don't participate, readers can still watch the finished anime and buy merchandise and so on - but they'll be missing out on the chance to make memories with us.
This project isn't guaranteed to produce results. CHIKA*CHIKA IDOL may not come to fruition - but even if it doesn't, readers will be able to share in those feelings with us.
And if it does succeed, we can celebrate together and think, "we did it!"
Thank you so much for your time! I can't wait to see how CHIKA*CHIKA IDOL turns out!
---
CHIKA*CHIKA IDOL Main Characters
Greeting from Pâtithree and CHIKA*CHIKA IDOL Main Characters
Tenka Akasaki
Hello! This is Tenka Akasaki! My dream is to be a girl who is cute just like an idol! My favorite food is instant ramen! I want to hurry up and be able to sing with all of you!
Yuki Sumi
This is everyone's idol group leader Yuki Sumi! From here on out, I'm going to be working hard with Pâtithree so be sure to keep an eye out for us! If any of you cheat on me, I'll be sure to punish you!
Abbey Williams
H-hello, my name is Abbey Williams and I am originally from California. I am working my hardest to learn how to sing, dance, and speak Japanese. I will work hard so that you can enjoy our live performance!
Hisame Nagasawa
Hello. I am Hisame Nagasawa and the Manager of the girls. I'm worried about if they will be able to pull it off successfully… Please support us in every way that you can. I'm counting on you all!
Above link to Kickstarter
So there you have it! With its roots set in the underground idol scene, this unique slice-of-life style idol anime will not only use 3DCG to bring you amazing live performances, but is also a chance for you to become a part of the creative process itself! Whether you're a fan of idol anime, slice-of-life series, or you're just in it for the super-cute girls, this is one project not to miss out on.
Get involved now by reading the comic, watching the promotional video, and contributing to the crowdfunding now!
You can also download three special wallpapers from famous anime illustrators on the Kickstarter page! The illustration by Super Sonico's, Tsuji Santa, will be available from March 8, the wallpaper from Revolutionary Girl Utena's, Shinya Hasegawa, from March 10, and the work by School-Live!'s, Haruko Iizuka, from March 12!
Also, if you follow CHIKA*CHIKA IDOL on Twitter and retweet this message, you will receive a secret link to two limited edition Pâtithree digital wallpapers!