Minami Kuribayashi, best known by her stage name Minami, is a seiyuu and singer-songwriter. Her career started as a voice actress for the videogame and anime Kimi ga Nozomu Eien. Later, she caught the attention of the fans when she performed the opening theme song titled "Precious Memories" which was a smashing success in Japan.
Since then, she has performed songs for other anime series such as Chrono Crusade, School Days, Hataraku Maou-sama!, Infinite Stratos, Kämpfer, and many more. More recently, she is the performer of the ending song "Beautiful Soldier" of summer anime 2017 Youkoso Jitsuryoku Shijou Shugi no Kyoushitsu e, also known as Classroom of the Elite.
Honey-chan and Bee-kun, interrupted Minami's vocal practices to ask her all the questions they could about her successful career, funny stories on stage, and her love for anime.
---
About Your Career
Can you tell us when and how you discovered you wanted to be a singer?
At the age of four I learned to play the piano, and throughout high school and university, I attended music classes. Since I was surrounded by so much music and was well aware of how difficult singing and performing were as a living to the point that it was painful, I had never thought I wanted to become a singer. I like anime, and my dream was to become a seiyuu. So, after graduating, I went to a vocal school.
In 2001, I voiced the role of Haruka Suzumiya in the PC game Kimi ga Nozomu Eien, and since I happened to be performing the theme song as well, I went ahead and used that as an opportunity to start my career as a singer.
In 2003, Kimi ga Nozomu Eien was turned into an anime and I was able to start my career as an Anisong singer with it. The reason I have been able to not only work for so long, but also continue to work, is all thanks to the recording label Lantis giving me a chance and supporting me. Something I can be proud of is that I have been able to sing so many songs for so many anime. Alo, Kimi ga Nozomu Eien, my debut work, is something that always has been special to me.
What is the most difficult part of being a singer and what is your favorite part?
I cannot recall a specific part that is difficult about continuing to work as a singer…, but you have to continuously train yourself mentally to not give up. If you do not, then it could be difficult for you. Also, I think an extremely important thing is to constantly improve both your techniques and expressiveness for the stage, recording, and more in order to be able to sing no matter what the place nor circumstances are.
My favorite part is that with a common goal in mind, you get to work with many people together to construct the final product. My team is full of women, so we are always quite lively. We have a lot of fun while we work.
You are also a lyricist. How do you come up with ideas and words to write the lyrics?
First, I read everything about the work in detail. I understand it by interpreting on my own, what the story's world view is, and what it is trying to convey. Then I compile all of the important keywords and organize what it is that I want to convey. Consciously thinking about the flow of the song, and matching it with the rhythm and melody, I make the lyrics in an easy-to-sing manner.
---
---
About Performing Live
When your fans see you performing live, they can't help but to be amazed of how perfect and perfectly everything goes on stage. But can you tell us an anecdote, a funny moment, a time when something went wrong, or an overwhelming situation, that has happened backstage or while performing live?
Right until I have to perform, I always talk with the entire staff and have a great time. There have been times where I have played the wrong key on the piano and had to go back and re-do it, and there have been many times where I have forgotten the lyrics.
Something interesting that once happened, was when, during a live performance, someone's glasses from the audience flew onto the stage.
Can you tell us about your vocal practice routine before a big event?
I practice singing for 1 hour every day. The day before a live performance, I go and get a massage. If, by chance, I am tired, then I drink an energy drink.
---
About Anime
What is your favorite anime of all time and why it is your favorite?
My favorite anime is Sailor Moon. I especially like how each character is unique and cute, and the costumes are really beautiful. The story is romantic and spectacular, so I think it has inspired many dreams for little girls. Sailor Moon was on TV when I was a highschool student. I became interested in becoming a seiyuu because I happened to see this anime. Currently, I am not a seiyuu, but rather a musician. However, it was an extremely important piece of work that gave me a dream.
Which of the projects that you have done/worked on so far have inspired you to change or overcome something in your personal life and how?
It was the very first tour that I went on. Everything about it is a very special memory for me. Up until I embarked on that tour, there were times where I had not been the best at being in front of the public, and I was reluctant to hold concerts and live shows. When I finally did go on tour, I decided firmly that I was going to work harder and better as a singer.
Your new single, "Beautiful Soldier", is the ED theme for the anime series Classroom of the Elite, What are the ideas behind the song and how does it relate with the anime?
---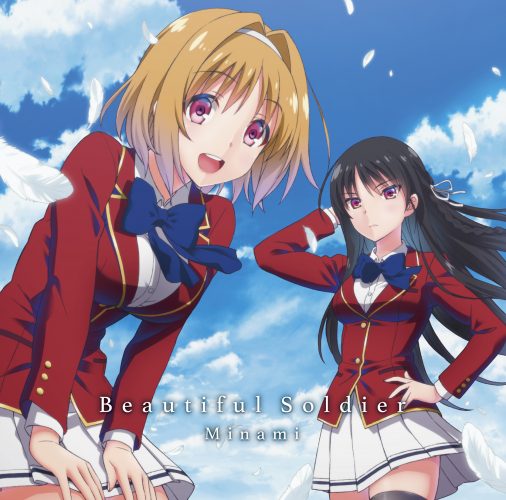 ---
I read both the light novel and the anime scenarios and then created the lyrics. In this work, there are many characters who are shown and carry a darkness in their hearts. Using a school as the framework, there are times where they have to communicate with each other, and there are times where, if they do not work together, then they will not be able to successfully finish things. In the middle of all of this occurring, the story for each character and their sentiments play out before your eyes.
No matter who you are, everyone has some sort of darkness that they harbor within their hearts. It is impossible to spend your life alone, and it is incredibly sad. Deep in anyone's heart, everyone wants a connection with someone else. However, when one does establish an emotional bond with others, there are many times where people get hurt. That happens because every single person is different and has a different way of thinking as well as feeling. There is no one in this world who is exactly like someone else. That is what makes every single person a special existence.
When a person is alone, or when they are surrounded by many people, the fact that that person is the only one like them, does not change.
It is about recognizing each other's individuality as well as using your skills to the best of your ability. If you can do this while also moving forward with those that you care about, then that is the most wonderful thing. If you can achieve a goal with someone else, rather than alone, then surely the happiness that you would experience would be that many more times greater.
That is the message that I have put into this song.
---
Minami「Beautiful Soldier 」Music Clip Short Ver.
---
About your Activities Overseas
Can you tell all your fans abroad what upcoming projects we should be looking forward to.
Currently, I do not have any plans to go abroad per se, however, if there is a chance for me to go, then I would gladly go to sing. From here on out though, it would make me very happy if I could go to many different countries and show the world the appeal of both anime and anisongs.
I am looking forward to the day when I can finally meet you all!
---
Minami-san is a pro in this industry.
Indeed, you can tell by the way she speaks of her mistakes on stage and the way she overcame her fears, her cool attitude towards everything that happens during a show, and just caring about having a good time.
I would like to hang-out with her. She seems to be fun to be around…
You can always dream...
---
Find out more about Minami here!
Get Your Copy Here!!
Beautiful Soldier [Regular Edition] by Minami / ED of Classroom of the Elite
Beautiful Soldier [w/ DVD, Limited Edition] by Minami / ED of Classroom of the Elite
---