También puedes leer este artículo en:Español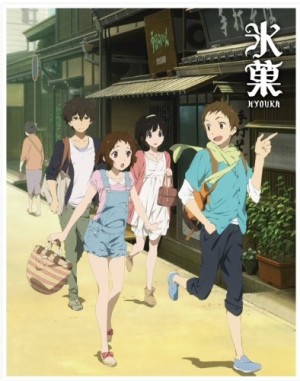 What You Need to Know:
Hyouka, when it aired, was a popular mystery anime back in 2012. Essentially Houtarou ends up joining a club in school, but then the members decide to solve a 45 year old mystery surrounding the club.
Creator Honobu Yonezama really knew what he was into when he made Hyouka and it got picked up for an anime. However he's been gone for quite some time... until now. Recently on his twitter, he announced that there are new publications coming for Hyouka and began to name some of them. The catch? Nothing comes out until November. Some time in Novermber we will get a release and possibly more information.
This is fueled the rumor mills of Japanese netizens asking if this confirms a second season or not. Most are for as Hyouka was well loved, but also because new editions coming out means new material that could be used for an anime! What do you think? Do you want to see a second season of Hyouka?
Source: Yaraon
Reactions Around the Web
If it is announced in November, it will be released around May next year which means an anime would be coming the following year....
He finally wrote it!!! Now we can get a second season too!
I have a feeling production companies will be changing as well.
Everything only comes in winter!
Who cares about waiting... just give us it already!
---
Ooo! Hyouka was well done. Much better than what happend with Sakurako-san. Subete ga F was good too!
Ahh Hyouka! This was so gooooooooood!
Hmmm But will we get a second season is what is important. Let's not forget that fact.
[ad_dfp position="bottom1" unit_pc1="true" unit_pc2="true" unit_sp1="true" class="mt40"]