Historical Inaccuracy for the Sake of Love.
System: iOS, Android
Publisher: Cybrid
Developer: Cybrid
Release Date: July 7, 2019
Ikemen Vampire: Temptation in the Dark - Opening Movie

Who it Caters to
Ikemen vampire is an easy to download phone game that can run on almost any smartphone thanks to its simple demands. The Ikemen series may appeal to fans of Diabolik Lovers or other reverse harem titles. It is also designed to be exclusively available for mobile devices, making it good for quick reads during your commute or wind downtime at the end of the day. The story is broken up into small chunks that are easy to speed through if you often find yourself with small amounts of time in between activities. If you like vampire-centric stories, then you might enjoy this game.
What to Expect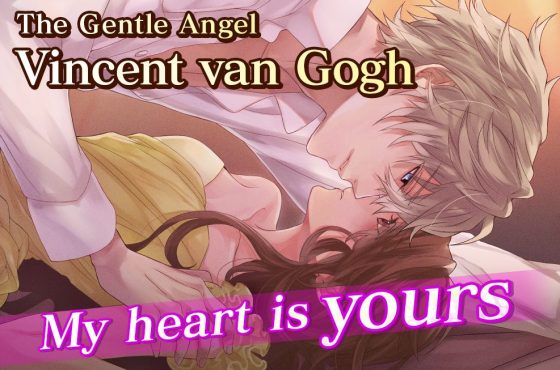 Ikemen Vampire is an otome game that is targeted towards fans of pretty boy otome games. The game isn't made to be innovative or tell an award-winning story to its players. Instead, it's designed as an easy to access otome game that lures you in with free play tickets and ease of download. If you've played other games from the Ikemen series, then you probably have a decent idea of the quality of the game. We will say that this is probably the weakest story out of the Ikemen franchise.
Story
You play as a young journalist who is touring the Louvre in France for the first time. While staring at paintings, a mysterious gentleman approaches you to return your eating. You immediately notice how stunning the man is, and through a chain of events, your character quickly ends up wandering into a storage room, she mistakes as an exhibit. The door shuts behind her locking her in, and she wanders toward opening another door that leads her into a well-lit hallway. She notes that the hallway looks nothing like that of the Louvre and ponders whether she has somehow wandered Into someone's mansion.
Soon enough, she spots the man that returned her eating, and upon nothing her, he grabs her hand. The man exclaims to the player that they need to leave now before another mysterious man appears who seems more menacing. After some strange dialogue, a butler approached the group insisting that you've been invited to dinner with the master of the mansion, and you must attend. The main character is forced to accept the invitation and is soon led to a dining room full of gorgeous men.
As she sits down at the table, the men each begin to introduce e themselves. As it turns out, they are all famous figures from history like Beethoven, Napoleon, and Issac Newton. The main character quickly learns that all the men before her have come from different points in time to the mansion. To top it all off, the portal she used to get there has now closed, and it will be a month before it reopens. With an agreement to help the mansions butler, and the knowledge that everyone around you is a vampire, it's time to choose the man you will fall in love with.
Character List:
Napoleon Bonaparte
Wolfgang Amadeus Mozart
Leonardo Da Vinci
Arthur Conan Doyle
Vincent Van Gogh
Theodorus Van Gogh
Osamu Dazai
Isaac Newton
Jean D'Arc
William Shakespeare
Comte de Saint-Germain
Sebastian
Gameplay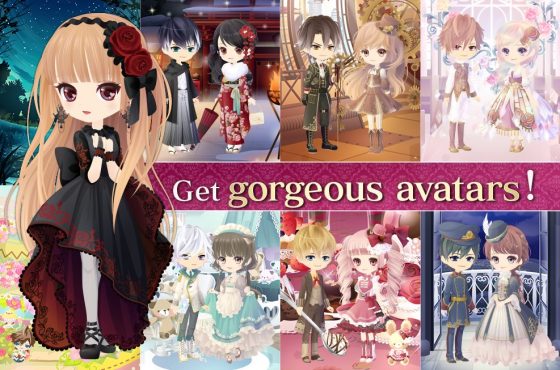 The gameplay of Ikemen Vampire is a bit convoluted and confusing at times. The game only allows you to pick from four members of the cast to romance, and the UI is a mess that is hard to navigate through. Especially as a first-time player. The game has card battles, avatar dress up, and a gacha machine that you will all need to interact with in order to make it through the story. You will also learn that you can only read five chapters for free a day, which is a lot stricter of a rule than it initially sounds
To begin with, you are awarded 5 chapter tickets each day. These tickets can be used to unlock the next part of your story. The only catch is that the chapters are extremely short, ranging from one to three minutes per read. On average, we could get through an entire story segment in 5 to 10 minutes easy. Most of the story is also heavy filler, with the romance being lightly sprinkled in on occasion. Each character has 25 parts meaning you would have to check-in for 25 days in a row to get through the story if you somehow manage to beat the challenges without spending money. Additionally, you should note that you can't check in every day to save up story tickets. The game is wired only to allow you to read five chapters a day and won't supply you with more than five tickets at a time.
The first challenge you will come across is the card battle. The battle system is crudely explained and heavily relies on you getting premium cards from the gacha machine to build your team. Every story will have several checkpoints in it that require you to win around three consecutive care battles to progress to the next chapter. The second challenge will have you using in-game items also won from the gatcha to feel an affection meter. The third will have you dressing up your avatar to when fashion points and progress the story. The catch is that if you don't have the premium avatar items purchased, you will only have access to the basic ending.
The one standout of Ikemen Vampurs is the games art. The characters are beautifully drawn, with special attention paid to each boy's design. While the clothes aren't historically accurate, they capture each man's time period in a fashionable way that players are sure to love.
Honey's Gameplay Consensus: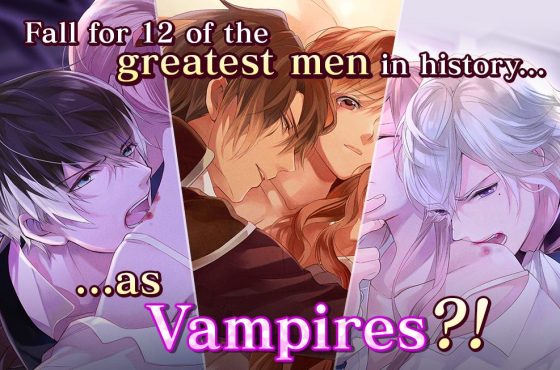 Ikemen Vampire neither has a strong UI or story. The menus are messy, making it a painful chore to learn where everything is. Even navigating the premium store feels very rigid. The cost of diamonds, the premium in-game currency, is higher than most other otome games we've encountered. You can expect to spend around $20 on each story, thanks to the number of gacha tickets; you will need to progress through the game's unpleasant challenges.
To top it all off, the story is not for history buffs as the characters aren't like their historical counterparts in the slightest. I'd you're looking for historical influenced romance, then this isn't the game for you. Likewise, as mentioned above, the story isn't very deep even when presented with moments where the writers could have really delved into the backstory or padded the plot.
To top it all off, the gatcha, dress-up, and card battles are all additional features that could have been fun extras for the players but ended up becoming a way for the game to siphon money from the pockets of the players. If there was at least an option to outright buy charter stories for a set fee instead of just having a currency system, then Ikemen Vampire would probably have done across as much more appealing to play through.
In addition, many of the characters have side stories or side stories. These short stories all have to be paid for by the player in order to access them. This easily make the price jump to around $30 to $40 for a full run of each vampire. At around 12 characters, the game becomes more expensive than most acclaimed Otome games on the market with a smaller amount of actual story content. Even the daily check-in rewards will do little to make the games cost easier on your wallet.
The game will let you complete offers for premium currency at a low rate. Watching a video only awards you one diamond and even paid offers, not you a smaller amount of currency then you'd find in similar games. These offers are long and tedious and aren't worth the payout.
Honey's Pros:
Dazzling Art Work and Character Designs
Honey's Cons:
Costly Currency System With No Way To Buy Individual Stories.

Mediocre Story Line and Character Development

Confusing UI
Honey's Final Verdict:
Sadly, unless your willing to spend money on Ikemen Vampire or have a month's worth of patience, you won't make it through even one story. We also can't say that you're going to find much excitement outside of your run of the mill budget otome game. If you're looking for a robust story that will take a few days to get through, we recommend Mystic Messenger, where the wait times for completing the free story make perfect sense. Ikemen Vampire is a budget otome game that could be enjoyable if they concentrated less on paid content and more on making the players want to purchase the stories.
by Jessica Roar