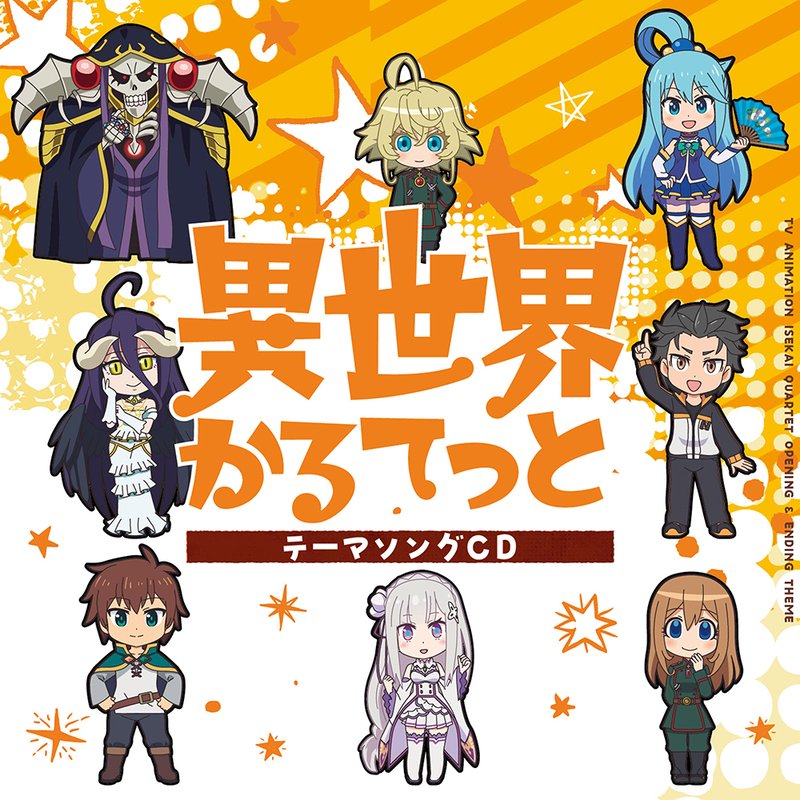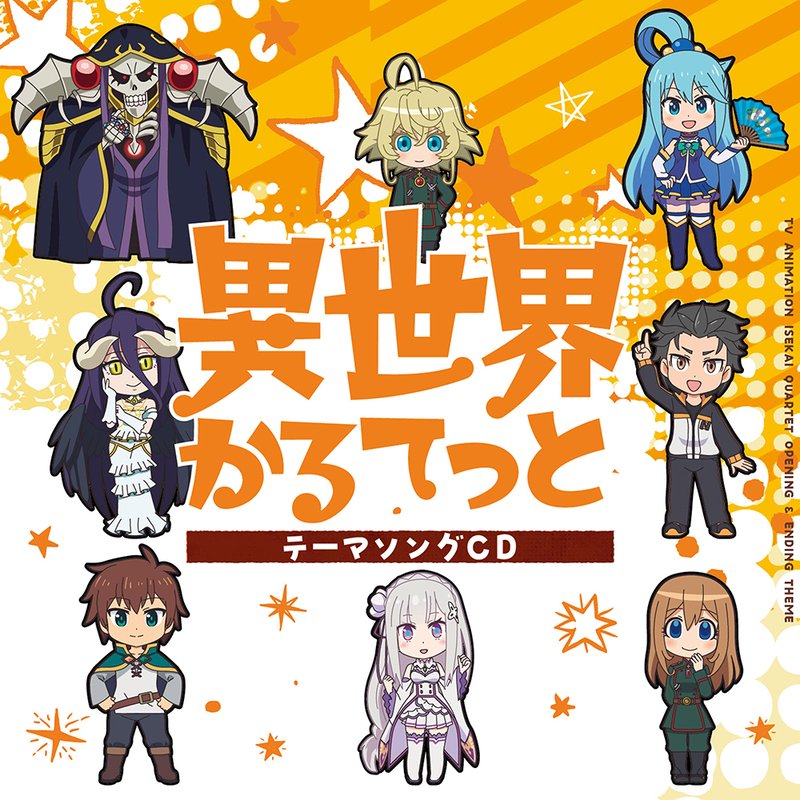 Isekai Quartet 2

Genre:
Another World, School
---
---
Official Images / Key Visuals
Synopsis
One day, a mystery button has appeared. Pushing the button, transfers you from one Isekai from another!!
And characters from other worlds are gathered up..?!
Characters from 'Overlord', 'KonoSuba: God's Blessing on This Wonderful World!', 'Re: Zero − Starting Life in Another World', 'The Saga of Tanya the Evil' and 'The Rising of the Shield Hero' appears in the petit-animation!!
Characters & Voice Actors
Ainz:
Satoshi Hino
King of Death and Overlord of the Great Tomb of Nazarick. Owns the ability of the game charactersand was a salary-man before being transferred to Isekai.
Kazuma:
Jun Fukushima
Reincarnated as an adventurer and quested to defeat the demon lord. Before the reincarnation, was just a game-loving Hikikomori.
Subaru:
Yusuke Kobayashi
Nothing special or appealing from this boy was summoned by the Isekai out of nowhere. For his loving Emilia, he always tries his best.
Tanya:
Aoi Yuki
A major and leader of Imperial 203rd Aerial Mage Battalion. Before reincarnating as a little girl, she was a normal salary-man.
Naofumi Iwatani:
Kaito Ishikawa
Hero of Shield. He was summoned as a hero in Isekai but lost human-trust from continuous betrayal. Cannot use weapons other than shields.
Other Title
Another World Quartet 2
Theme Songs

Opening Song: "Isekai Showtime" by Ainz, Kazuma, Subaru, Tanya
Ending Song: "Ponkotsu! Isekai Theater" by Shartia, Megumin, Remu, Vicia

Main Staff

Original Creator: Kugane Maruyama / Natsume Akatsuki / Tappei Nagatsuki / Carlo Zen
Director: Minoru Ashina
Character Design: Minoru Takehara
Animation Director: Natsuko Tosugi
Sound Director: Jin Aketagawa
Original Illustrator: so-bin / Kurone Mitsushima / Shinichiro Otsuka / Shinobu Shinotsuki
Music: Ruka Kawada
(Credit Honey's Anime when you use our description.)
Honey's Highlights
___say_something___
___say_something___
___say_something___
___say_something___
---