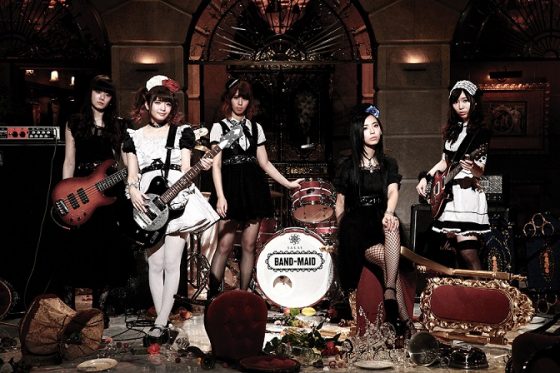 What You Need to Know:
J-POP SUMMIT 2017, one of the world's biggest Japanese pop culture events, announces an extensive and colorful roster of live programming for this year's festival. J-POP SUMMIT 2017 takes place on Saturday and Sunday, September 9th and 10th at the Fort Mason Center for Arts and Culture located in San Francisco's Marina district.
Attendees will experience this year's theme ARTS, EATS, and INNOVATIONS; a vibrant celebration of Japanese pop culture featuring live music, Japanese food and travel attractions, and interactive technologies. The festival will be accented by ramen vendors, sake-tasting, and additional events highlighted by appearances by several celebrity Guests of Honor. 2017 marks the 9th consecutive year J-POP SUMMIT has been held in San Francisco. Adult single-day passes start at only $35.00 each; 2-day passes start at only $50.00 each.
For a full list of details pertaining to the event, be sure to scroll down below.
Source: Official Press Release
Featured Artists
BAND-MAID - a 5-piece all-female rock band from Japan that performs in gothic maid costumes. Based on a 'maid and master' concept, they refer to their concerts as "services" and their fans as "Masters and Princesses." Despite their kawaii appearances, they engulf their audience in classic hard rock sounds.
May'n – beloved ani-song performer. In addition to her work with anime songs, May'n has contributed to many songs for a variety of Japanese live-action television shows.
Babyraids Japan – a pop idol group renowned for their fascinating and exciting live performances
Misaki Iwasa - a former member of the massively popular Japanese female idol group AKB48, she has gone on to a successful solo career as one of Japan's premiere "Enka" singers.
YANAKIKU – the beloved Kimono cosplay pop duo returns to engage fans with their unique blend of pop.
Zoomadanke - one of the most famous professional Kendama performers in Japan. The duo blends the elements of Kendama, a traditional Japanese wooden toy, with dance and music to create a whole new style of live performance.
TOKYO GEGEGAY – an edgy vogue-inspired dance group.
Azumi Inoue & Yuyu – the widely renowned mother/daughter singing duo that performs memorable theme songs to beloved anime films from the legendary Studio Ghibli.
Hiroyuki-Mitsume Takahashi – a pop designer and comic artist who designed this year's festival poster.
Mitz Mangrove – one of the most prominent cross-dressing celebrities, singers, actors, and TV personalities in Japan returns to our second J-POP Queen Drag Contest as a special guest judge.
Artist Meet-&-Greet
J-POP SUMMIT 2017 offers an exciting array of Guest of Honor Meet & Greet sessions and unique autograph and/or photo opportunities at this year's festival. Certain sessions are exclusively open to V.I.P. ticket holders only, but many are also open to general festivalgoers. Please visit http://www.j-pop.com/2017/meet-your-stars/ for complete details.
Artist Project & Interactive Studio Area
Attendees are invited to enjoy the first-ever J-POP SUMMIT ARTIST PROJECT, a DIY area where one can experiment hands-on and create a one-of-a-kind artwork! Participating brands include CHIKAKEN x TAKEKICHI, MAMARACHO, Ukiyo-e Heroes, and s | kubo!
Additional J-POP SUMMIT Art Events
Japanese contemporary artist Ken Hamazaki also returns to J-POP SUMMIT with a new Red Tea ceremony live performance. This year, he will collaborate with ITO EN, one of Japan's most popular tea brands, iichiko USA, a best-selling shochu brand dedicated to their motto, "Quality comes first," and SOU・SOU KYOTO San Francisco, a Kyoto-based apparel brand that features kimono-inspired contemporary designs.
Eats
RAMEN SUMMIT
Launched in 2016, Ramen Summit returns this year featuring top-rated ramen restaurants from around the Bay Area as well as, this year – Seattle. An array of ramen purveyors will show off their best broth and noodles in the Festival Pavilion Parking Area inside Fort Mason Center. A J-POP SUMMIT pass is required to get into Ramen Summit, and you must purchase a ramen ticket (only available on-site) for $8/bowl. The Ramen Summit is curated by RAMEN SUMMIT producer Mr. Maruyama, and sponsored by Yamachan Ramen, Sun Noodle, and Kikkoman. Full Ramen Summit details at http://www.j-pop.com/2017/ramen-summit/
Enjoy a variety of authentic ramen from:
Hinodeya Ramen & Bar, Marufuku Ramen, Orenchi Beyond, nojo ramen tavern, and Yoroshiku
SAKE SUMMIT & SAKE SUMMIT PREMIUM
Prominent sake-makers and distributors from Japan and the U.S. will gather at the Festival Pavilion inside Fort Mason Center. A J-POP SUMMIT pass is required to get into Sake Summit, and you must purchase a sake tasting ticket for $10/per person (21 years and older) for a one-hour tasting inside the Festival Pavilion. For guests who want to go beyond the daytime Sake Summit, J-POP SUMMIT is offering a new Sake Summit Premium event on Saturday, September 9th from 6:30-9:00pm at the Fort Mason Center Firehouse. Sake Summit Premium tickets are $30 each. (https://sakesummitpremium.eventbrite.com/)
TRAVEL PAVIILION
Presented by JAPANKURU, the J-POP SUMMIT 2017 Travel Pavilion offers guests a unique sensory experience in the virtual world of "Japanimmersion", where attendees can see, feel, and learn all about Japan by "visiting" three 'zones' that each contain interactive experiences showcasing what makes Japan a traveler's delight - fusing the past, present, and future. Details on Travel Pavilion are available at: http://www.j-pop.com/2017/japankuru2017/.
The JAPANKURU stage inside the Travel Pavilion will feature additional fun activities, including the Mini "Studio Ghibli" trivia quiz with a special appearance by mother and daughter singer duo Azumi Inoue & Yuyu, music performances, and a ramen speed-eating contest.
Innovations
NTT West – "Comusumegane:" Translate lyrics sung in concerts and conversations with artists in real time through AR glasses. Not only that, it recognizes specific sounds and words, and brings out a two-dimensional stage effect suited to it. You can enjoy directing like a manga in concerts and plays.
NTT Data – "VR Baseball Coaching System:" This technology brought by NTT Data was originally developed so that professional athletes could rehearse before real games to be ready to make the best performances. Try standing in the batter's box on the baseball field and hit balls with the stats of MLB pitches threw in actual games in the past!
NTT Solmare - "Shall we date?" Video/Photo App: The dating simulation game series "Shall we date?" has captivated many ladies around the world! At J-POP SUMMIT, attendees can meet the partner of their dreams through AR technology and take a picture and movie with that person. This is an exclusive campaign presented by NTT Solmare only for J-POP SUMMIT fans!
Panasonic – Hugpathy: A human body communication technology which realizes data communication through body only by touch, handshakes, and hugs!
Fujitsu – ACT: ACT is the newest outfit that makes your communication with others more fun and visual! It begins to shine when you touch, hug, or cross shoulders with your friends! ACT will add more fun visual essence & excitement to your everyday lives.
Yamaha – HEARTalk & Vocaloid: HEARTalk is a new system to convert the typical flat computerized sound into a more natural humanized dialog; it lets you feel the 'heart' from the machine, so to speak. VOCALOID is a voice synthesis technology and software developed by Yamaha. Just put in a melody and lyrics and your virtual singer will sing for you!
Topology Eyewear - Made-to-Measure Glasses App: Topology's custom-fit eyewear fits perfectly to never pinch, squeeze, or slip. Scan your face and design your glasses all from your iPhone. Stop by the J-POP SUMMIT booth to see how it works, or show off your design talents in a styling competition featuring Japanese musical artist Misaki Iwasa.
SAKAE CASTING USA - Enjoy how SAKAE CASTING's super casting technology works to create everything from aluminum - you may come across the Aluminum Man! Don't miss it!
MIRAISENS – 3DHapticsVR: Savor a strange and exciting digital experience with Realistic Haptic Sensation! Explore the miraculous world, roll the crystal ball, dodge the mysterious sprit and get to the final place!
XOOMS – Virtual Drone: Fly this drone any place and any time! Thanks to XOOMS' networked MR (Mixed Reality) platform, a user can feel like they are operating a real drone. It is exactly a futuristic experience.
REAL ESCAPE GAME
This year, J-POP SUMMIT 2017 attendees are invited to enjoy a complementary pass to play the Real Escape Game as part of each paid Festival ticket. Developed by SCRAP, the Real Escape Game is an inventive, interactive puzzle solving game event, originally started in Japan, which requires players to cooperate and use their intuition and detective skills to solve multiple mysteries within a limited time. Simply stop by the SCRAP booth during J-POP SUMMIT to pick up materials to start your game play!
---
Wow, this event is already looking stacked in terms of things to do and stage performances.
Just give me the ramen and I'll be ok!
---