"The next generation of hobbyists and gamers."
Japan has always been recognized as being the country with its unique culture, wide array of festivals events catering to various historical celebrations, and of course, its otaku lifestyle. Every year there are new events that seemingly sprout up from out of the ground, which allow people of all ages to attend and enjoy. Jisedai World Hobby Fair isn't brand new by any means, as the first event was inaugurated back in December of 1994. It's an event created by Shogakukan, Japan's largest and most prestigious publisher of dictionaries, literature and other media which have stemmed from Japan. Originally known as just 'World Hobby Fair' or WHF for short, Jisedai World Hobby Fair is the new name they've gone with to celebrate the next generation of hobbyists and gamers in Japan. The event helps to sponsor toys and games from brands such as Capcom, Banpresto, Nintendo, Takara Tomy, Bandai, among a plethora of others. It's a place where the aspiring youth can come to learn more about their future lifestyle, compete in various titles such as Super Smash Bros. Ultimate (Special here in Japan), while also getting the chance to experience something exciting.
---
Basic Info

| | |
| --- | --- |
| When it Established | December 1994 |
| Length of event | June 23 - 24 (Two day event) |
| Place / location | Makuhari Messe, Chiba, Japan |
| Admission | Free! |
---
What to Expect

Jisedai World Hobby Fair 2018 is an event that can be enjoyed by just about everyone but its main target market are the young and aspiring children, who look to take part in various hobbies. Japan is a country that's full of activities for children and Jisedai World Hobby Fair 2018 is just another addition to that list, that gives children and parents the opportunity to share their passions together under one roof. Tourists can come visit and experience the event hands-on and get to see just how culturally unique Japan is when it comes to creating family related activities. Jisedai World Hobby Fair 2018 is full of booths from all sorts of big name companies like the ones we mentioned earlier, and at this years event, Nintendo seemed to be the center of attention due to Pokemon and of course, Super Smash Bros. Ultimate.
When entering the event, expect there to be a higher ratio of children running around than parents since this is really like the Tokyo Game Show or Wonder Festival for kids. Of course, if you're a big kid like us then it's totally fine as well since all of the toys, live presentations and gaming events are still a total blast, even if you stand out among the rest of the children. Yes you'll probably get a few stares here and there, but if your heart is huge and you show love for all the things around you, then expect the kids and even the parents to have fun with you as well!
Jisedai World Hobby Fair 2018 isn't as big as some of the other events we've mentioned but it still has a lot to offer in terms of overall entertainment, food, and a place to spend time with the family. It all takes place in Makuhari Messe, the famed venue that houses other notable events like Tokyo Game Show. Now as a heads up, since this an event mostly catered to children there were no cosplayers, so if you're attending the event don't be surprised if you don't see any.
---
What to Bring in Order to Enjoy the Event

Since the event is totally free, you don't really need to worry about bringing too much cash with you, though we suggest that if you plan to buy anything at any of the booths then having some with you is important. That being said, if you also don't want to go hungry during the event, make sure to carry enough yen to keep you satisfied for a few hours. The walking around and taking part in activities will definitely tire you out at some point, so just a point to take note of. Another thing you should bring along are some of your friends because we're sure you'll have a lot more fun taking part in the events when your best pals are with you. If you're a parent of course, bring your children because this event is entirely focused on them anyway! Carry a small bag if you intend to buy anything, but if you're just going to enjoy the sights and just get out of the house for the day, then having a nice pair of walking shoes should do the trick. Most events tend to provide some sort of swag bag at the beginning of the event so that can be your little take home gift if you don't care to spend a great deal on toys for yourself or the kids. Perhaps the most important thing to bring to this event is a positive attitude! It's a very fun event and can really bring out the inner child in you, so maintaining a positive attitude towards everything will make the event feel even more rewarding!
---
What to do While There / What is Available

Most free events in Japan like Comiket or in this case Jisedai World Hobby Fair 2018 have quite a lot of things to take part in, whether you're shopping for exclusive goods or simply just wandering around in hopes to find something eye catching. As we said earlier, you don't really need any money at all to enjoy the event, since all of the activities available are free to participate in. The moment you walk in you'll see big banners and company logos hanging from the roof, which become very useful as landmarks if you happen to get lost inside. At this year's event, the main attraction was certainly Nintendo's highly anticipated title, Super Smash Bros. Ultimate, which saw a huge turn out in numbers especially for children since there was a tournament being held. No grown ups could participate so it was mainly a place for us to sit back and watch the future competitive gamers get their quick fix, while we took note of all the changes that Mr. Sakurai made to the game. We won't dive too deeply into Smash Bros. Ultimate since there are other events to mention, but we'll come back to it shortly. The next big title from Nintendo was Mario Tennis Aces (known as Mario Tennis Ace in Japan), and for most of the weekend, there were tournaments that took place for people of all ages, not just the children.
Those who played the demo on the Nintendo Switch were able to gather points which they could use to participate offline, Jisedai World Hobby Fair 2018 in particular. Seeing all of these incredibly strong young players really blew us away because it really demonstrated that age really means nothing in the world of competitive gaming, so long as you put in the hard work to get better. Some of these players showcased some awesome skills which is quite surprising seeing how the game just came out recently, and already they've accomplished so much. Now, of course, these players may have played the past Mario Tennis titles which gave them the advantage, but despite that, it was quite the spectacle to see them actively participate at such a high level.
We had a chance to just play in the casual area where Nintendo set up some booths for everyone to test the game, but sadly it wasn't a 1v1 scenario and we had to play against the CPU. After our fun at the Nintendo booth, we ventured over to the Takara Tomy section to see what new toys they had in store for 2018 and the future, with much of their attention placed on Pokemon. Pokemon is massively popular in Japan and with the new movie titled 'Pokemon: Everyone's Story' (ポケットモンスター:みなの物語) dropping in about 3 weeks, children and parents alike were glued to all the products that will be releasing soon. One of the products unveiled was called ぽけでるZ (Poke Del-Z) which if translated into English just means 'Come out Pokemon'. The product is a Pokeball that you can throw and once thrown, it pops open to reveal the Pokemon inside which reminded us of a similar toy we had growing up. Total nostalgia for us, massive excitement for the kids, and total sadness for the parents as they now have to cough up their money to buy it for their children.
Now that we think about it, this year's Jisedai World Hobby Fair 2018 seemed to focus quite heavily on Nintendo related products such as Pokemon Quest, Nintendo Labo, Super Smash Bros. Ultimate, new Pokemon toys, and more. Now of course, there were other notable brands to mention such as Zoids, which had an amazing booth where children and their parents could take part in building their own figures, Bandai showed off some toys as always, and a massive Beyblade area where a tournament was being held. Level 5 was also in the building showing off the latest information for Inazuma Eleven, while PlayStation had their own small booth where people could relax and play some Monster Hunter World, Golf and more.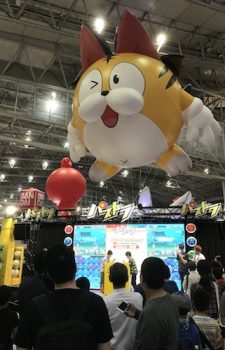 ---
Final Thoughts
Overall, Jisedai World Hobby Fair 2018 was quite the entertaining experience, even if we were slightly older than the main target market the event was focused on. To talk briefly about Smash Bros. Ultimate, some of the changes we noticed were on Kirby and that his rapid fire punch attack recovery has been reduced, allowing him to follow up with another attack much quicker than in Smash for Wii U. Ganon is a lot faster than before with slightly better recovery on his moves, such as his back air, which allows him to pressure opponents a little more than before. He also feels like a combination of his Melee and Wii U counterparts to that's a plus as well. We'll be covering more Super Smash Bros. Ultimate at another event next month, so stayed tuned for more details then!
For all things otaku, be sure to keep it locked here on Honey's Anime!