Filler-free Shonen Jump action!
Bandai Namco had a huge repertoire of playable demos at E3 this year, and, being Honey's Anime, we had to try out Jump Force! This 3-on-3 fighting title celebrates Shonen Jump's 50th anniversary by showcasing many of the top-tier action characters we all know and love battling each other and a great threat in our world!
Platform: PlayStation®4, Xbox One, PC / Steam
Genre: Fighting / Action
Release Date: 2019
Publisher: BANDAI NAMCO Entertainment Inc.
Publisher: Spike Chunsoft
Players: Offline/Online: 1-2 players
For the first time ever, the most famous Manga heroes are brought to our world to battle it out. Uniting to fight the most dangerous threat, the Jump Force will bear the fate of all of humanity.
Celebrating the 50th Anniversary of the famous Weekly Jump Magazine, Jump Force is making the most of latest technologies to bring characters to life in a never-seen-before realistic design.
---
Gameplay

Like with other demos, Jump Force was a preview mostly of the fighting mechanics and graphics. The only choices for characters were Naruto, Sasuke, Luffy, Zoro, Goku, and Frieza. Not a bad selection, really!
The game is 3-on-3, as we mentioned before, and you can switch between characters with ease. While the attacks, dodging, and dashing are easy to control as well, there are more advanced combinations you can use to perform combo attacks as well as specials, like when Naruto turns into the nine-tailed fox! But even then, the controls are easy enough to get the hang of for newcomers and advanced fighting game fans alike.
Another added layer of excitement -and difficulty- is the 3D mechanic. Players get to run around the arenas, which are set in our world, using the environment and destroying anything and everything around them.
There will, of course, be a story mode that explains why the Shonen Jump stars are defending our world, but that'll have to wait until the release date nears. Until then, the gameplay looks and feels as exciting as reading the manga or watching our favorite shounen series, with the added perks of skipping all the fillers and facing heroes and villains from different franchises that would never face off otherwise.
JUMP FORCE - E3 Announcement Trailer
Final Thoughts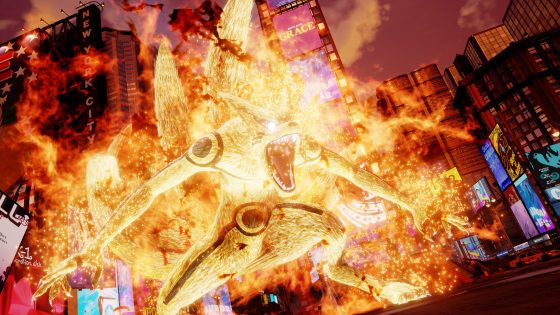 Though somewhat reminiscent of J-Stars Victory Vs+, Jump Forces makes it much easier to just pick up the game and play a couple of rounds with its simpler gameplay mechanics, as opposed to the lengthy training period we needed to learn and master the moves in J-Stars Victory. The graphics were beautiful and we can hardly wait to see who else will be starring in the game, as well as which earthly locales will get to be the stage for the epic battles that can only come from the shounen series we've grown up with.
Have you played any of the other Shonen Jump games? Which one is your favorite? Are you looking forward to a more fighting-centered installment? Which Jump star are you hoping to see in the final version? Let us know in the comments and stay tuned for more E3 2018 coverage and for a full review when the game comes out next year!
---