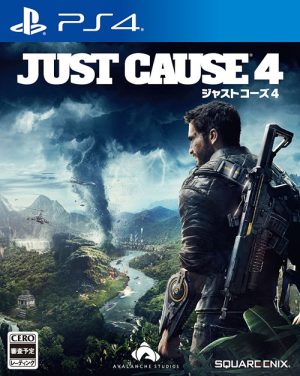 Ride the storm Rico
Game Info:
System: PS4, PC, Xbox One
Developer: Square Enix
Publisher: Avalanche Studios
Release Date: December 4, 2018
Who it Caters to
Action movies are great for high octane enjoyment. However, sometimes we need more than just movies as gamers. That's where the Just Cause series comes into play, more specifically Just Cause 4. With this latest installment, Just Cause 4 aims to bigger and more explosive than past titles but does that make for a better game? We have that answer down below in our review of Just Cause 4 for the PS4. All you need to do is scroll on down to continue reading and see what you can expect from developer Avalanche Studios' latest installment.
What to Expect
Just Cause 4 continues the series staple sandbox gameplay with more action and freedom than Just Cause 3. Taking place in Solis—a fictional island area—players control Rico Rodriguez once again and must stop a new threat that has the ability to manipulate weather. Players will need to stop old and new enemies, but they also will need to contend with changing weather conditions that can ruin even the best laid out plans. With more weapons, vehicles and places to explore, Just Cause 4 is the biggest of the series and has a lot of places to explore for newcomers and veterans alike.
Story
Rico has faced numerous challenges across his multiple years of fighting deadly organizations hidden from the mass public. However, a recent mission he's begun will take Rico through trials he might not be prepared for. With a new threat trying to harness the power of weather itself, it will take Rico and a team of guerrilla fighters to bring down this new rising threat before its power is unleashed upon the world. It's a race against time and the elements in Just Cause 4! No prepare, amigo; this fight is about to get quite windy.
Gameplay
Just Cause has been one of the more interesting IPs from publisher Square Enix. Developed by Avalanche Studios, Just Cause has always been a similar title to games like Grand Theft Auto V and/or Saints Row with an emphasis on single player sandbox gaming. Players take Rico—the main man himself—and use his grappling hook, wingsuit and parachute to fly about island maps and cause mayhem wherever they go. The formula hasn't changed much and with Just Cause 4 it seems like that statement still holds true. Yet, let us see if Just Cause 4 is worth your time and money as we dive into our review of it for the PS4.
Just Cause 4 plays almost…no, exactly like the previous titles. Players control Nico—who seems to look more and more movie-esque with each version—as they cause literal chaos by killing baddies and blowing things up. Also, like past games, Just Cause 4 is all about taking areas on the map by causing chaos to build up—take on missions and blow up specific areas—and gaining control back from the enemy. It's a rather simple premise, but it works to make players explore both the world and engage with the missions. Just Cause 4 is a sandbox game at its core, which means you do advance the story by doing what we said above but you could also just enjoy the sights and cause mayhem for the heck of it.
In terms of gameplay though, what matters most about Just Cause 4 is how it plays. Thankfully, because not much has changed since its last outing, Just Cause 4 plays pretty darn well. Zooming around the island with your grappling hook and other utilities feels responsive and fun. Equally, hijacking vehicles—like helicopters and road vehicles—makes for good transportation too. When you're not flying around like Spider-Man, you'll be engaging in combat which works quite well even with the lack of challenge. Rico is a bullet sponge, the dude can absorb explosions and small arm fire like he was made of rubber and while that means you'll more often than not feel overpowered, it also creates a lack of tension in combat. We only died once while playing Just Cause 4 for several hours and that was because we legit kept trying to melee people. Just Cause 4 makes you feel like you're playing a literal action movie and that is an enjoyable experience overall.
The world of Just Cause 4—a fictional South American place called Solis—feels alive which helps the sandbox elements of the game immensely. We loved seeing random guerilla fighters engaging in combat and driving around as if they were living their own lives. We also enjoyed seeing cars crash into each other—or boats—due to how glitchy Just Cause 4 is at times. During missions the AI would drive off cliffs or bridges for no reason and we endured random glitchy camera issues that while annoying, weren't too game breaking. Just Cause 4 lacks the polish of other sandbox games but overall runs quite smoothly for a great experience.
Finally let's discuss the graphics and sound. Just Cause 4 looks pretty darn good and is definitely the strongest of the 4 games. With the new weather elements and Solis location, Just Cause 4 looks impressive more often than not. The same can be said of the soundtrack. We loved the music in Just Cause 4 which made every encounter feel way more epic than it already was. The voice acting isn't the best—a lot of the lesser characters sound very generic—but it works to not detract from Just Cause 4's experience. In the end, Just Cause 4 looks and sounds better than 3 and that always good to see in any new title in a series.
Honey's Gameplay Consensus:
It's a shame that Just Cause 4's launch wasn't as big as many of the games to recently release. While it doesn't change radically —basically nothing at all—Just Cause 4 feels bigger and more fun than previous iterations. All the explosive action is here once more and Just Cause 4's newest map feels more robust with the new weather environments and hazards not seen before. If you're a fan of the Just Cause series then you're going to enjoy what Just Cause 4 delivers. Just be ready for the occasional glitch and feeling of déjà vu while playing.
Honey's Pros:
Insane action that's fun and quite exciting

Ridiculous but movie-like plot

Simple controls that make shooting and driving simple

Impressive graphics and ost

Awesome weather effects
Honey's Cons:
Very repetitive after long hours

Not much different from Just Cause 3

Tons of glitches
Honey's Final Verdict:
It's hard to not recommend Just Cause 4 for the entertainment value, but equally, we can't say everyone will enjoy Rico's newest outing. While Just Cause 4 might be bigger in every aspect, the main game hasn't changed much and that can create a feeling of been there done that to set in quicker than past entries. That's why if you enjoyed the explosive adventure Rico had in the last three games, you're in for a similar experience in Just Cause 4.
Are you thinking of picking up Just Cause 4 or will you be passing on this entry? Comment below with your thoughts as we always love hearing from you readers. Be sure to keep stuck to our hive for more game reviews and articles—and for all things anime—curtsey of us here at Honey's Anime.