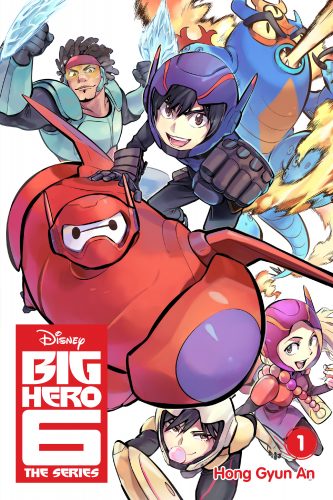 The Graphic Novel Adaptation of the Animated Television Series Set to Release August 2021

What You Need to Know:
Today JY, the Yen Press kids' imprint responsible for celebrated works such as Svetlana Chmakova's Awkward and Disney's W.I.T.C.H. and Wizards of Mickey, announced an August 2021 release of a graphic novel based on Big Hero 6: The Series, the animated show.

Big Hero 6: The Series, Vol. 1
Adapted by Hong Gyun An

The gang is back in an all-new adventure! Join Hiro, Baymax, Go Go, Wasabi, Honey Lemon, and Fred as they fight to protect the streets of San Fransokyo.
Filled with lovable characters and an intriguing science fiction premise, Big Hero 6 has been a fan favorite Disney property since the release of the Academy Award®-winning 2014 film. The graphic novel adaptation of Big Hero 6: The Series provides fans with fun-filled adventures with their favorite characters and is set to debut in between the end of the Big Hero 6: The Series animated show and before the highly anticipated original series Baymax!, streaming on Disney+ in 2022.
Big Hero 6: The Series is drawn by Hong Gyun An, a recent graduate of the School of Visual Arts in New York City. His range of dynamic character expressions is demonstrated throughout the pages of Big Hero 6: The Series.
Source: Official Press Release
About JY
JY, the middle grade graphic novel division of Yen Press, LLC, was established in the fall of 2017. This imprint is a sign of the Yen Press commitment to actively grow the catalog of quality content targeting middle grade audiences while making that content easily identifiable for parents, booksellers, librarians, and educators. For more information, visit www.jyforkids.com.
About Yen Press, LLC
­­Yen Press, LLC is a joint venture between Kadokawa Corporation and Hachette Book Group. Founded in 2006, Yen Press has quickly risen to become one of the largest and most prolific publishers of manga and original graphic novels in the North American marketplace and a driving force in the introduction of light novels and Japanese literature to new readers through its Yen On imprint. For more information, visit www.yenpress.com.
---
Gotta love that Baymax!
I know a lot of kids that will be excited about this one!