Whether one wants to believe in fate or not is entirely up to the person, but one thing we certainly believe is that you find the ones you love doing what you love. What does that mean? Well, for us here at Honey's Anime it means that passion is everything, and when you happen to come face to face with another passionate soul, it creates an incredible experience. Kaho Shibuya is just one of those very souls who we had the opportunity of meeting, and getting to know better through our shared love for the otaku lifestyle.
Whether it be gaming, growing up in the 90's era when anime was at its prime, or the true admiration for manga and writing, Kaho Shibuya is incredibly intelligent, talented, and has a heart of gold. We took the opportunity bestowed upon us and sat down with this beloved individual to give you all a taste of what the world of Kaho Shibuya has to offer. This interview will give fans a closer look at just who Kaho Shibuya truly is, and her role in the otaku world! Let's jump right into things with Bee-kun and provide you with the real Kaho experience! She's the otaku girl-next-door you've always dreamed of!
Kaho Shibuya x Honey's Anime Exclusive Karaoke!! Round 1!

---
Bee-kun
Kaho Shibuya
Bombon
Kaho Shibuya x Honey's Anime Exclusive Interview! Passion is Everything!!
I truly can't believe it! It's really Kaho Shibuya! Kaho-chan! She's so beautiful!❤
There's more than meets the eye Bombon! She's incredibly talented and intelligent!
All the more better right?! The perfect package!
Indeed! But now it's time for us to take off our ecchi glasses and go into focus mode! This is an interview after all! Business otaku mode activated!
I'm so excited, and a little nervous..Let's do this!!
Let's do this!
Exclusive Interview with Kaho Shibuya

What got you into anime as a child?

It's just a very natural thing I think (laughs). Just as you learn to walk, you learn to watch anime or read manga. Of course, anime comes first since reading kanji is difficult as a child, and so it worked the best for me watching anime!

What were some of your favorite shows during childhood?
Hmm, definitely Ranma ½ as it was my first OVA (Original Video Anime) moment. There was a place called "Kodomo no Shiro" in Shibuya/Aoyama area and they had a system where you could watch VHS tapes continuously of anime, anything! Usually anime because the place is geared towards kids, where you had a ball pool and just an area where kids can just play. Being able to watch anime was just part of that experience (laughs). You could just go to your own room and watch VHS tapes all day, sort of like an anime heaven!
Kaho Shibuya x Honey's Anime Exclusive Karaoke!! Round 2!


That's Wonderful! So you really embraced your otaku passion from a young age!

Yeah! Of course I didn't know what otaku was back then or knew that word existed, I just loved watching anime!

What do you think makes a "good" anime vs. a "great" anime?
Hmmmm, music (OP/ED theme) definitely helps a lot, but also the storyline. Also ones that come from manga, something that's cool and original. What do you think?

I think a good anime has good voicing and the animation itself is important, but what makes a great anime is not just the visuals but the "emotion". You want to feel that immersion.
Right, so a great anime has to really bring your emotions out! Oh, and another thing that makes anime great is character growth! It's not just about growing physically (Naruto Shippuden, for example), but more about growing mentally, along with your overall personality.

It's sort of like life, where you go through different stages and over time you have to learn about who you are, and discovering your potential emotionally, etc.

So when did you start writing?

I've always loved writing, even in elementary school. We always had school assignments so it was only natural during the time.

And what inspired you to continue writing? What piece of advice would you give to aspiring writers?
Hmm, not sure exactly. I just wanted to stick to what I loved and I guess it came naturally. As for advice… well, as you know, I used to be a reporter before but most of it was behind the camera and not necessarily writing. Now, I'd like to be on the front page and let everyone know who I truly am, my life, etc. Life is a sum total of different experiences, so to have interesting experiences or trying new things would be the best way to improve. Furthermore, writing was my way of expressing myself. I really wanted to become a mangaka from a young age, but didn't have the talent (laughs) and felt at some point there was a limit, so writing was the only thing I thought, "I can truly become an artist!"

Sort of like your outlet for expressing things from within. A very spiritual thing when you connect to people through your experiences, and providing joy to other people.

Right, expressing things is important and so that's the advice I'd give. You have to remember that there are people who are going to be reading your material, so it's imperative to think about the readers. Is it easy to understand? Always consider the person on the other end. If you want to write a diary for yourself then stick to a diary, but if you want the world to feel your experience then think about the readers! It's just like me doing cosplay for example: if I go on my own to enjoy the event, I can wear whatever I desire, but if I go as a guest I need to ensure my fans feel appreciated for my best assets!

Speaking of appreciation, what are your top childhood anime of all time?
That is so tough! Definitely Digimon is on the list! Honestly, if the movie was actually good then maybe it would be considered legendary status (laughs). It's not just the anime itself, because if the movies are lucrative then they'll continue creating the series! But I still love the series, even though the movies were… terrible haha. Hmm, Evangelion? I didn't like a lot of the movies (laughs) but the series I loved. Maybe Sailor Moon? Detective Conan for its story (lucrative movies too). Yeah, those 4 for now. What about you?

Digimon definitely because as a child, it was so imaginative and you really wanted to be a part of the world. Pokémon, Sailor Moon, Dragon Ball Z, and Gundam… Gundam Seed!
This one isn't really from my childhood but My Hero Academia really did a great job of adapting to anime. I'm more of a manga enthusiast and anime second, so I try to compare whenever I watch. Some anime don't really make the best use of motion and manga is just so much more fun because of the pace (like Dragon Ball). My Hero Academia is a great example of using motion with great quality.

I guess we can skip the top worst anime then, since it took the two of us quite a while to decide! Haha!
Yeah, plus I don't want to diss any anime! (laughs).

Moving onto the gaming side then! What games were you playing a lot during the 90's?

I played almost everything back then, but honestly I'm more of a RPG girl. I love to be on my own and discover the world myself. It's a fantasy land with you in it! Star Ocean: Second Story was one of my favorites. It's not the most famous title but I'm sure some of the fans will remember it. The great thing about Star Ocean: Second Story is that you can choose any character to play within the game.
I love Final Fantasy VII too, but most of the time you have to use Cloud, which was alright. With Star Ocean you can try different storylines, explore different endings, couple up with different people, you can just have endless fun! Also, there were a lot of mini-games like cooking! Hmm, I also love Dragon Quest III! A lot of people loved the story! OH! And Chrono Trigger! I played some action games with my brother but I'm quite terrible, so I love just watching others play (laughs). I'm just more into the story and diving deeper into things, feeling more absorbed. I totally forgot! Tales of Destiny is also my favorite!

Who are your favorite video game characters?
As you know, Chun Li is everyone's first crush (laughs), then you have Darkstalkers (known as Vampire in Japan) and my favorite character from the series is B.B. Hood or Baby Bonnie Hood (known as Bulleta in Japan)! She's a totally interesting character because she tries to hide her true identity but once she sees her opponent, the big guns come out! I just like the female Darkstalker characters because they're very cute and attractive. Morrigan for example!
From Final Fantasy VII there were special events where you could go to theme parks and go on dates with characters, and I wanted to go on a date with Yuffie! Yuffie is my favorite character. You need to complete an optional story to unlock her I believe, so I worked my butt off to go on a date with her (laughs)! It's easy to go on dates with the regular cast, but with Yuffie, you have to be liked by her and use special Materia in order to protect her. That's how I built up the attraction for her and took her on the Ferris Wheel, then she kissed me on the cheek! I was so happy!

And what were your favorite gaming consoles growing up?
Game Boy was fun, but during that time there were a lot of bugs in the hardware and so, some games would often not perform correctly. One funny example is in Cardcaptor Sakura for Game Boy, where Sharon came from Hong Kong to meet Sakura and started building a friendship, and then for some reason the game kept on repeating that same story over and over again until I eventually just gave up (laughs).
I guess Super Famicom too since it was quite relieving to not deal with any of those bugs from the early Famicom (Famicom and Super Famicom are known as NES and Super Nintendo/SNES in the west), and not have to blow into the cartridge every time! Super Famicom had really interesting action games like Sailor Moon! I really liked playing with my friends or brother and it was much easier than bringing 3-4 other people to your place to play let's say Smash Bros on N64. With Super Famicom it was strictly 2 players and it was much easier for me during that time to enjoy myself. Maybe the original PlayStation too since the graphics were amazing (especially FF VIII). Sega Saturn had great titles too but it wasn't as interesting. So top 3 would be Game Boy, Super Famicom and PlayStation.

Classics are always the best! If you could choose a gaming world to live in, which would it be?
While I do like Final Fantasy VII, the world itself is just too dark and gruesome. Sephiroth just kills everybody (laughs) so it's too much for me. Dragon Quest would be interesting since you can do pretty anything, like being the main hero or becoming a martial artist for example! I like the martial artist because they fight with raw power and not depend solely on special tools. My favorite character from Dragon Quest III was the female martial artist because she was attractive but still powerful. It's just cool that you can always learn different vocations while you play, which help you to better develop your character.

If you could choose an anime world to live in, which would it be?
Definitely not Gundam! It's too stressful! Maybe a magical world? Mahoujin Guru Guru (known as Magical Circle Guru Guru in English) for sure! It's usually quite laid back and safe. Of course you have the 魔王 ( "Maou" sort of like Emperor or Devil-King in English) but it's still an interesting world to be a part of. I also really love the artstyle of the mangaka and the characters are cute, so I can make friends with them quite easily.

What are some of your favorite anime OP/ED?
Ryuuou no Oshigoto! (The Ryuo's Work is Never Done!) is a pretty moe anime, but I love the opening song since the lyrics really compliments the entire world of the show. I also love a majority of Cardcaptor Sakura's opening songs since they really embrace the cuteness of the series, but still provides a serene experience! Detective Conan has a ton of great ending songs but my favorite is "Natsu no maboroshi - GARNET CROW". They sang more than 10 songs for the series! But overall, that's my favorite one. It was the first one that I kept watching over and over, even after the show was finished (laughs).

To wrap things up, do you have any anime/manga recommendations for your fans?
Actually, Honey's Anime recently posted a press release about it, the manga "BEASTARS". I was waiting for them to do an anime adaptation, but also there's a lot of buzz online surrounding the manga because the female mangaka for the series shares the same family name with legendary mangaka Itagaki-sensei (Itagaki Keisuke - the great mind behind Baki the Grappler). Both series were published in Shounen Champion, known for Baki, and so to introduce BEASTARS under the same publication as Baki created a lot of speculation! Many people thought, "they must be related!"
Perhaps someday if the series ends up becoming popular, she may reveal that to the world eventually (laughs). The manga won many awards last year and became very well known, but in order to truly become great you need to deliver a successful anime adaptation (laughs) and hopefully movies, live-action movies as well! It's similar to the setting to Disney's "Zootopia" and very emotionally driven. I hope the anime is able to last for more than one cour!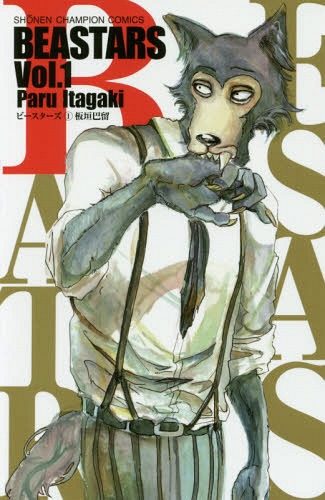 Kaho Shibuya x Honey's Anime Exclusive Interview!


Thank you so much for your time, Kaho-chan! You're awesome!
---
So what do you think? Is Kaho-chan your favorite "otaku girl next door"? We certainly think so! She's very well spoken and delivers a lot of emotion in her responses, which clearly shows just how much she cares about her passion. Would you like to see more content from Kaho-chan and Honey's Anime? If so, then show us your love by commenting down below and of course, sharing this interview on social media!
It was a pleasure sitting with Kaho-chan and celebrate all things otaku! Until next time, for all things otaku, be sure to keep it locked right here on Honey's Anime! Bee-kun and Bombon signing off!