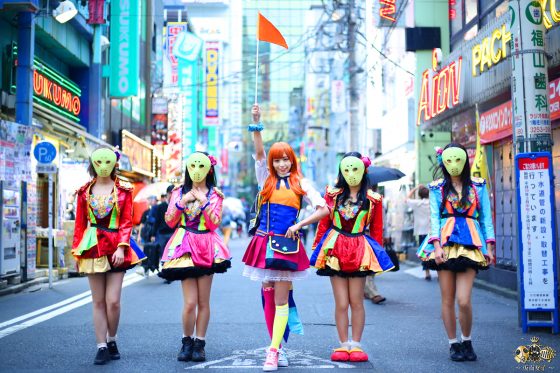 What You Need to Know:
This may seem like new news to a lot of you in the west, but the girls of Kamen Joshi are a big deal here in Japan. They're so big that now the government has officially appointed the popular girl group as the official ambassadors of the otaku heaven known as Akihabara, as they'll be promoting the city for the upcoming 2020 Olympics!
Five years after the underground idol group established their permanent home at the P.A.R.M.S. Theater in Akihabara, the performers have been featured in international news media and achieved over 2.8 million followers on Facebook, the highest number of any group in the idol genre.
At a special ceremony after Kamen Joshi's October 6th concert at the P.A.R.M.S. Theater, Mr. Tomio Izumi, Akihabara Tourism Promotion Association Director & Head of the Secretariat, presented the group with the honor.
The same day, it was revealed that Moa Tsukino, member of the Kamen Joshi sub-group Armor Girls, will perform the character voice for "Akitsu Mitsuba", the Akihabara "omotenashi" (hospitality) character created in 2016. Tsukino has previously performed voice-acting roles in the anime series Clione no Akari and To Be Hero.
If you want to know more about this epic girl group known as Kamen Joshi, be sure to scroll down below for all the links!
Source: Official Press Release
Kamen Joshi Profile
KAMEN JOSHI ("Masked Girls") are Akihabara's True Underground Idols! The attractive members of Kamen Joshi wear masks to conceal their faces while giving over-the-top, extreme stage performances accented by amazing props and costumes, stage diving, and headbanging.
With over 1,000 performances per year, Kamen Joshi has brought landmark achievements to the idol world:
• 2.8 million Facebook followers (highest number in the idol genre)
• First independent female artist to achieve number 1 on Oricon Singles chart
• Performances at Saitama Super Arena and Budokan
• Official Ambassador of Tourism for Akihabara
• Japan Ministry of Justice Ambassador for Public Relations
Spawned from performers who were rejected by other agencies, Kamen Joshi includes three separate groups with their own distinct images and sounds – Alice Juban (horror), Steam Girls (steampunk), and Armor Girls (medieval).
In an era where an idol's identity is synonymous with her looks, the girls of Kamen Joshi rebel against the rules of the entertainment world to establish a new generation of idols. They are rising up with the support of their fans to find revenge in success. Without perfect performances or relying on "kawaii" looks, Kamen Joshi breaks boundaries with hardcore, high-energy performances and wild, unpredictable staging.
Links
KAMEN JOSHI HP (English): http://www.alice-project.biz/kamenjoshi/en
KAMEN JOSHI Facebook: https://www.facebook.com/kamenjoshi
KAMEN JOSHI Twitter: https://twitter.com/J_Kawaii_Girls
KAMEN JOSHI Instagram: https://www.instagram.com/kamenjoshi
Official Promotional Video
純血1780話『秋葉原がお祝い!遂に仮面女子が秋葉原観光大使に就任!秋津ミツバ CVに月野もあ決定!』2017年10月6日

---
Whoa! I remember watching Kamen Joshi live in Akiba once! Great bunch of girls with a ton of energy!
I saw them recording in Akiba actually which was really cool.
---