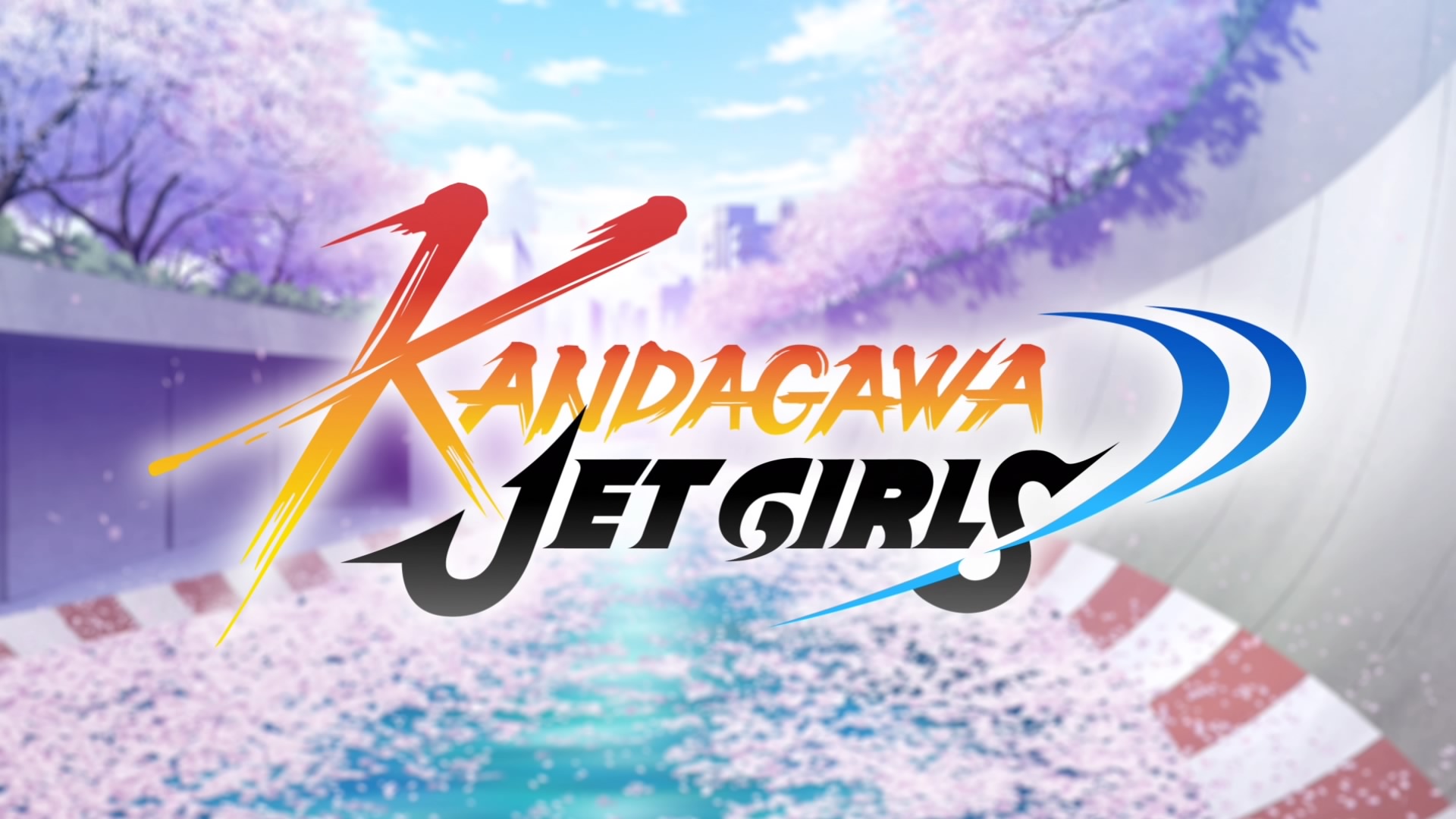 Jet ski racing has never been sexier!
System: PlayStation 4, PC (Steam)
Publisher: Marvelous USA, Inc., XSEED Games
Developer: Honey ∞ Parade Games, SHADE, Inc.
Release Date: Aug 25, 2020
Kandagawa Jet Girls - Launch Trailer [PLAYSTATION 4 | WINDOWS PC]

Who it Caters to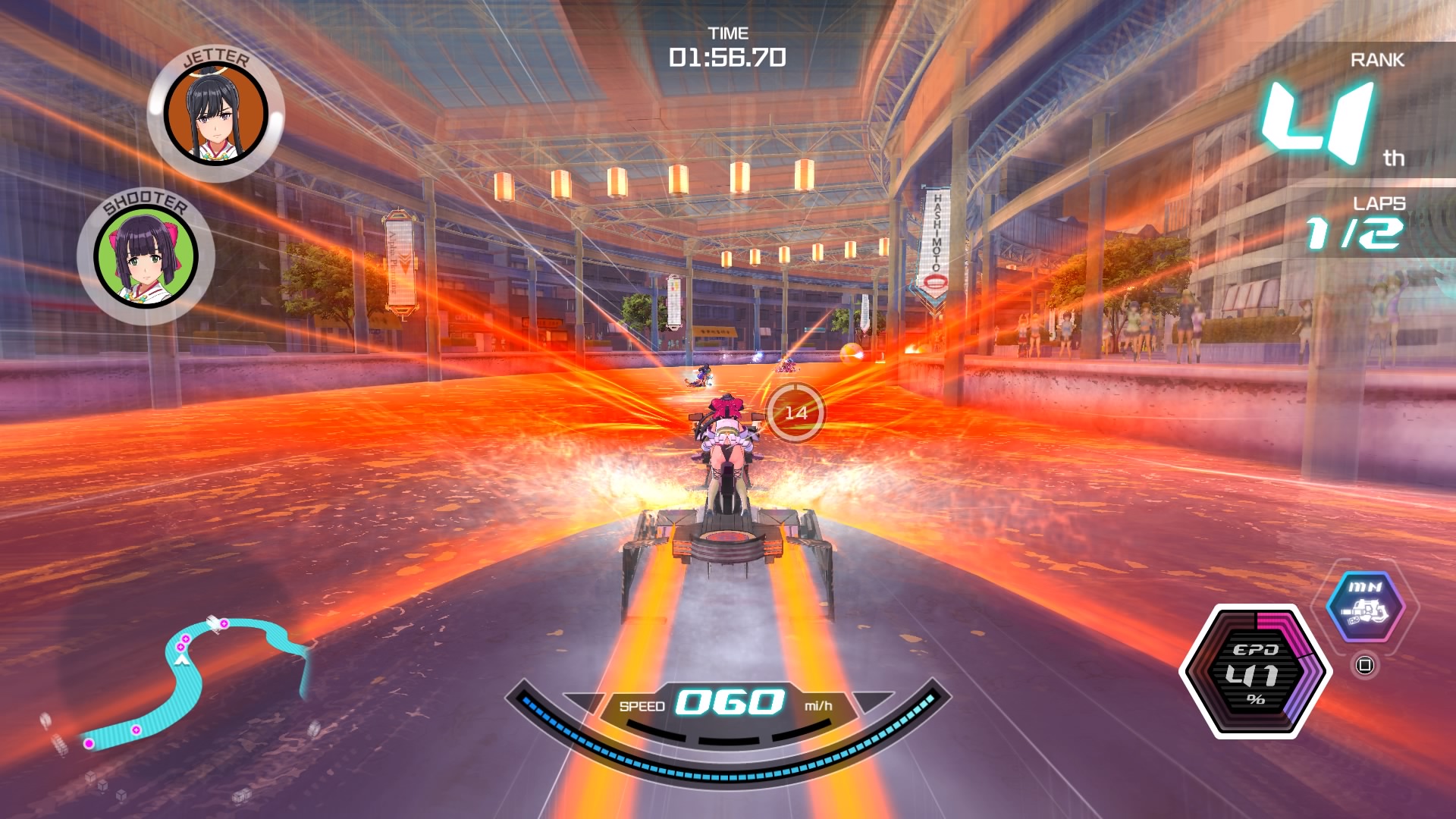 Kandagawa Jet Girls is a multiplatform project from the creators of Senran Kagura. While the anime premiered back in Fall 2019, the game's western release took its time, but it's finally available for all PS4 and PC owners. In this story, several cute girls compete in jet ski races to see who's the fastest, but the rules are a little bit different: every team consists of 2 girls, a jetter (the pilot) and a shooter, and they won't hesitate before shooting other gals if that's what it takes to win a race.
If you enjoyed the anime or you just happen to like beautiful anime girls in summery clothes, how about giving this title a try?
What to Expect
In the anime, girls would frequently tear off each other's clothes, show their underwear, or stuff like that; in the uncensored version, you could even see them blatantly—and proudly—show their breasts. This is a T-rated game, though, which means no sexual innuendo and, of course, no naked waifus for you. You can definitely dress them sexy nonetheless!
Simply put, Kandagawa Jet Girls is a racing game. Full of cute anime ladies in skimpy clothes, but still a racing game. Just look at those curves!!
Visuals
This game definitely conveys the colorful, lively feeling of the franchise, with clean menus and admirable graphics for an anime game. Some portions of the story are told through small VN-like scenes, using animated 3D models instead of still images. As for the races, everything looks like it should, and although we'd have loved to see more circuits, it's nice that you can race at dusk or night, too. There's even a rainy course!
Sadly, loading times are a problem when you browse the menu and go from one mode to the other, but as we just mentioned, at least they look really good, featuring simple yet appealing animations and many cool images of the girls.
Sound, Music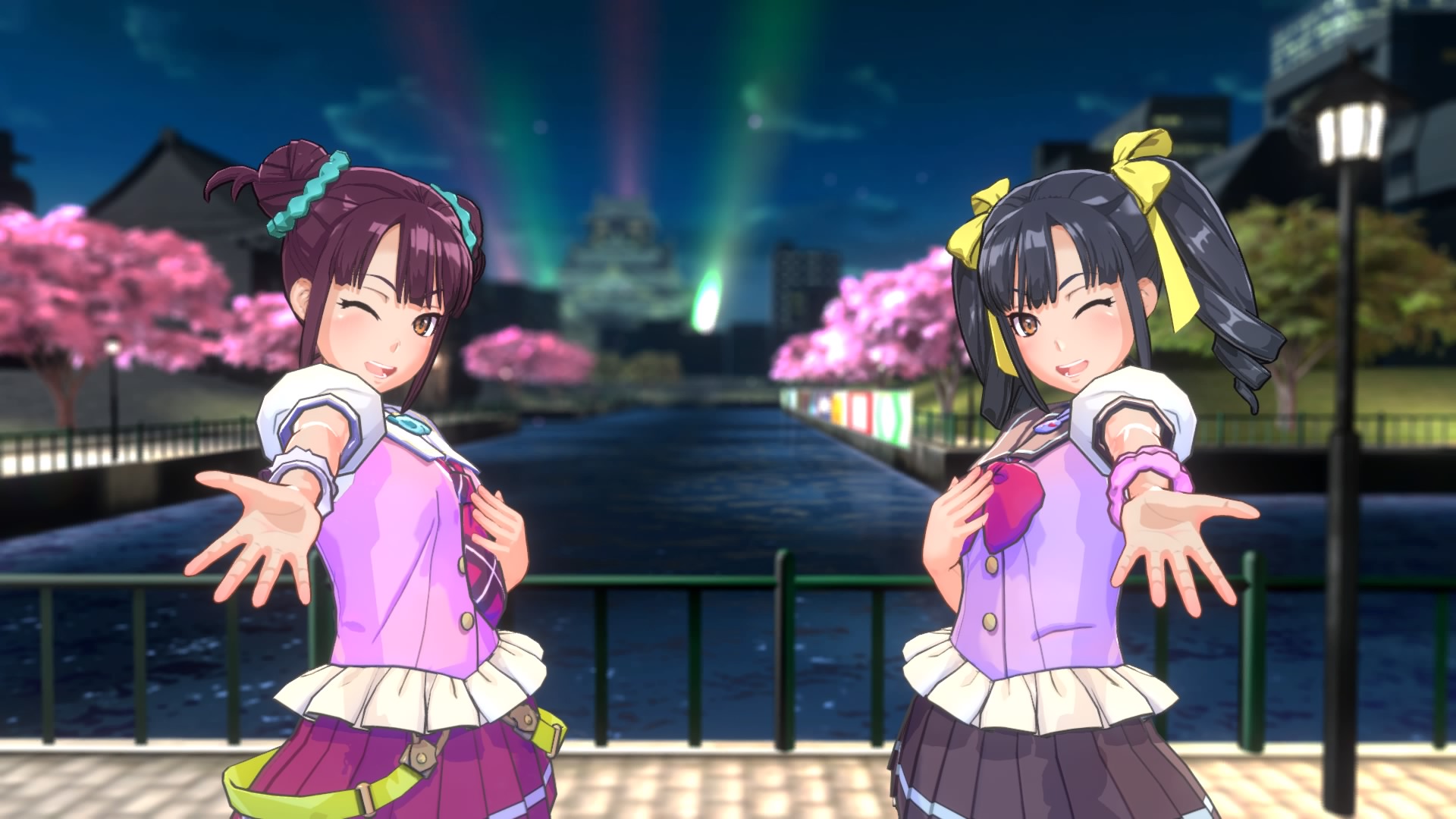 After playing Kandagawa Jet Girls, you won't be able to keep the main song out of your head, we have no doubt about that. During the prologue and epilogue of a race, the noisy synthesizers give way to a sweet melody that accompanies the dialogues. The more you play, the more songs you can unlock to play in the Clubroom. There are dozens of options available!
Back to the dialogues, we love that all lines are fully voiced, something that's always a plus in our books when it comes to visual novels. Not only that, but the girls talk to each other during the races too! This is just a gimmick, but it helps a little with immersion. In fact, other games would be happy with just these sound effects, but we also have an English translation on screen. Who can complain about a little more insight while we race?
Gameplay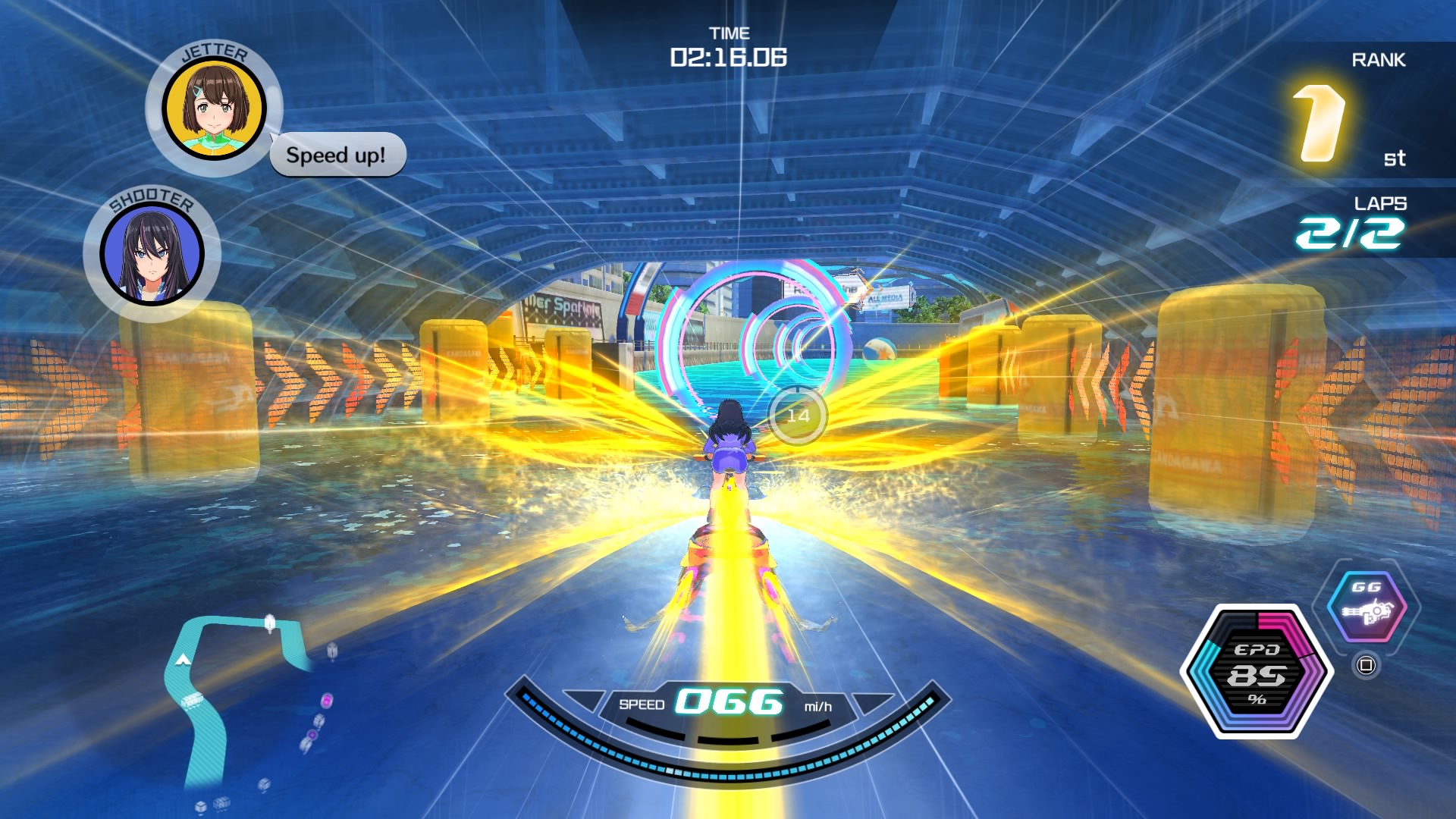 The main campaign of Kandagawa Jet Girls is divided into arcs, one for every team. You start playing with Rin and Misa, learning about the main character's passion for jet ski races but also experiencing how the titular Kandagawa Jet Girls team came to be. After winning a few races, you can try other arcs, playing as MKHU's Yuzu and Manatsu or Hell's Kitchen's Dina and Ziyu.
In every race, your main objective is to finish in the first position, otherwise, you won't be able to advance to the next race. If you want to unlock a special item to customize your favorite character, however, you must complete 3 objectives, which involve using your weapons (or not using them at all), reaching a specific speed, or performing a set number of trick jumps.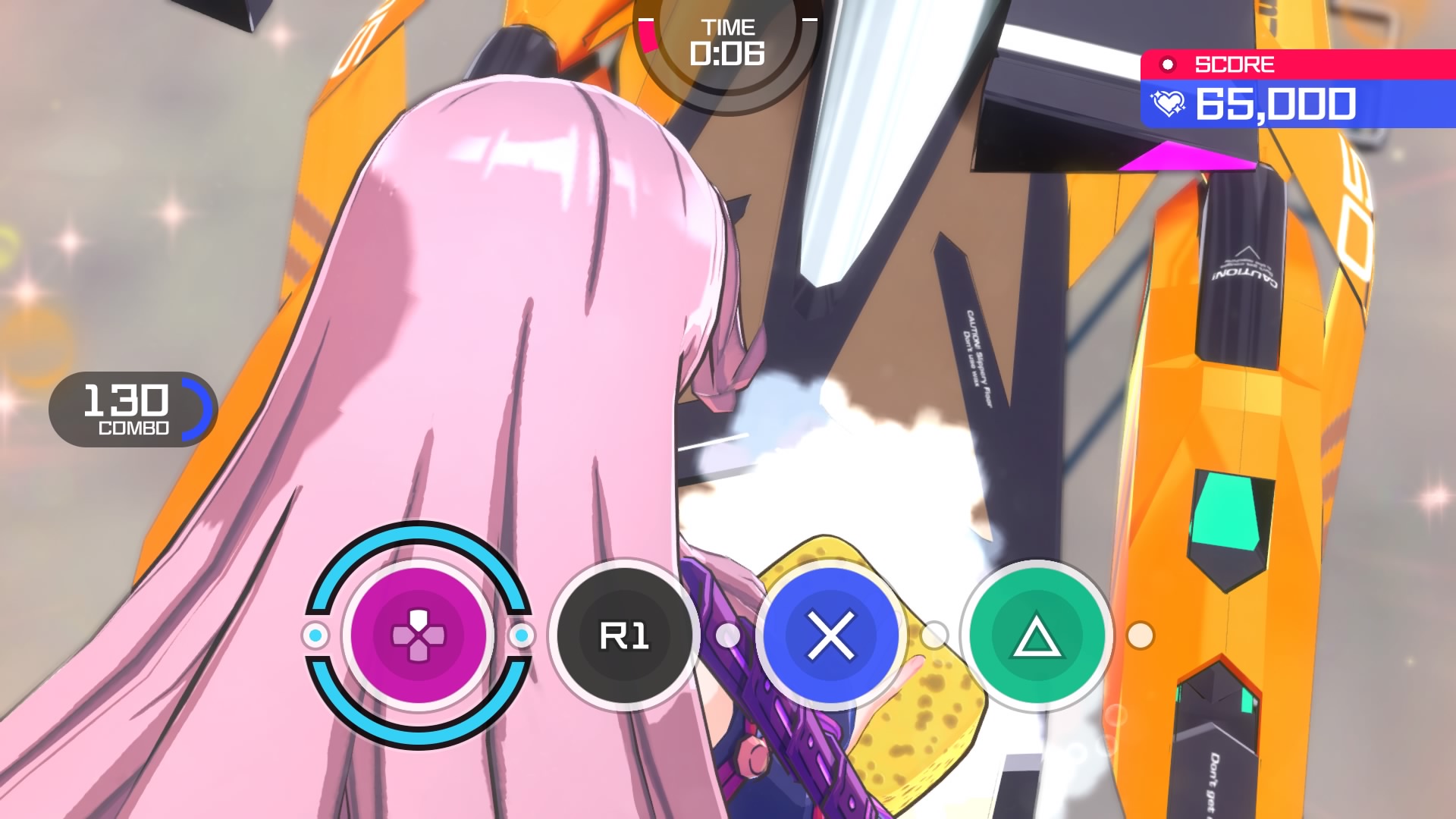 Although the controls are not hard to master, we recommend you finish the tutorial before trying your first race. That's because you need to understand how to shoot your rivals, how to perform trick jumps that temporarily boost your stats, how to take advantage of drift-boosting, etc. To be honest with you, that's the only difficult part about Kandagawa Jet Girls; once you get enough points to buy new parts and customize your jet, it will be harder to lose than it is to win... and most races are super easy anyways, even without any upgrades.
You can earn points to buy stuff by playing these story arcs, but it would be easier to go for the minigames listed as Extracurriculars in the Clubroom. If you ask us, Jet Machine Cleaning (something like a rhythm game that tests your reflexes) is both the easiest and the most fun, but there are other 3 options. Once you have enough money, head to the Clubroom's Shop to customize all characters and jet machines available!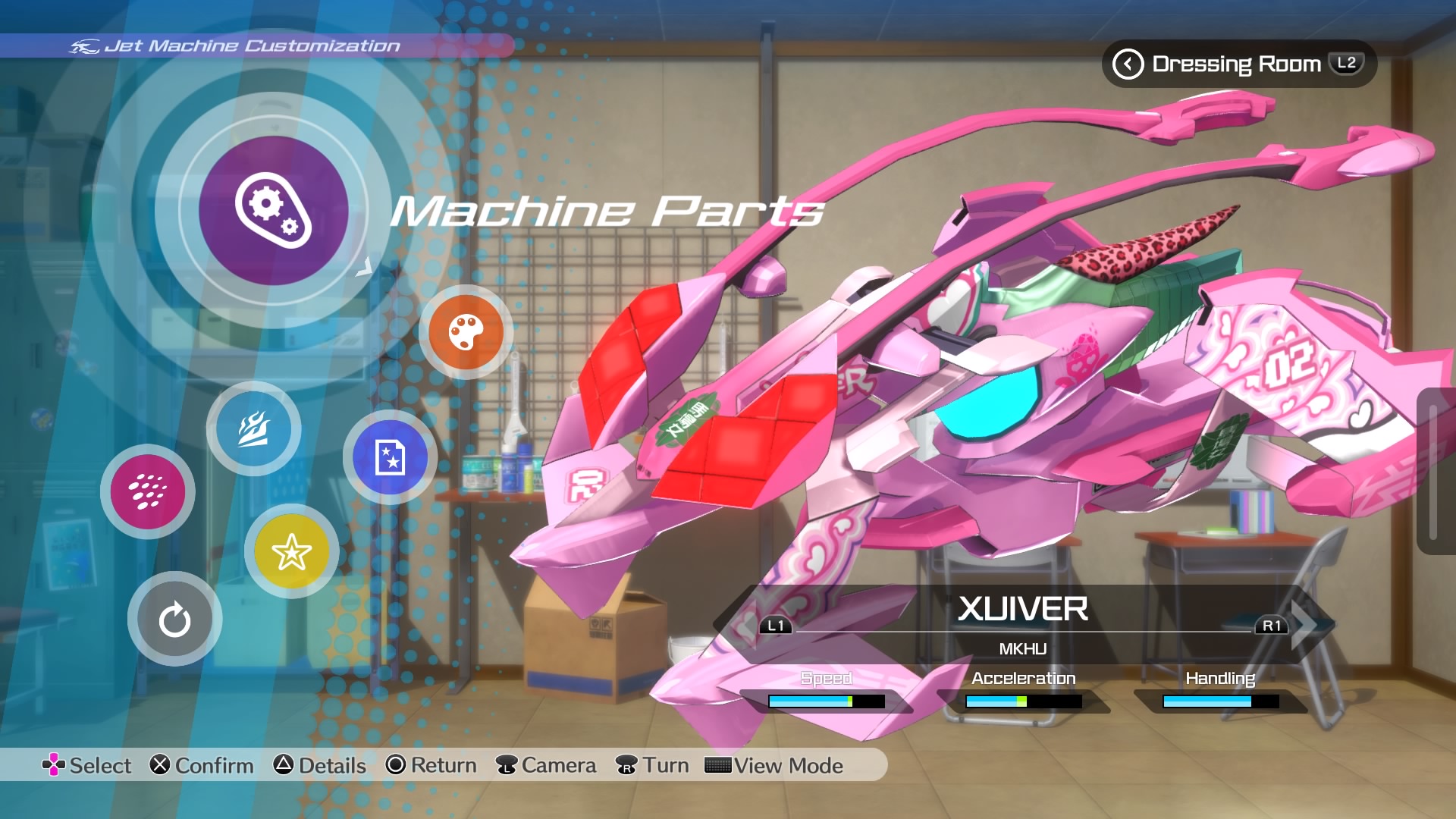 If you get tired of the Story Mode, you can go to the Free Mode for a customized experience, where you can try a Time Attack race or just top other people's rankings. If you go for a Free Race, you can change the AI difficulty, lap count, and course; most importantly, this is the only place where you can race using 2 girls from different teams! Not only that, but you can race against 3 other teams of named characters—in the Story Mode, you only race against two named characters (a team) and several random girls. For those looking for a real challenge, there's also the Online Mode, where you can race against other players in ranked or casual matches.
Honey's Gameplay Consensus:
For what it's worth, Kandagawa Jet Girls plays like old jet ski games like Wave Rally or Splashdown, and it's a much better option than Aqua Moto Racing Utopia (also available for the PS4) if you only care about anime waifus and not so much about jet skiing.
As of now, there are 7 teams from Kandagawa Jet Girls and another one from Senran Kagura—the Shinovi team, composed of twin sisters Ryona and Ryobi. In the near future, they will include more teams from the SK series, so look forward to it if you're a fan of the saga!
Honey's Pros:
If you like Kandagawa Jet Girls, Senran Kagura, or both, you'll definitely enjoy spending time with these girls.

You can customize your waifus, which seems to be the ultimate objective of this game.
Honey's Cons:
More censorship than its anime counterpart, so you won't see that much skin...

Too easy to be considered a real racing game.

No offline versus mode!
Honey's Final Verdict:
We don't expect you to buy this game just for the sake of high-speed water sports, so the lack of difficulty shouldn't be a problem for those who miss spending time with these sexy ladies. If you're a fan of Kandagawa Jet Girls, then you know what this is about!
If you were looking for a realistic take on jet skiing or a rather complex anime game, keep looking! This is a pretty straight forward game about winning jet ski races to dress your virtual darling.
---