You may already know about Kantai Collection, but if you haven't don't worry! That's what I'm here to explain. So if you're not aware, this up and coming anime started off as a free-to-play online card game that debuted on April 23, 2013. Made by Kadokawa Games, the game has a massive player list of 2.2 million (which is even more impressive as the game is available in Japan only as of now), with a tabletop adaptation, manga series and light novels all based off the game itself. The best part is, the original game has no plot to speak of and focuses solely on the gameplay!
On December 5th a brand new promo video was released in anticipation of the anime premier on January 7th of next year. The new promo (which can be seen just below) in English says:
"Commander, nice to meet you! I'm Fubuki! At last, anime in which we Kan-musu go wild will be on air! I'll do my best! TV anime, Kantai Collection, starting to air in January!"
New Kantai Collection Promo Video (Dec. 5)

Kantai Collection the first PV (Aug. 4)

The anime itself has the same world setting as Arpeggio of Blue Steel; wherein humanity has lost control of the seas. The enemy that has taken the sea from us is known only as the "deep sea fleet" and the only ones who can stand up to this fleet is the Kan-musu, or Warship Girls in English. These girls are special because they possess the spirits of ancient naval warships, together they live and train to fight and eradicate the threat that keeps humanity away from the waters. The big difference between KanColle and Arpeggio however, is that the girls are themselves, the ships. As you can see in the first PV released on August 4th, a girl named Seiki Kuubo Akagi nocks an arrow and lets loose, only for the arrow to split into multiple WW2 style bombers. With each Kan-musu having a different arsenal at her disposal, this is sure to be an anime very original in nature with beautiful animation.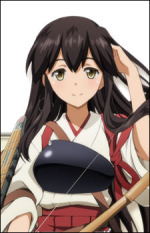 The Kan-musu base is located in Chinjufu, where one day Fubuki arrives with the spirit of a special class destroyer. This is where the Kantai Collection anime is set to begin, with Fubuki being the lead character for this new story that already has millions captivated, and excited for this animated adaptation. Remember to check it out on the 7th!
Kantai Collection the second PV (Nov. 6)