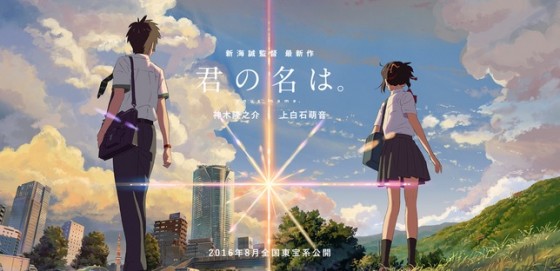 What You Need to Know:
Kimi no Na Wa is clearly the movie of the year in Japan. With it's explosive popularity and more, it has really done well for itself. The official sales numbers have been released confirming some news that we were kinda expecting. Sadly(?), it did not overtake Studio Ghibli's Gake no Ue no Ponyo (Ponyo) and is currently ranked 6th of all anime movies of all time. Ponyo raked in 1,550,000,000 yen just outperforming Kimi no Na Wa.
It has been confirmed that Kimi no Na Wa has made over 1,500,000,000 yen at the box office alone. For reference, that is one billion, five hundred million yen or approximately 14.42 million USD. The original projected figure was maybe about 1/10th of it at around 1.4 million USD gross as the total income. However, clearly the movie has hit their expectations right out of the park.
There is no sign of it stopping either, as it has been given a live stage play, guaranteed to do well, musical cds, as well as various novels that you can see on the light novel charts that are crushing everything that debuts each week now for almost 2-3 months. It should also be noted that more than 10 million people have seen the movie, and it is estimated currently that the other forms of media will continue to sell quickly. Have you seen it yet?
Source: Yaraon
Reactions Around the Web
Holy Sh--!
I'm sure that it's more that the fans went to see it multiple times.
Makoto Shinkai is amazing.
Makoto is Japanese.
I am Japanese.
I am amazing.
Read the side story aka earthbound!
Ponyo would naturally be better than this.
---
woah... woah.... wow.
I have been reading the novels and they are great. Now it is just time to get my hands on that musical CD as well as tickets to the live stage!
---