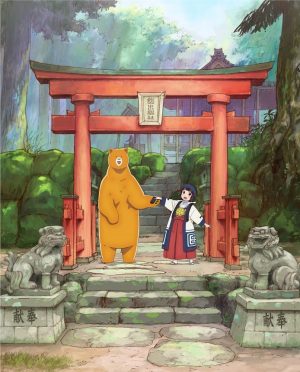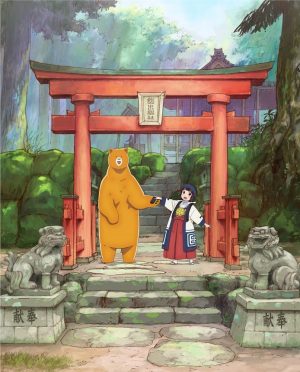 Kuma Miko

---
---
---
Studios:
Kinema citrus Co., EMT Squared
Synopsis
In the Touhoku region deep in the mountains, a girl named Machi works as a priestess at a shrine that reveres bears. One day, Machi tells her guardian, (a guardian) Natsu the bear, 'I want to go to the school in the city!' Machi really wants to go, but has no patience and she knows nothing about society! Natsu, who is prone to worrying, has decided to train Machi and give her various lessons on how she can keep living in the city...
Characters & Voice Actors List
Machi Amayadori

Voice Actor: Natsumi Hioka
---
Machi is a middle school student who is working at the Kumaide Shrine. She has become used to living in the city, but she has spent many years living in the countryside, so she has a complex about it. She is extremely bad at dealing with machines.
Natsu Kumai

Voice Actor: Hiroki Yasumoto
---
Natsu is a brown bear but he can communicate with humans. He can understand written language, but he is bad at writing. He has been living with the townspeople since he was an infant. He is very up to date on consumer electronics.
Yoshio Amayadori

Voice Actor: Kazuyuki Okitsu
---
Yoshio is the cousin of Machi. He works for town hall in Kumaide Village. He is quite the opposite of Machi in that he is sociable and positive person.
Hibiki Sakata

Voice Actor: Eri Kitamura
---
Hibiki is a childhood friend of Yoshio. She's a delinquent and rides a motorcycle. She is frequently misunderstood.
Other Title
Girl Meets Bear, くまみこ
Airing Info

Legal Streaming:

Theme Songs

Opening Song: Datte Gyutteshite by Maki Hanatani
Ending Song: KUMAMIKO DANCING by Natsumi Hioka & Hiroki Yasumoto

Adaptation

Manga


Main Staff

Original Creator: Masume Yoshimoto
Director: Kiyoshi Matsuda
Script: Pierre Sugiura (Masafumi Sugiura), Masao Iketani
Character Design: Hiroyuki Saita
Animation Director: Hiroyuki Saita
Sound Director: Kazuya Tanaka
Music: Akiyuki Tateyama
(Credit Honey's Anime when you use our description.)