With the hype of 1,000 suns, I decided to check out the new Love Live! iOS game. With the new announcement that there's 10 million players worldwide and a (possible, according to a burger stand advertising paper, official website doesn't mention this part), re-airing of the series from Jan. 2015, I figured I owed it to the anime community to take a look at it.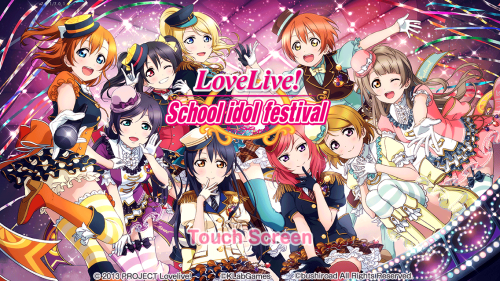 Skepticism in my heart and a bit of sleep still in my eyes, I downloaded it. The title screen is what you would expect it to be, tons of Japanese high school girls gathered around for joyous and merry times, smiles on their faces and their eyes sparkling from the sheer happiness they must possess.
"At least it's in HD," I thought. So, not bad at all on the animation scale of things. Then the story begins, pay attention to this part if you choose to play, it helps with understanding the full scope of the game. There's more to it than I originally thought, I was beginning to be impressed. Yes, the game has a full main story with side stories.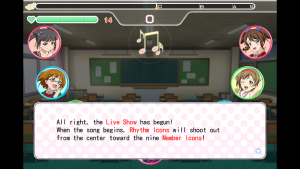 After the prologue I unlocked a song. This is the main point of the game, think Tap Tap Revolution with an entire half circle to cover instead of three or four points. To unlock the higher difficulties of a song (they mostly start on easy), you have to first beat the easier levels.
I had a lot of fun with this part of the game, and there's no lag to speak of. I just kept going, I couldn't stop myself. I wanted to clear all the songs. I wanted to beat this game and prove it was a waste of time. I'm still not done with it. I need to finish this so I can play it more. I'm not addicted, I swear. I just want to prove I don't like this game. Oh yeah, bonds. In order to recruit new band members there's a few routes you can go, but bonds will get you the best ones. When you max their bond points, you can unlock her side story. Completing these side stories give you a heart gem that then allow you to recruit an honor student (better statistics). You get bond points by just playing the game, pretty simple.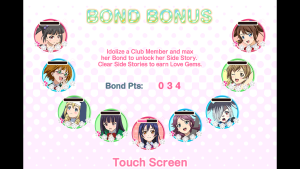 Notice how some characters are different colors? Blue is cool; red is smile and green is purity. Each song specializes in a single aspect, so the more characters you have of a single aspect the more points you'll get.
All in all, the game is too addicting. You know those free moments you have, where the only thing you want to do is forget about work, life, all your problems in general? Those thoughts are all gone; all you want to do is play one more song. If I had to rate this game on a 0-10 scale, I would rate it an 8 out of 10. The only reason for the demerits is that the story does seem kind of pointless once you get the hang of the game, and there are only a few side missions so far. For more information you can find it on the games promotional website.
Love Live! School Idol Project Anime

The anime itself has two seasons; both have 13 episodes each and delve into the lives and customs of a group of high school girls in the midst of a giant culture clash. Their high school borders three different cities with three different cultures: Akihabara is a pop culture mecca that continues to evolve; Kanda is a more conservative city where history and tradition are the standard base of operations; and Jinbo is a quiet area for the more reserved of the population. The girls school is in trouble of closing down due to fewer and fewer students enrolling, so they devise a devious plan to form a pop idol group to bring awareness and more students to their school, thus saving it from closure.
Episodes: 13
Aired: Jan. 2013 - Mar. 2013
Season 2

As far as the second season goes, it's the girls last chance to win the Love Live! competition together. Now, their school isn't in danger of being closed anymore – but the girls want to win this competition to know they did it together.
Episodes: 13
Aired: Apr. 2014 - Jun. 2014
Official Trailer Season 2

You don't have to see the show to check out the game and vice versa, but the show is a big hit in and of itself. I highly suggest picking it up if you're into dreams coming true and idol anime! The game is fun, it's a glorious time waster and will make those dull moments of the day feel too short. It's free from the iTunes App Store and Google Play.
by Nathaniel Loomis