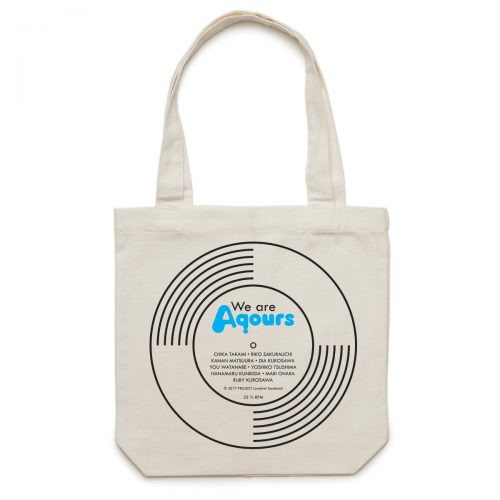 Vinyl Set to Be Released in 2022

What You Need to Know:
BANDAI NAMCO Arts Inc. announced today it will release a three 12"-vinyl record set featuring the Day 1 live concert of Love Live! Sunshine!! Aqours World LoveLive! in LA ~BRAND NEW WAVE~ which was held on July 5, 2019 in Los Angeles, CA. This vinyl record set will be manufactured and sold exclusively for the U.S. market.
Pre-orders will begin on November 10, 2021, at 8 PM EST on PREMIUM BANDAI USA and Right Stuf. A special bundle set including a Love Live! Sunshine!! Aqours Tote Bag will be sold exclusively on PREMIUM BANDAI USA.

[Product Details]

REGULAR VINYL SET

Product Name: Love Live! Sunshine!! Aqours World LoveLive! In LA ~BRAND NEW WAVE~ Day 1 Vinyl Set
SRP: $165.00 USD
Release Date: March 2022

Specifications:
Three 12"-Vinyl Record Set
Total Running Time: Approximately 111 minutes
Publisher & Distributor: BANDAI NAMCO Arts Inc.

PREMIUM BANDAI USA EXCLUSIVE SET

REGULAR VINYL SET + Love Live! Sunshine!! Aqours Tote Bag

SRP: $180.00 USD

Specifications:

100% cotton canvas
Bag Dimensions: 16.5" x 16.5".

Track List

Vinyl 1 – SIDE A

01. OPENING (Main Theme of Love Live! Sunshine!!)

02. Bokura no Hashitte kita Michi wa…

03. Thrilling One Way

04. Aozora Jumping Heart

Vinyl 1 – SIDE B

05. – MC 1 –

06. Mattete Ai no Uta

07. Shoujo ijou no Koi ga shitai

Vinyl 2 – SIDE C

08. SKY JOURNEY

09. Daydream Warrior

10. Todokanai Hoshi dato shitemo

11. Brightest Melody

Vinyl 2 – SIDE D

12. – SHORT MC –

13. Koini Naritai AQUARIUM

14. Kimi no Hitomi o Meguru Bouken

15. Mirai no Bokura wa Shitteru yo

Vinyl 3 – SIDE E

16. – MC 2 –

17. Kimino Kokorowa Kagayaiterukai?

18. Hop? Stop? Nonstop!

Vinyl 3 – SIDE F

19. – ENCORE MC –

20. No. 10

21. Thank you, FRIENDS!!

22. Jump up HIGH!!

Product details subject to change without prior notice.
---
About Love Live! Sunshine!!
The cross-media school idol project based on the new "story which we make our dreams come true." The school idol group "Aqours" (pronounced as "aqua") formed in Uchiura, Numazu-city, Shizuoka Prefecture is spread among different types of media including CD releases with animation trailer video in DVD & Blu-ray, events, magazines, and smart phone applications.
The project started in April 2015 in DENGEKI G's Magazine. The first single "Kimi no Kokoro wa Kagayaiteru kai?" was released in October 2015. The second single "Koi ni Naritai AQUARIUM" followed in April 2016. The unit single CDs were released one by one starting from May 2016. The TV anime series started airing in July 2016.
About BANDAI NAMCO Arts Inc.
BANDAI NAMCO Arts Inc., founded in August 1983, is a Japanese company that develops, produces, and distributes film, TV and home entertainment media. As a pioneer of the Japanese animation scene BANDAI NAMCO Arts has consistently held the top-class market share in the genre and continues to lead the market. BANDAI NAMCO Arts has also proven its expertise in creating and delivering quality home entertainment media packaging in Japan. Using such key strategies, BANDAI NAMCO Arts targets to expand and emulate its success in international markets. BANDAI NAMCO Arts Inc. is a wholly-owned subsidiary of BANDAI NAMCO Holdings Inc.
Source: Official Press Release
---
LoveLive! is the BEST!
I love the show and I love the music!