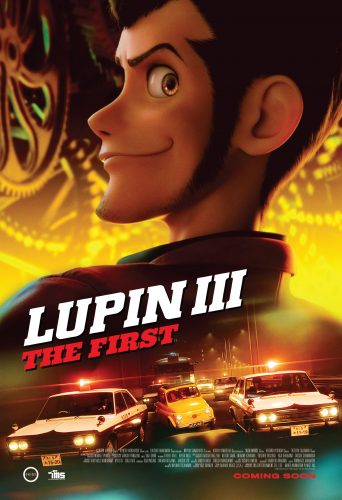 Third of Four Features from GKIDS and Fathom Events Partnership to Bring Acclaimed Animated Features Back to U.S. Movie Theaters Throughout 2021

What You Need to Know:
Tickets are on sale now for LUPIN III: THE FIRST, from director/screenwriter Takashi Yamazaki. The "Lupin the 3rd" franchise, from original creator Monkey Punch, began in 1967 and has spanned a variety of manga, TV, game, theme park ride, and musical adaptations, including The Castle of Cagliostro (1979), the feature film debut from the acclaimed director Hayao Miyazaki. Lupin III: The First marks the storied character's first adventure in CG, and will be shown in both original Japanese and English dubbed versions, with select screenings available in 4DX, the immersive multi-sensory cinematic experience. In addition to the full feature, audiences will view a special intro with director Takashi Yamazaki.

LUPIN III: THE FIRST – EVENT DATES

Sunday, August 29, 3:00 local time (English Dub and 4DX)
Tuesday, August 31, 7:00 local time (Japanese with Subtitles)

Tickets for Lupin III: The First and other events can be purchased online by visiting gkids.com/events, www.FathomEvents.com, or at participating box offices (theater participants are subject to change). Please contact your local theater for individual safety precautions.

SYNOPSIS:

The iconic "gentleman thief" Lupin III returns in an action-packed, continent-spanning adventure, as Lupin III and his colorful underworld companions race to uncover the secrets of the mysterious Bresson Diary, before it falls into the hands of a dark cabal that will stop at nothing to resurrect the Third Reich. The gang undertakes trap-filled tombs, aerial escapades and daring prison escapes with the trademark wit and visual finesse that have made LUPIN THE 3RD one of the most storied animation franchises in the world, in a thrilling new caper that is sure to delight fans old and new.


Lupin III: The First - In Select Theaters August 29 & 31 [Official English Dub Trailer

If you haven't seen LUPIN II: THE FIRST, check out our review of the movie HERE!
Source: Official Press Release
About GKIDS
GKIDS is the producer and distributor of award-winning feature animation for both adult and family audiences. Since 2010, the company has scored an astounding 12 Best Animated Feature Oscar nominations with The Secret of Kells in 2010, A Cat in Paris and Chico & Rita in 2012, Ernest & Celestine in 2014, The Tale of The Princess Kaguya and Song of the Sea in 2015, Boy and the World and When Marnie Was There in 2016, My Life as a Zucchini in 2017, The Breadwinner in 2018, Mirai in 2019, and Wolfwalkers in 2021. GKIDS handles North American distribution for the famed Studio Ghibli library of films, one of the world's most coveted animation collections with titles Spirited Away, My Neighbor Totoro, Princess Mononoke and others; as well as the critically acclaimed television series, Neon Genesis Evangelion. Also, GKIDS is the founder and host of ANIMATION IS FILM, the annual LA-based film festival which embraces the highest aspirations of animation as a cinematic art form, and is a vocal advocate for filmmakers who push the boundaries of the medium to its fullest range of artistic expressions. www.gkids.com
About Fathom Events
Fathom is a recognized leader in the entertainment industry as one of the top distributors of content to movie theaters in North America. Owned by AMC Entertainment Inc. (NYSE: AMC); Cinemark Holdings, Inc. (NYSE: CNK); and Regal Cinemas, a subsidiary of the Cineworld Group (LSE: CINE.L)., Fathom operates the largest cinema distribution network, delivering a wide variety of programming and experiences to cinema audiences in all of the top U.S. markets and to more than 45 countries. For more information, visit www.FathomEvents.com
GKIDS.COM/EVENTS
TWITTER: @gkidsfilms
---
---
I'm down to watch it in theaters again!
Me too! It's such a fun movie!
---