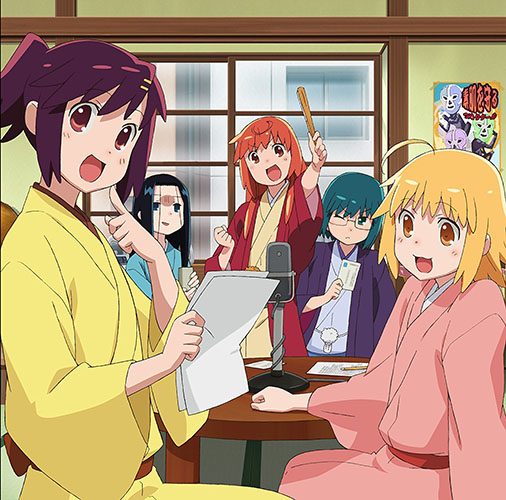 What You Need to Know:
Maiden Japan announced today that it added the slice-of-life comedy series, Joshiraku, to its growing list of titles. Joshiraku is produced by studio J.C.STAFF (Is It Wrong to Try to Pick Up Girls in a Dungeon?, Food Wars!, Revolutionary Girl Utena) and directed by Tsutomu Mizushima (The Magnificent KOTOBUKI, Squid Girl, Shirobako), with script supervision from Michiko Yokote (Kanamemo, Patlabor The Mobile Police - The New Files, Cowboy Bebop).
Marii, Kigurumi, Tetora, Gankyou and Kukuru are five young women with completely different interests and personalities, but there's one thing that they all share: performing Rakugo, a unique form of Japanese comic theatre in which a single artist sits in front of an audience and tells an entire story, portraying multiple characters solely through changes of voice and minimal movements. It's a challenging art but all five of our leading ladies are determined to become the best they can… and in the meantime, they find themselves hanging out together, both at the Rakugo theater and around town. And they also have a shared acquaintance, a mysterious stranger who's always wearing a wrestling mask! What's that about? To find out, pull up a seat and watch as our heroines put on the best show in town in JOSHIRAKU!
Joshiraku's spirited and hilarious dialogue is brought to life by a stellar vocal cast, which features Saori Goto (Food Wars!, Golden Time, Fairy Tail) as Kukuru Anrakutei, Ayane Sakura (BanG! Dream S2, Land of the Lustrous, My Hero Academia) as Marii Buratei, Kotori Koiwai (Gatchaman Crowds, Real Girl, Gingitsune) as Kigurumi Haroukitei, Nozomi Yamamoto (Girls & Panzer, Sunday Without God) as Tetora Bouhatei and Yoshino Nanjo (The Qwaser of Stigmata II, Canaan, GATE) as Gankyou Kuurubiyuutei.
Source: Official Press Release
---
Such a sweet and heartwarming show! Life is all about hanging out with the right people!
You said it bee-kun! We need eachother!
---