We all know just how entertaining and moving music can be, especially when it's performed live in front of millions of fans around the world. It's not always easy to travel to every single concert in order to enjoy the experience in person and so MyAnimeList came up with MAL Live, the latest streaming medium that allows fans to catch their favorite artists live on their smartphone devices. Lantis Matsuri 2019 at Anime NYC marks the first time ever that MAL Live will be utilized, and we had the opportunity to check out the pre-show and really see what the hype is all about. Let's dive straight into the details as to why YOU should be watching Lantis Matsuri 2019 at Anime NYC using MAL Live.
MAL Live is Easy to Use

So the first thing that caught our attention was just how simple and easy-to-use the streaming service is. All that you need to do in order to watch the event is simply check out the official website, sign up using your MyAnimeList account, or simply create one if you don't have an account. Once you're logged in you're immediately transferred to the live stream where you're introduced to a very cool looking interface. Much of the interface is supposed to replicate an actual live audience and of course, you're a part of it! The top portion of the screen is dedicated to the stream itself, while the bottom portion is where you'll see all of the messages that fans write as the event unfolds. By simply pressing a button you have access to a variety of emotes that allow you to express yourself, such as a clapping hand, white and green glow sticks, hearts, and many more! It's a very easy to use system that incorporates very unique visuals to ensure that fans feel like they're right there in person.
Great Stream Quality

If there's one thing that's truly imperative when it comes to live streaming, the overall quality speaks volumes. A lot of the time, streams tend to drop in quality due to low bandwidth from the individual streaming and because of that, a lot of viewers end up leaving due to a poor experience. With MAL Live however, a sophisticated system has been put in place where despite whether you're on WiFi or not, the quality remains intact and viewers can enjoy the concert without much concern. We took a trip out to Odaiba with our device and watched as we were walking around, and not once did we experience any drop in quality which was amazing. A lot of the time when you walk around, due to the various frequencies that circulate around the area, interferences can occur but not in this case. MAL Live ensures that you get what you pay for in quality and we have to admit, it's pretty darn good.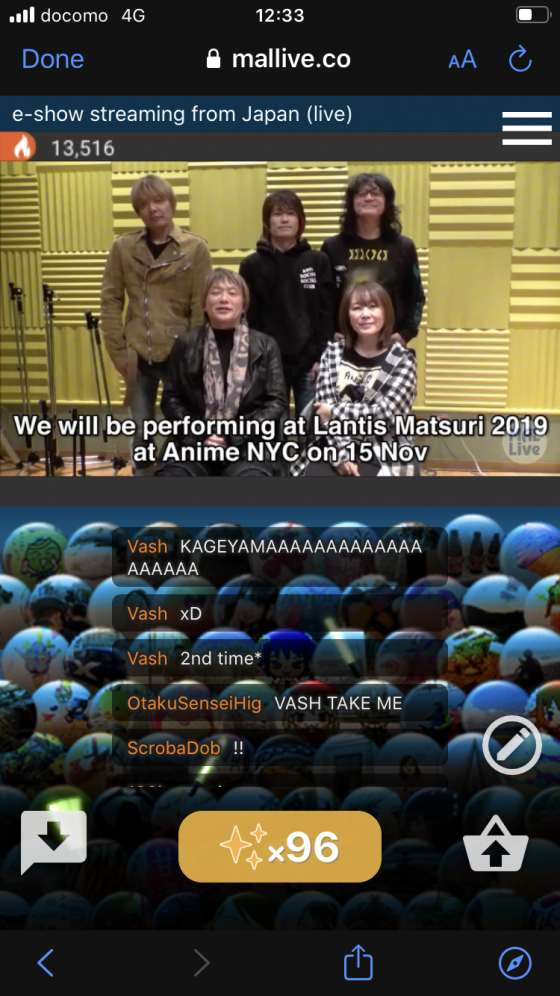 Solid Pricing

Concert ticket costs are no joke nowadays, especially when you want to be up front and be at the center of it all. MAL Live does a great job of making sure that fans pay a price that's reasonable, while not undermining the overall quality of the live stream itself. In other words, you pay a great price and receive a great live stream in return. Early bird fans only pay $12, while the general ticket price is $17, which is amazing. Most concert-goers will tell you that these prices are a steal when compared to the monstrous fees you pay sometimes just to sit in the top row! MAL Live eliminates all of the fuss and provides fans of the Lantis artist lineup to truly enjoy themselves wherever they are, with little worry about a hefty ticket price. You can wave your glow sticks and sing along to your favorite singles without any stress, all from your smartphone! If you still haven't purchased your ticket then be sure to visit the official website!
---
Final Thoughts

If there's one thing we'd love to see implemented during the live concert coming up this week is giving smartphone users the chance to watch in landscape mode (or full screen) so that we can really immerse ourselves more. Other than that, the MAL Live streaming service is super simple, affordable, and gives fans a once-in-a-lifetime opportunity to watch their favorite artists perform live without any hesitation. The world around us is truly evolving and with MAL Live, live concerts are only just the beginning! Be sure to follow MyAnimeList on Twitter along with us Honey's Anime as well! Don't forget to buy your tickets!