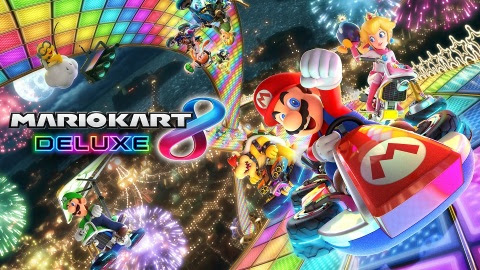 What You Need to Know:
What better way to start to your day than with an exciting press release about Mario Kart 8 Deluxe! With more than 459,000 combined packaged and digital sales in the U.S. on launch day alone, Mario Kart 8 Deluxe for the Nintendo Switch system is the fastest-selling game in the long-running Mario Kart series.
Prior to this, the title holder was Mario Kart Wii with 433,900 units sold when it released back in 2008. Mario Kart 8 Deluxe has also received more perfect review scores than any other Mario Kart game ever. This ties the game with its ancestor Mario Kart: Super Circuit for Game Boy Advance which also received a 93 average score 15 years ago!
This is just the beginning for Nintendo's latest console and we already have two titles that have surpassed expectations by a long shot. With more on the way it seems the momemntum is about to explode for Nintendo and the Nintendo Switch. Be sure to look out for ARMS, Splatoon 2, Ultra Street Fighter II: The Final Challengers and Minecraft: Nintendo Switch Edition!
Source: Official Nintendo Press Release
---
I was totally expecting Mario Kart 8 Deluxe to sell well, but wow this is spectacular news for the folks at Nintendo!
It really does feel that Nintendo learned from their past mistakes and the Switch has really shifted gears. The momentum is hot right now!
---