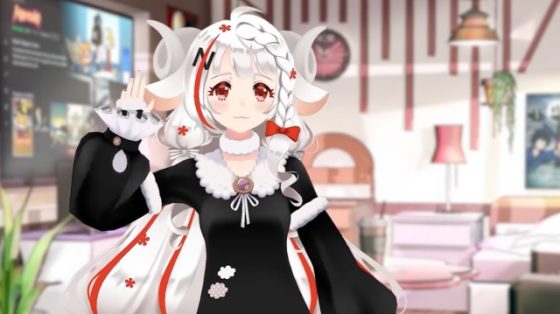 What You Need to Know:
Netflix Anime's official YouTube channel shared a video today for the debut of their new "anime brand abassador" N-Ko, a sheep-human VTuber who also speaks English and Japanese. All her videos are also subtitled in 10 other languages! (Brazilian Portuguese, Chinese, German, French, Indonesian, Italian, Korean, Spanish, Thai, and Vietnamese)
Her full name is N-ko Mei Kurono and she is from Los Gatos, California (the headquarters for Netflix). In her debut video, N-ko introduces her self and explains her role in the company.
N-Ko is voiced by a Netflix employee who works in the anime division and knows everything about all the programs on Netflix. She enjoys singing and dancing, getting massages, and loves anime, of course.
Her design and style is very cute with tons of Netflix motifs such as the N on her hain and dress and the black, red, and white color scheme. Not to mention her room shows a special affinity for Netflix anime specifically with posters of Aggretsuko, Devilman: Crybaby and others decorating her room.
Check out her introduction video below!

An announcement video has been published by Netflix just a few days ago on April 23rd as well:

"The N-Ko Show" will release weekly episodes starting on April 30. Remember to stay tuned for more from Netflix Anime and N-Ko by subscribing to the official YouTube channel, following on Twitter and using hashtags #N_ko #N_ko_art #VTuber!
Source: YouTube
---
Let's be best friends, N-Ko!
Looking forward to The N-Ko Show!