A Heartwarming Story About Life and Mermaids
Mangaka : Komori, Youko
Publisher : Viz Media
Genre : Drama, Slice-of-Life, Mystery, Josei
Published : February 2023
Compared to other popular genres/demographics, such as shounen or seinen, josei is easily the most underrated genre. After all, there are only a handful of josei manga being published by big publishers every year.
That being said, there is a surprising upside to it being somewhat scarce. And that is the fact that we only get carefully curated gems, such as My Broken Mariko, Josee: The Tiger and the Fish, and Kabi Nagata's autobiographical series, just to name a few.
And now, in early 2023, there's finally a new title that promises to deliver the same thoughtful and heartwarming story as its predecessors. It's called Mermaid Scales and The Town of Sand, and here's our brief review of this new josei manga.
Discussion Time
The world seems to be moving too fast to Tokiko. Not a week ago, she lived happily with her parents in Tokyo. But then, her mother suddenly left them, and now Tokiko has to move with her father to her mother's hometown, the seaside town called Sunanomori.
Tokiko actually has a scary yet profound memory of this town. After all, unbeknownst to everybody, Tokiko nearly lost her life in the sea of Sunanomori when she was about four years old. She played around the beach, but the waves suddenly caught her feet and dragged her into the sea. Just when Tokiko was about to lose her consciousness, a dashing mermaid appeared, grabbed her hand, and carried her ashore.
Tokiko doesn't know whether it was all just a dream, or if a mermaid really saved her life back then. As it happens, there's an actual myth about mermaids in Sunanomori. That means she now has plenty of time to find out about the truth behind that incident, and distract herself from the drastic changes that are happening in her life at the same time.
Why You Should Read Aoi Uroko to Suna no Machi (Mermaid Scales and The Town of Sand)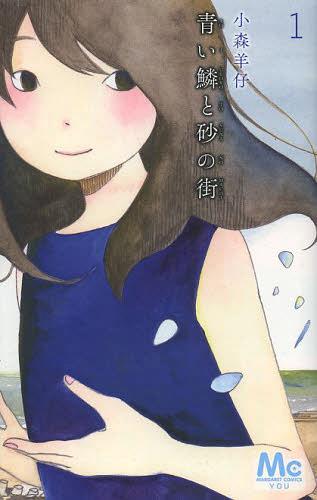 1. A Heartwarming Coming-of-Age Drama
The story of Mermaid Scales and The Town of Sand may only span across two volumes (published as a 2-in-1 omnibus by Viz), but there's a solid and heartwarming coming-of-age drama, along with great character development, happening within such a short amount of content.
In the story, Tokiko is only about 6 or 7 years old when her world turns upside down. So many drastic changes happen at the same time. Seeing her mother leave the family, moving to a secluded town and trying to adjust to a new way of life, getting into a new school and trying to make new friends, all of that can be hard for Tokiko. It is truly heartwarming to see Tokiko trying her best to navigate through the storm that just hit her young life.
2. A Disguised Genre
It is clear from the get go that Mermaid Scales and The Town of Sand is a slice-of-life manga. After all, as mentioned earlier, the core of the story is its heartwarming coming-of-age story. But as you flip the pages and drown yourself in the story, another genre starts to creep up. A supernatural fantasy.
Tokiko has a vivid memory of being saved by a mermaid as a child, and the people of Sunanomori also said that there is a myth about mermaids that has been passed down through generations in this small town. So Tokiko ends up trying to investigate the truth behind the myth, and stumbles upon all kinds of clues regarding the mermaid.
At the same time, we as the readers also begin to wonder whether the predominantly slice-of-life story will ever veer into fantasy territory. Will we ever see the mythical mermaid at the end? Is there even an actual mermaid in the story? That question will haunt your mind the whole time you read this book. That is how good Komori-sensei is at disguising the genre of her story.
Why You Should Skip Aoi Uroko to Suna no Machi (Mermaid Scales and The Town of Sand)
1. A Devastatingly Slow-Paced Story
Mermaid Scales and The Town of Sand is an incredibly slow-paced story, even for a slice-of-life josei standard. Not only that, but although the whole story is only two volumes long, it could arguably be condensed into a single volume. Because there are quite a few scenes, moments, and storylines in the manga that don't actually move the story forward.
One example of such a storyline is when a friend lies to Tokiko only to apologize to her later on. This storyline doesn't move the narrative forward nor is it highlighting any of Tokiko's personality or attitudes that we haven't seen already. Had it been cut, the whole story would've turned out just fine. As a matter of fact, it would arguably tighten the narrative and give it better pacing.
---
Final Thoughts
Mermaid Scales and The Town of Sand is a heartwarming slice-of-life story that manages to weave fantasy/supernatural elements into a charming coming-of-age story. It is a slow paced story, even by josei standards, but it is honestly not a deal breaker at all. It has enough content to fulfill your curiosity, entertain your mind, and warm your heart. So be sure to check it out.
Have you read Mermaid Scales and The Town of Sand? If you have, what do you think about it? Let us know in the comment section below.
---