---
Basic Information
| | |
| --- | --- |
| Momocon Official Website | http://www.momocon.com/ |
| When was it established | 2005 |
| When / Length of Event | Usually held at the end of May, this year Momocon was held May 25, 2017 – May 28, 2017/4 days |
| Place / location | Georgia World Congress Center, Atlanta, GA |
| Cost | Quite the departure from its days as a free con, Momocon badges for one day range from $30-$50. Thursday and Sunday are $30 as they are the days with the least programming. On Friday, tickets jump up to $45 and a single Saturday pass is $50. A 4-day pass is $75. Ordering as early as you can really help you save money! |
| Hotels | The host hotel is the Omni which can get a little expensive over the weekend but the convenience of not having to drive or walk at night after a fun-filled day at the con can really be worth it! It's especially nice because the room parties, though not officially Momocon-sanctioned, are a big draw to the con once activities shut down. However, rooms go fast so the Embassy Suites Atlanta is another great and close option. Should the other two hotels run out of rooms, you can try the Holiday Inn Downtown or the Glenn Hotel. They aren't really walking distance but good options if you live far from Atlanta. |
Company / event message for fans / attendees
"MomoCon LLC was born from the hard work and dedication of a small group of committed people. Split between anime/manga, gaming, comics and costuming, we strive to bring the very best aspects of these fandoms to our fellow fans. From parents bringing their curious "young'uns" to the most dedicated old-schoolers, everyone is welcome. Based out of Atlanta, extending Southern Hospitality is important to us. We would like everyone to enjoy what we do best: having fun!"
What to Expect:
While an anime convention, what makes Momocon stand out is its focus on video games both Eastern and Western. They have a large arcade and lots of video game industry guests and panels on the lore and creation of popular games of the year. They also bring in lots of English voice actors from anime, video games, and more recently, popular Western cartoons. Momocon is one of those cons that definitely shuts down later at night and hanging around the convention hall is prohibited during that time, so room parties are very popular thanks to the multiple hotels in close proximity. The Momocon rave is another huge pull for the con, often featuring DJs local to Atlanta. Momocon also pulls in some talented cosplayers so be on the lookout for your favorite characters.
What to Bring in Order to Enjoy the Event

・Snacks – There are a lot of food options including food trucks and fast food at the CNN center across the street from the convention. However, the food trucks are expensive and located far from other things and the food court gets PACKED. Bring snacks to munch on at high volume eating times and grab food when it's less busy.
・Trading Cards – Momocon has a huge tabletop and card game area where you can battle others
・Camera – Don't miss taking a picture with your favorite voice actors!
・Cash – While many vendors can take credit cards, sometimes the internet can be wonky and cash will be a safer bet.
Water bottle/thermos – keep yourself hydrated!
・Wallet – If you can, keep a wallet with you with money and ID as bags and purses are not allowed into the rave.
What to do While There
Arcade
As mentioned before, Momocon's claim to fame is its diverse video game content. The arcade features both DDR and Pump in Up, and if you're a dancing game fan you know that's extremely uncommon. The arcade also has popular new games as well as relatively unknown indie games, giving people a chance to catch up with the latest gaming topics as well as expand their horizons.
Autograph sessions
Momocon has a nice section for scheduled autographs and pictures with the guests and are good about keeping the lines organized. This year featured several Overwatch and Steven Universe voice actors, and the multiple sessions helped ensure everyone got a chance to meet their favorites.
AMV Room
The AMV room is kept going with fan-made tributes to pop culture and anime. Some of them are hilarious, some are emotional, some are reimaginings of shows with different settings and stories.
Dealer's Hall and Artist Alley
The Dealer's Hall and Artist Alley have a lot of variety. The Dealer's Hall, of course, contains lots of merchandise from anime and video games such as shirts, key chains, wallets, cosplays, wigs, items featured/important to certain shows/games, and even themed shot glasses. There are also a lot of appliances and household items sold that are anime or video game themed as well as just Japanese goods. The Artist Alley features a lot of talented, creative artists. While this may not be the area of official artwork and high-tech gadgets, this is where imagination runs free resulting in fan-based content and meme-culture creations.
Panels
Momocon's panels are great because while most shows do informational or fun panels on anime and games, Momocon tends to have some introspective panels on things such as a lack of diversity or pigeonholing of characters in popular cartoons and games. They also do a number of panels featuring the current year's guests and often encourage questions and feedback from the audience. The diversity in things covered ranges far beyond a simple anime convention with subjects ranging from Korean phone apps (Mystic Messenger), Japanese cartoons (including Sailor Moon and Psycho-Pass), and American video games (Overwatch).
Dance Events
There are several dance events not to be missed either. The previously mentioned rave is a place for lights, DJs, and action! It goes on late into Saturday night and its high energy will keep people moving. People come in club attire or cosplay, and sometimes a combination of the two. Most of the DJs are from Atlanta and don't tend to play Japanese music or sample anime into their playlists.
Momocon sponsors a formal ball outside of the actual convention, but during the con, they provide dance lessons so you'll be ready to don your dancing shoes when the ball rolls around. Professional instructors have people pair up and teach you several moves and the basic footwork to various styles so you have a better chance of getting out there. If ballroom dances and raves aren't your thing and you're looking to move to some choreography, Momocon hosts several K-pop dance panels as well. Some are instruction based and some are a free-for-all where popular songs are played and people get up and dance to the ones they're familiar with. Even outside of panels you can usually find a group outside the convention center playing music and people either bobbing along or doing the established dances.
Disney Content
While not immediately apparent, there is a huge unofficial Disney presence at Momocon. Most conventions have the occasional Disney prince or princess, but you can tell the owner of the convention is a Disney fan. Panels on Disney movies happen every year and there are always numerous cosplays of Disney characters. There is also a Disney karaoke contest that is separate from the regular karaoke and cosplay karaoke contest.
Cosplay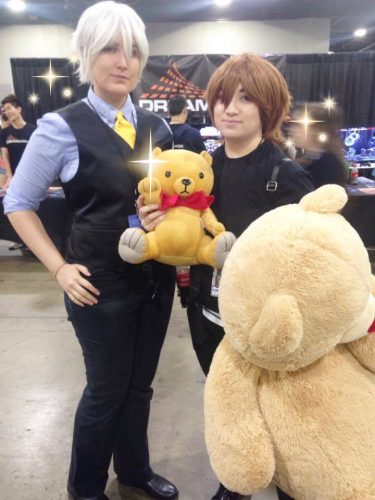 Given the popularity of recent games like Final Fantasy XV and Nier: Automata, many cosplayers chose characters from these games to cosplay. The guests Momocon had also greatly influenced the cosplays. While neither Steven Universe nor Overwatch are anime, having voice actors from these works inspired cosplayers to show their love and devotion by repping the characters they admire. Many people reserve their video game or card game cosplays for Momocon as it is the most inclusive of video games in the state of Georgia and there are many guests and panels that somehow relate to their costumes. Possibly due to the fact that there's so much physically to do at Momocon and perhaps its family-friendly environment, it doesn't tend to have the best cosplays and there is not a particularly stand-offish vibe that is present at some conventions such as Anime Expo or Dragon Con.
Honey's Anime Final Thoughts
It's incredible to see how much this convention has grown from its days as a small con at Georgia Tech that was free to attendees, to a huge event that can bring in famous cosplayers and industry guests, and spans a whole convention center. It is much more expensive now but that's part of the territory whrn securing awesome guests and a spacious place. Even with the vast number of attendees, it does not have the crowded feeling Dragon Con does. While it is lacking in the Japanese guest department, which can be a little off-putting to fans who prefer subbed anime and video games, the arcade is definitely a powerful draw. The karaoke events are pretty fun but they are rather hard to get into since they only allow a small number of entries. The event space is nice but it is rather lacking in scenic places for photoshoots, and the better of the two spots is far away on the side of the convention center not used by Momocon. Overall, it is a fun convention, especially for fans of western shows and media that also enjoy anime and Japanese games.