EARTH DEFENSE FORCE: IRON RAIN 2nd Trailer

What You Need to Know:
Earth Defense Force: Iron Rain is constantly being refined to ensure that fans will be pleased with the final product. The team over at D3 Publisher have released some brand new information about two new gameplay features: PA Gear + Support Bug "G-L.I.A.R. PA Gear "Prowl Rider" is the latest mechanic in EDF Iron Rain and the screenshots show that this new gear is sure to take care of business.

The G-L.I.A.R. is is a giant creature controlled using the Prowl Rider's E-Needle ability, which sends neural pulse waves after linking to the giant creature's nerve fibers. The concept of "domesticating" the giant creatures was initially devised by the Kindred Rebellion, with the EDF later rushing to begin their own research into it.
Source: Official Press Release
PA Gear Information
The latest PA Gear was completed because one of the experimental PA Gears of Kindred Rebellion was captured, studied, and analyzed by gathering the best of advanced technique of EDF. Even though the basic performance such as the physical ability improvement of the user is equally the same as other PA Gears, this PA Gear boosts an outstanding exercise performance by allowing the user to work with special wire and to do the energy move "E-Needle" which was originally applied from the threads released by the huge creatures.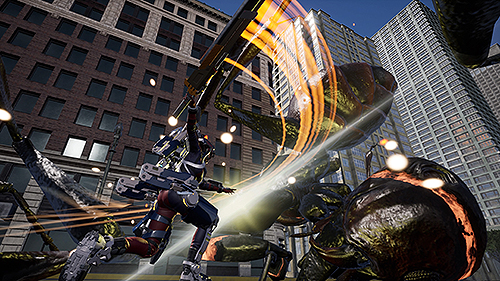 ---
Burn all of the bugs!! BURN THEM ALL!
Those ants look so cute though!
---