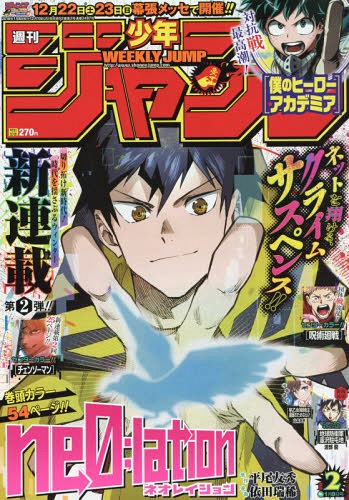 Who is our Winner!?
Episodes : Tomohide, Hirao
Genre : Shonen Jump
Airing Date : Action, Shounen
Producers : March 10, 2019
Discussion Time
It wasn't a surprise to see our peculiar monk and ne0 win the race in chapter 12 of Ne0;lation. The race did get heated as Boogie continued to rely on his car's internal systems to race at full power. Ultimately though, ne0 was able to mirror Boogie's AI for their own car and it allowed the duo to overtake Boogie for the big win. Chapter 13 of Ne0;lation will probably have some answers in terms of who Boogie is working with and it also might allow ne0 to reunite with his new rival. As we wait for chapter 13 though, let us dissect the good and bad about chapter 12 of Ne0;lation.
Why You Should Read Ne0;lation Chapter 12
1. That Initial D Feel!
We're not sure if it was done intentionally but chapter 12 of Ne0;lation felt like it was echoing Initial D! There was a panel that had Boogie and ne0 making a sharp turn and it just screamed the race panels seen in Initial D. We also saw a lot of emphasis on the car's art making the panels feel like true racing scenes which helped make this week's Ne0;lation feel very action heavy.
2. ne0 needs people!?
Our biggest "aww" moment of Ne0;lation chapter 12 was ne0 admitting he needed the monk's help for the race to end with a win for them. That showed us that ne0 isn't too full of himself and knows that even with his superior cracking skills he needs allies to help him in certain situations. It isn't a revelation mind you—we know ne0 needs people—but having him admit it, even if it came off as a simple gesture, is a nice thing.
Why You Should Skip Ne0;lation Chapter 12
1. Over a tad too fast
Ne0;lation chapter 12 continues the overly quick arcs we've seen from the series and it's getting a bit tiresome. We understand that Shounen Jump works are usually only 18-20+ pages in length, but Ne0;lation always feels too short and not enough happens per each chapter to make in depth thoughts about that particular chapter. The race was over quickly and while we have our winners, we aren't given any true closure on the race and are forced to wait till next chapter. Ne0;lation, please make longer chapters or give endings that want us wanting more.
---
Final Thoughts
Ne0;lation chapter 12 wasn't that epic, but it wasn't bad either. The art reigned supreme this week with the nice homage to Initial D and we loved that we finally will see if Boogie truly is involved with Gevaudan or if that symbol means something more. Did you enjoy chapter 12 of Ne0;lation? Comment below to let us know and tell us why you're either loving this series or passing it up for another. For all your Ne0;lation review needs, continue staying stuck to our hive here at Honey's Anime.