French cat-girls are cute, too!
System: PC (Steam), Nintendo Switch, PlayStation 4, PlayStation 5
Publisher: Sekai Project
Developer: NEKO WORKs
Release Date: November 26, 2020 (December 2020 on PS4, Switch)
ネコぱらvol.4~ネコとパティシエのノエル~ OPムービー NEKOPARA vol.4

Who it Caters to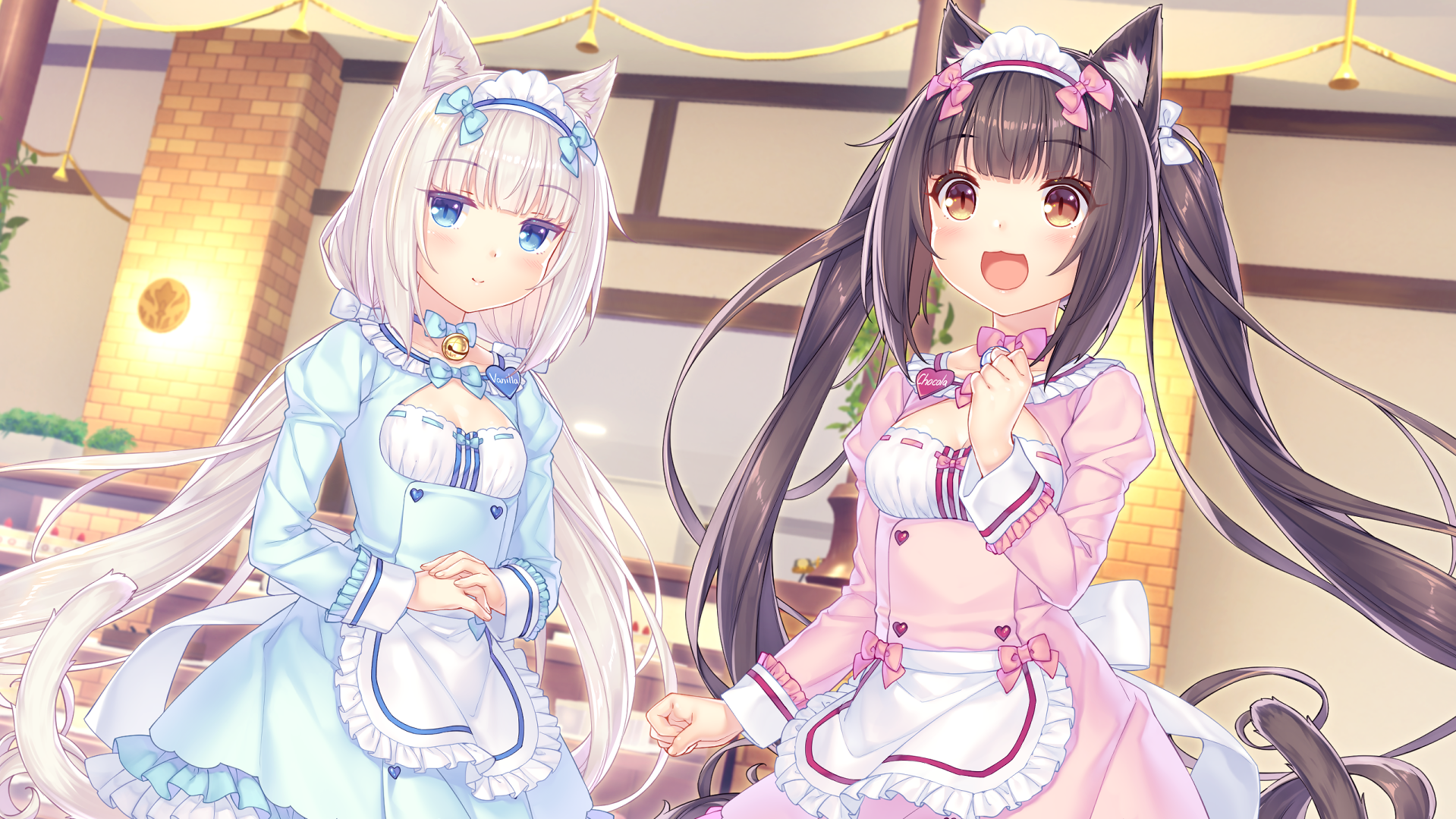 NEKOPARA, short for Neko Paradise (Cat's Paradise), is by far one of the most popular ecchi visual novels. With several spin-off games and anime series, you probably already heard about this one, and we bet you have definitely seen some Chocola and/or Vanilla images before.
In this story, a man called Kashou Minaduki runs a patisserie that's well-known not only because of how good their cakes look and taste but also because everyone loves to go there to spend some time with Kashou's employees, six beautiful cat-girls. That's right; in this world, neko-girls exist, and these cuties will do anything for their Master!
As you can see, NEKOPARA's theme is quite specific, and only those who like cat-waifus and cloying stories will truly understand this masterpiece.
What to Expect
In this fourth volume, Kashou finally puts his skills to the test, but is his father ready to accept Kashou's passion for Western sweets? What you can expect from NEKOPARA Vol. 4 is a shocking revelation about the Minaduki family and Kaishou's past, something we will learn when he and his little sister Shigure travel to France to meet the original La Soleil patisserie.
To be honest with you, NEKOPARA Vol. 4 is a short yet really well-crafted story that can be enjoyed by almost anyone, even if this is your first NEKOPARA game. In fact, you could even enjoy it regardless of the ecchi/hentai content, so believe us when we say this is way more than just an erotic visual novel.
Visuals
One of the reasons why NEKOPARA is so famous is its visuals. Chinese-Japanese artist Sayori, long-time character designer and soul of the NEKOPARA series, did a magnificent job—once again—bringing to life our favorite cat-girls. All illustrations are full of details and mesmerizing, especially when the girls are just being cute.
A clean UI always helps you focus on what's actually important, so that's another golden star for NEKOPARA Vol. 4. Frankly, there's nothing bad to say about how this game looks, and we're sure seeing all these cuties dressed in sexy Christmas outfits will put you in the mood... the seasonal mood, of course.
Sound, Music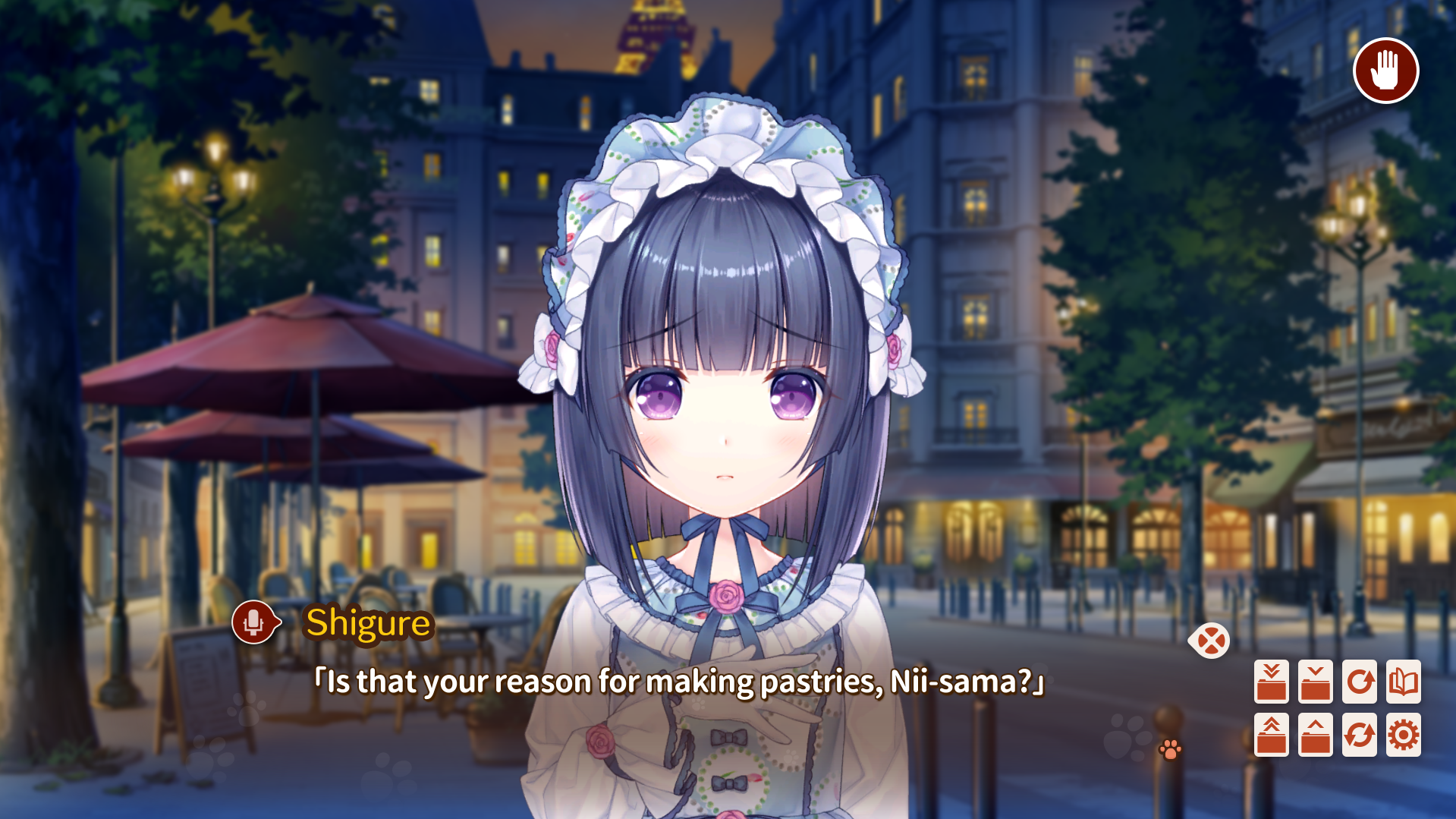 Another aspect we love about this series is the voice acting. All girls sound real for a 2D character, and it's both fun and engaging to hear them interacting with each other or teasing Kashou. Oh, and the OST is amazing, too! 15 tracks are enough to musicalize this adventure, and all of them are perfectly used to enhance the experience.
Gameplay
In case you don't know, NEKOPARA is a classic visual novel, meaning that you can't make decisions or play minigames. You only have to read and enjoy the ride, which is not bad at all. In this fourth entry in the main series, the focus is not on Chocola and Vanilla but Kashou himself, so you'll see a lot of interactions with his sister Shigure and a couple of new characters. One of these characters is Kashou's mentor, a French lady called Beignet, who owns the original La Soleil patisserie. The other one, and probably more important to you, is Freise, a lovely, shy French cat-girl that helps Beignet run La Soleil.
Although there are several chapters, we can easily divide NEKOPARA Vol. 4 into four acts: first, we have Kaishou's mother's birthday, where we learn a little more about the fight between Kashou and his father (the latter doesn't seem to accept the fact that his son ditched his legacy and instead decided to pursue a career related to Western cakes and sweets). Then, we have a mandatory visit to an onsen (because why not? It's an eroge, after all...) shortly followed by a 3 day trip to France. Finally, there's a Christmas meeting at the Minaduki residence, where Kashou confronts his father for the second time.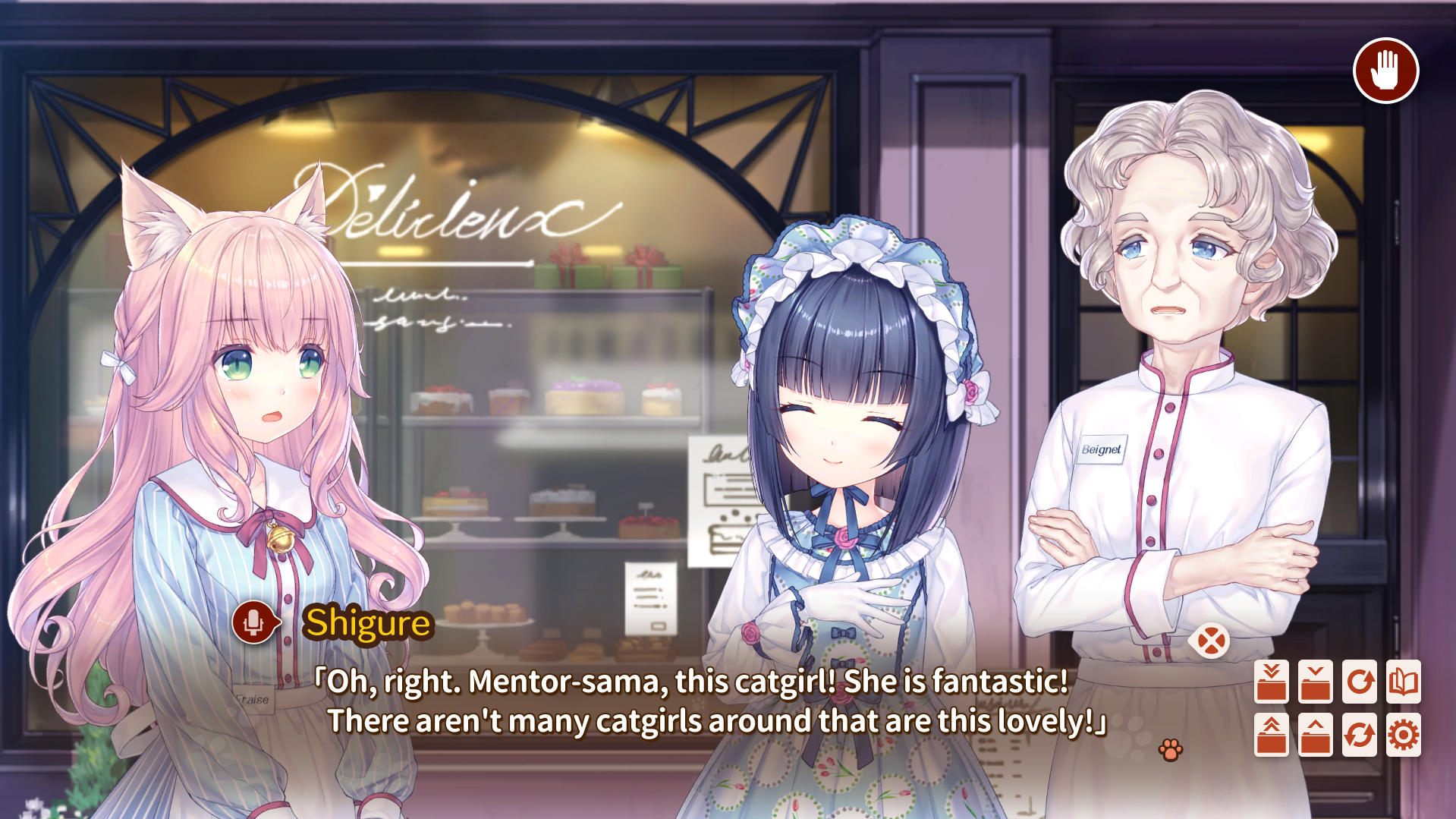 Unless you own the +18 DLC, the onsen segment doesn't make much sense. Still, we absolutely enjoyed the rest of the story, "shocking"—kinda predictable, to be completely sincere—revelation included.
We loved discovering the true origin of Japan's La Soleil, mostly because this is proof that the NEKOPARA series can be more than just fanservice. There's a story here, and it's worth telling. While everything that happens in France is wrapped in an aura of melancholy and sweetness, all scenes at the Minaduki's are a mix of heartwarming moments and awkward fights... just like every other Christmas party, right?
NEKOPARA Vol. 4 has a nice pace, and the story is easy to understand, too. We mention this because, since it's pretty straightforward, you don't need any previous knowledge, so it's a really good entry point to the main series.
Since it's a visual novel, there's not much we can say about the gameplay... but NEKOPARA Vol. 4 is worth every dollar!
Honey's Gameplay Consensus:
Unfortunately, there are no alternate endings, and the story—unless you pause it to admire these feline ladies—is only a few hours long. Regardless, we can't but recommend NEKOPARA Vol. 4 to all NEKOPARA fans out there. You'll love it, guys!
If you want some "replay value," just buy the +18 DLC, and we're sure you'll come back to this game every now and then, like a true NEKOPARA fan. If you know what we mean...
Honey's Pros:
Sayori's art is always a pleasure to see.

Great voice acting!

Simple yet interesting plot that adds depth to several characters in the NEKOPARA universe.
Honey's Cons:
Only a few hours long, with no alternate routes.
Honey's Final Verdict:
We must say this is one of the games we enjoyed the most in the series, and now we're almost there, it's perfect to kickstart this year's Holiday season!
NEKOPARA Vol. 4 (clean version) is already available on Steam. It will arrive on PlayStation and Switch next month.
---