What You Need to Know:
Aniplex of America announced earlier today that they will begin streaming the brand new slice of life anime series, Slow Start, on Crunchyroll beginning January 6, 2018 at 9 am PST. The series will be animated by A-1 Pictures and directed by Hiroyuki Hashimoto, and is based on a popular 4-panel manga by Yuiko Tokumi in Manga Time Kirara, a seinen manga magazine from renowned publisher Houbunsha.
In addition to being the first ever in Japan to put out a 4-panel manga magazine, Houbunsha is the publisher for another popular 4-panel manga series, BLEND-S, which served the basis for the smash hit anime by the same name in fall of 2017.
Thanks to Hana's new friends and new acquaintances, the series explores many different forms of "slow starts." The title, Slow Start, refers to not only the main character's delayed start to high school but a larger theme of taking one's time to grow up. For a more detailed breakdown of each character, along with the synopsis be sure to scroll down below! We look forward to this one for the upcoming winter season!
Source: Official Press Release
Overall Meaning
The slice of life anime series addresses an interesting stigma relatively unique to the Japanese culture known as being a ronin. The term, which is often associated in the U.S. as a term for vagabond samurai, refers to a person who has failed to get in to a school or company and must wait a year to try again. While the concept of a "gap year" is not foreign to the U.S., the Japanese education and hiring system, which only accepts new students or new employees during a limited time once a year, results in many young people being forced into an involuntary gap year. The main character is no stranger to this dilemma, as she finds herself a year late starting high school. Unable to bear the shame of being a year behind her classmates, she moves away to start a new life at a new school.
Story Synopsis
Hana Ichinose is a very shy and introverted girl about to start high school in the spring.
After moving away from her parent's house in the city due to unforeseen circumstances, she decides to live at an apartment managed by her cousin, Shion, called Temari Heights. A new school, new life, and wonderful new friendships. As Hana gradually opens her heart to the people around her, her life begins to unfold with exciting and cheerful moments. From playing around like children to feeling anxious like an adult...This is an adorable and heart-warming tale about growing up … slowly.
Character Breakdowns
HANA ICHINOSE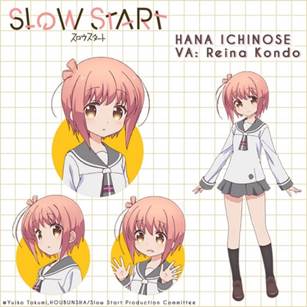 VA: Reina Kondo
Birthday: April 6th
Height: 154cm
Weight: 45kg
Blood Type: A
A kind-hearted girl, sensitive to others' needs, but somewhat of a crybaby. For reasons yet unknown, she lives on her own in Temari Heights, which is an apartment building managed by her cousin, Shion. She is very gullible.
TAMATE MOMOCHI

VA: Ayasa Ito
Birthday: May 23rd
Height 153cm
Weight: 47kg
Blood Type: B
Always energetic, and she does everything at her own pace. Friendly to everyone. She is an otaku, being an avid bishoujo gamer and even attending the events as well. Also, talented in cooking! Her comments are oftentimes arbitrary.
EIKO TOKURA

VA: Tomomi Mineuchi
Birthday: June 20th
Height: 163cm
Weight: 48kg
Blood Type: B
With excellent communication skills, she seems very mature. Being popular among her female classmates, her schedule may rather be jam-packed? She has met Kamuri once before, back in elementary school. Tends to say arbitrary things from time to time.
KAMURI SENGOKU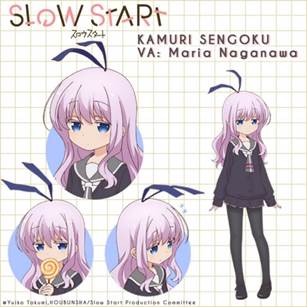 VA: Maria Naganawa
Birthday: October 30th
Height: 136cm
Weight: 30kg
Blood Type: AB
She may be small in stature, but she loves to eat. Shy by nature, and is unable to speak articulately around strangers. Loves Eiko, and is extremely attached to her. Surprisingly, tends to say arbitrary things.
---
I'm already loving the main character and her emotional story about coming to terms with growing up.
Yeah, it's because we've all been there and it's those experiences that make us stronger and more compassionate people in the end.
---