New York Comic Con is an event that brings in attendees from near and far, having only grown in scale over the years. Each fall the convention offers a wide variety of attractions for fans of all kinds. It's is easy to see why people keep coming back year after year, and 2016 was no exception. The event is a gathering of cosplayers, artists, vendors, as well of some of the biggest names in comics, anime, and gaming in the world. Though there is so much to see and do and it may seem overwhelming, a well prepared fan is sure to get the most out of the convention. Though NYCC is first and foremost a comic convention, don't let that deter you - there's plenty of anime to be found at the event as well.
New York Comic Con Official Website: http://www.newyorkcomiccon.com/
When it Established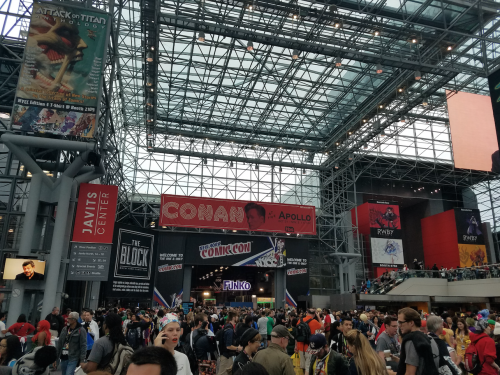 NYCC was established ten years ago, in 2006. This year's event marks the 10th anniversary of the gathering. Another separate event, New York Anime festival was absorbed into NYCC back in 2012, after standing on its own for four years, making NYCC the new go-to festival for anime fans in the area. However, this year an industry panel announced the plans for a separate anime festival again in 2017 held around the same time - so fans who hope to attend the event strictly for anime purposes may look elsewhere next year, though it is likely NYCC will still have much to offer that can't be found elsewhere.
Length of Event
The event spans an entire weekend in early October - this year the event went from the 6th through the 9th. For those planning on going next year, be sure to not only take the whole weekend off, but factor in the time it will take to travel to and from the location.
Place / location
The event takes place at the New York City at the Jacob K. Javits Convention Center, at 655 West 34th Street in Midtown Manhattan. The Javits Center is capable of accommodating the often sold-out affair, but even the large event space seems crowded at times, especially on Saturday, so leave your claustrophobia at home.
Cost
A 1-Day Pass for Thursday was $40, while a 1-Day Pass for any other day was $50. A 3-Day Pass is $85, and a pass for the entire convention cost $115 - prices may vary for next year. The event often sells out, especially on Saturday and Sunday, so be sure to get your tickets early if you plan on attending.
Hotels
There are plenty of hotels, motels, hostels and Air BnBs in New York City, depending on your budget and distance you are willing to travel to get to the convention. You can stay as close as midtown, or as far away as Brooklyn or Queens, depending on how much money you are looking to spend. If you live in the area, travelling in for the day is also an option, but be aware it can be exhausting. For those interested, there is a list of hotels officially affiliated with NYCC here:
http://www.newyorkcomiccon.com/About/Travel/Official-Hotels/
Event Message for Attendees
Thanks to our amazing fans, guests, and exhibitors for coming to NYCC 2016!
What to Expect
There's an awful lot going on each year at NYCC, so be sure to make a calendar of the time and location of everything you want to do - otherwise it is easy to miss out. Keep in mind that NYCC is usually a sold-out event and so the Javits Center is often at capacity. Though the convention and everything it has to offer are well worth the wait, there will certainly be waiting. You'll wait to get in, and you'll wait to make sure you get into panels with limited space. This means it doesn't hurt to bring along a book, a podcast, or some of your favorite manga to make the line riding more tolerable.
Also, if you're there to spot Cosplayers, they often hang out around in some of the outdoor spaces in the event center or even outside the venue itself - natural light is better for photographs, after all! But be sure to ask if you're snapping a picture of someone - it's only polite.
What to Bring in Order to Enjoy the Event
Your Badge
I can't imagine many worse feelings than waiting in line forever to get in, only to realize you left your badge at the hotel. Yikes! If your badge is lost, you can get a replacement at the front desk, but it comes at a cost.
Weather appropriate clothing and comfortable shoes.
Depending on how chilly it is, you might wind up waiting outside for a while before you get indoors. The convention center is a big place, so you'll be walking around quite a bit not only to get from your hotel to the event, but at the event as well.
A Good Backpack
Make sure you leave empty space in your bag for whatever loot you'll want to bring home - if you forget one and are resourceful, vendors often sell a variety of quirk bags and backpacks at the convention.
Map and schedule.
If you show up without knowing where you're going and when, you're going to miss out. The schedule is available online well ahead of time - this year NYCC even provided an app for atendees to keep track of the panels and events they wanted to attend. There are also usually extra copies of the schedule and a map at the entrance, so grab them before you go in if you need to!
Snacks and Water
The food selection inside the event center can be limited, and is invariably pricey, even for New York City standards - you're better off bringing fuel of your own if you can.
Camera
If you're a fan of cosplay this is a must - just be absolutely sure to ask for permission before taking a picture!
Cash
If you plan on bringing souvenirs home, take out as much cash as you plan to spend in advance.
Back-up Battery Pack
There are some outlets to be found around the convention center, but every hour you're hooked up to the wall charging your phone is time you're missing out on the convention.
Respect for Others
I'll say it again - there are a lot of people at this event. For the sake of everyone having as positive an experience as possible, bringing a good attitude and a sense of respect for fellow con-goers is a must.
What to Do While There / What is Available
NYCC has a lot to offer fans of anime. There were plenty of cosplayers hanging around the convention not only during the day of the NYCC Eastern Championships of Cosplay competition, but all weekend long. The artists alley had prints and fanart of anime-inspired pieces for purchase, along with other countless other trinkets for attendees to take home to commemorate the event. There were anime-related industry and independent panels for anime fans to attend -giving fans a chance to get a sneak peek at what the new year will bring for their fandoms, and meet their favorite artists, cosplayers, and voice actors. There were also otaku-friendly afterparties to be found for fans where were not ready to go home after the convention center closed for the day.
This year, some of the highlights included industry panels from well respected companies like Kodansha, VIZ, Aniplex, Crunchyroll and FUNimation. There were also quite a few panels with special guests including Spice & Wolf author Isuna Hasekura, Assassination Classroom Creator Yusei Matsui, and actor Steve Blum who has voiced countless anime characters including Spike Spiegel of Cowboy Bebop. NYCC often has screening events for fans, and this year offered One Punch Man, Sailor Moon S, and Howl's Moving castle, among other titles.
Cosplay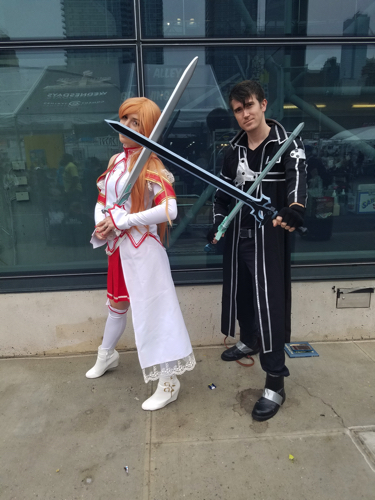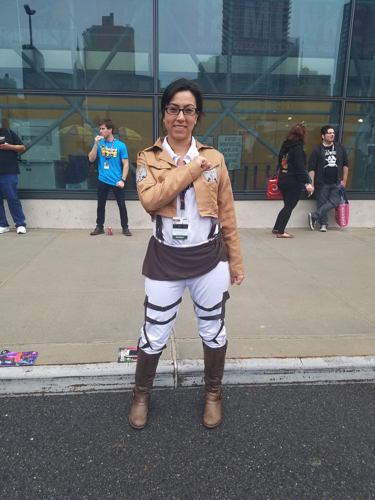 Final Thoughts
NYCC draws all different kinds of anime fans for a variety of reasons. For some people the highlight is cosplaying - for a day they can transform into their favorite characters and gather to show off the costume they've put together while admiring the work of others. The Eastern Championships of Cosplay is one of the largest cosplay competitions out there. For some people, its a chance to get a look into the future, with the industry panels providing a front seat to what the latest developments in anime and manga are, and maybe even discover a new series or two.
Often times, companies will prepare special announcements just for the event.Others come to admire and purchase art and other crafts from vendors. The artists alley spans a room so large it's possible to spend hours in - and far more money than you may have planned to. Still other fans come for workshops and other panels - for a chance to meet their heroes, and connect with other like-minded fans. Whatever you desire NYCC has something to offer - and although it's similar from year to year, every anime fan who can attend should, at least once.
---