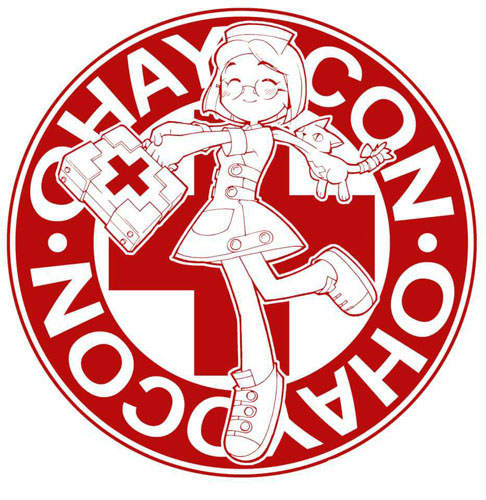 Last weekend, we journeyed to Columbus, OH for one of our favorite conventions – Ohayocon! This mid-sized anime con offers oodles of nerdy fun to spice up the otherwise dreary Midwestern wintertime, so we're here to tell you what all went down. Here's our post-show report of Ohayocon 2023!
Basic Info
| | |
| --- | --- |
| When it Established | January 2001 |
| Length of Event | 3 days, January 20-22, 2023 |
| Location | Greater Columbus Convention Center in Columbus, OH |
| Cost | If you pre-register early enough, you can get a weekend pass for as little as $55. At the door, it's $85 and cash only. Single day passes are in the range of $25-40. |
| Hotels | The convention center is physically connected to three hotels – the Hyatt Regency (where Ohayocon has a block of rooms), the Drury Inn & Suites, and the Hilton. But since it's located downtown, there are other options nearby such as the Red Roof Inn Plus. |
| Event Message for Attendees | Explore the natural beauty of anime with your cure for the wintertime blues! |
---
What to Expect
Covid Policy – Because it's a large event, Ohayocon mandates that all attendees wear a mask while in the convention center and you need to present a vaccine card or negative Covid test to receive your badge. Booster shots aren't required, though. Pretty much everyone wore a mask the entire time, and the convention center is spacious enough that you could usually stand farther away from people if you needed to, so you can feel confident in attending.
Dealer's Room and Artist's Alley – Ah, our favorite part of any con! The Dealer's Room and Artist's Alley were set up in a large room with a sleek display of rainbow-colored ceiling lights. The first floor housed all of the official dealers as well as autograph stations, and the second-floor mezzanine held artists galore. Ohayocon has a "no fanart" policy, which is unfortunate, but that also meant that some truly creative work was on display. We were particularly taken with the adorable kitty itabags and travel cups made by Yamerpro, as well as an array of kawaii inspired pottery by Tiny Cloud Ceramics. Check our Instagram reels to see even more!
What to Bring
Masks and Your Vaccine Card – As we mentioned earlier, make sure to bring masks and the appropriate documentation in order to get your badge. The staff have some masks available, but you can always have fun by theming your mask to your outfit. And if you get overheated from walking around, there are many easily accessible outdoor areas where you can take a quick breather.
Protein-Based Snacks – Ohayocon's food options are plentiful (they even had a bubble tea stand in the Dealer's Room!), but are mostly concentrated in a central food court. At peak times, it can get insanely busy, so be sure to bring along some snacks to keep your strength up throughout the day. Protein bars or trail mix are a good choice, since they'll give you the most energy.
Ribbons – Ohio congoers love themselves a good ribbon game – we saw more than one attendee wearing an outfit made from hundreds of badge ribbons – so be sure to order yours ahead of time (via the Ohayocon Facebook or Discord for a group discount) or get a starter kit from Ribbon Ops. You could end up with a whole array of ribbons just by trading with likeminded attendees!
What to Do
Interactive D&D with Toothless the Puppy – Animal lovers were blessed this year with Toothless, an 8-year-old service dog (still referred to as a puppy because all dogs are puppies) who loves to cosplay and can even roll big squishy D&D dice on command. She and her human headed up several panels, but the biggest one was an interactive D&D session where audience members could donate to the Ohio-based charity W.A.G.S. 4 Kids in order to influence the game. She played the cleric of the party, with her human "translating" for her, and rolled her own skill checks. It was such a unique and adorable experience!
Anime Court – If you love Ace Attorney, improv, and/or pitting pop culture icons against each other for maximum shitpost potential, you should check out Anime Court. This panel was run by a "judge" who polled the audience for details of a crime, and then took volunteers to play out the case in a highly entertaining improvised version of an Ace Attorney trial. The humor obviously depended on the volunteers' skill, but the judge also helped move things along if the actors got nervous. Highlights included Anya Forger being accused of cheating in a Minecraft speedrun, Johnny Test's sisters being the masterminds behind the JFK assassination, and Fortnite somehow managing to worm its way into everything.
Self-Confidence with Ellyn Stern – Okay, so that's not actually what the panel was called (it was supposed to be more about women's experiences in the anime industry), but voice actress Ellyn Stern turned the event into a self-confidence workshop once she noticed several attendees holding their voices back when they were asking questions. She had people squat and say their names loudly to force them to speak from their diaphragms, instructed a young attendee to never let herself speak without believing in herself again, and was just generally a delight to behold. She should hold workshops like this at every con from now on!
Cosplay
We saw a wide variety of cosplay at this year's event, but Genshin Impact and Chainsaw Man definitely had the biggest turnout. Pokémon Scarlet and Violet had a good showing as well, and we even saw a good number of Sonic cosplayers, likely thanks to the success of Sonic Frontiers. Here are some of our favorite looks from the weekend!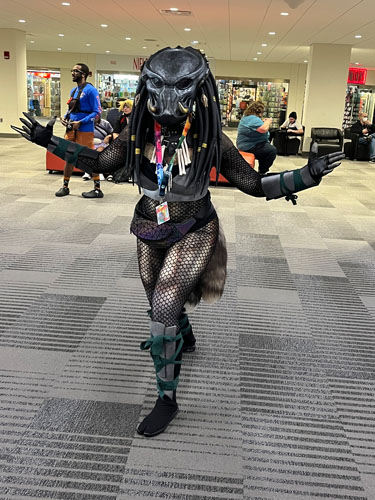 ---
Final Thoughts
Ohayocon 2023 was a great time, and we're excited to go next year as well. If you're a Midwestern anime fan, particularly one who doesn't like the huge crowds of bigger events like Anime Central, this is a fantastic con to attend!
What did you think of our report? Have you ever gone to Ohayocon before? Let us know in the comments, and thanks so much for reading!
---