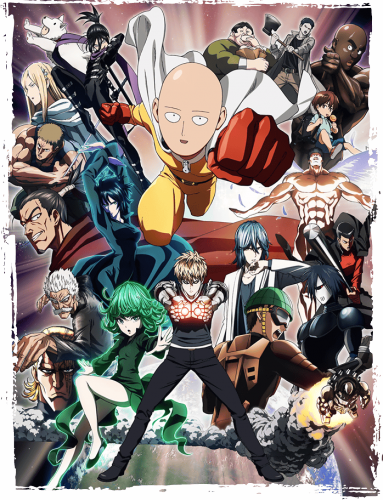 What You Need to Know:
The official website for the upcoming Fall 2015 anime, One Punch Man, revealed a new PV this weekend!
In the video we can discover many new characters with their cast (see below).
The premiere date has also been revealed! The anime will start on TV Tokyo and Niconico Live on October 5th, at 1:05am.
The video previews the opening theme song, The Hero!! ~Ikareru Ken ni Honou o Tsukeru~, performed by JAM Project, and announced that the ending theme song, Hoshi Yori Saki ni Mitsukete Ageru, will be performed by Hiroko Moriguchi.
Also, on Sunday, an advance screening of the first episode was held, in Saitama. The episode received great reviews from the public attending the event.
Characters & Cast
Makoto Furukawa as Saitama (Hero for Fun)
Kaito Ishikawa as Genos (Lone Cyborg)
Aoi Yuuki as Terrible Tornado (Class S Rank 2 Hero)
Kazuhiro Yamaji as Silverfang (Class S Rank 3 Hero)
Kenjiro Tsuda as Atomic Samurai (Class S Rank 4 Hero)
Minami Takayama as Child Emperor (Class S Rank 5 Hero)
Hiroki Yasumoto as King (Class S Rank 6 Hero)
Tesshou Genda as Metal Knight (Class S Rank 7 Hero)
Takahiro Sakurai as Zombieman (Class S Rank 8 Hero)
Youji Ueda as Drive Knight (Class S Rank 9 Hero)
Daisuke Namikawa as Pig God (Class S Rank 10 Hero)
Satoshi Hino as Superalloy Blackluster (Class S Rank 11 Hero)
Yuji Ueda as Watchdog Man (Class S Rank 12 Hero)
Kousuke Toriumi as Flashy Flash (Class S Rank 13 Hero)
Katsuyuki Konishi as Tank-top Master (Class S Rank 14 Hero)
Wataru Hatano as Metal Bat (Class S Rank 15 Hero)
Masaya Onosaka as Puri-puri Prisoner (Class S Rank 16 Hero)
Mamoru Miyano as Ikemen Kamen Amai Mask/Handsome Kamen Amai Mask (Class A Rank 1 Hero)
Saori Hayami as Hellish Blizzard (Class B Rank 1 Hero)
Yuichi Nakamura as License-less Hero/License-less Rider (Class C Rank 1 Hero)
Yuuki Kaji as Speed-o'-Sound Sonic (Self-proclaimed Strongest Ninja)
Source: OnePunchMan-Anime
---
The more I discover this anime, the more I'm getting excited! It just looks way too awesome!!
I. Want. It. Now!!!!
[ad_dfp position="bottom1" unit_pc1="true" unit_pc2="true" unit_sp1="true" class="mt40"]