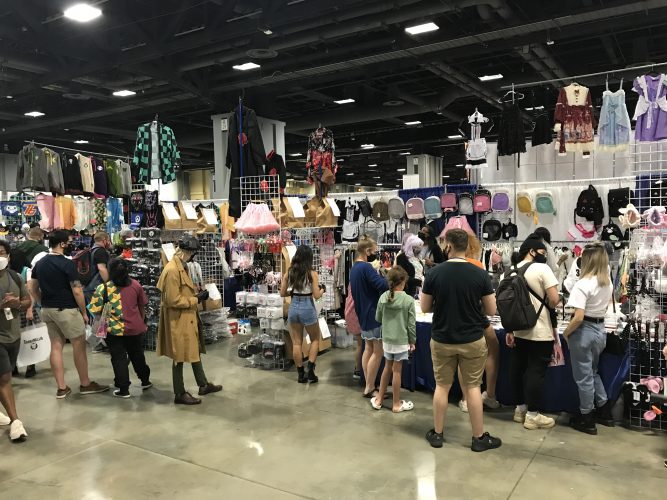 The pandemic restrictions and lockdown may have forced the cancelation of 2020 Otakon but the nation's capital became the capital of anime once again and opened the doors of the Walter E. Washington Convention Center in Washington, DC to panelists, guests, and cosplayers. The convention may have fallen short of its typical +30k attendance but the halls were still filled with a festive crowd in masks and we aren't only referring to the cosplayers.
Basic Info
Location
Walter E. Washington Convention Center, 801 Mt Vernon Pl NW, Washington, DC
Established
1994
Length of Event
Friday, August 6th 8am-12am
Saturday, August 7th 9am- 12am
Sunday, August 8th 9am- 4pm
Place
Washington, DC
How much does it cost?: Single Day
Friday 08/06: $50
Saturday 08/07: $60
Sunday 08/08: $40

Weekend (Fri-Sun):$100
The Marriott Marquis is the main convention hotel for Otakon. There's a tunnel that connects the convention center to the hotel. The Marriott Marquis is also a hot spot for cosplay photoshoots, with beautiful lighting and backdrops and a grand staircase of white marble. The Renaissance hotel is directly across the street from the convention center, and a block after that, is Cambria Suites. If you're on a budget, don't be afraid to stay in a hotel that's farther away from Otakon. Shuttle busses, taxis, and even Lyft's are available for most hotels. And if you're walking, crossing guards were around all day long to help con-goers cross the busy streets safely.
---
What to Bring in Order to Enjoy the Event
The convention center is big. We can't emphasize this enough- wear comfortable shoes. The distance between places to eat and the convention center are at least a block away. The convention center itself takes up two blocks. We recommend buying snacks at the CVS nearby and bringing them in if you are on a budget since food sold at any convention usually sells at a premium.
---
What to Do While There/What is Available
The featured programming this year included a Lyra's Formal Ball, billed as a night of cosplay, music, and dancing. You can let yourself get caught up in the creativity and music in the AMV Theater as it hosts the best of the fanmade videos submitted to the Otakon AMV contest. You have the chance to test your voice acting skills with a workshop hosted by guest voice actors. We also have the chance this year to attend cultural panels and watch demonstrations on flower arranging and kabuki. The cultural festivities also involved a Demon Slayer themed demonstration of the Tea Ceremony titled Japanese Tea Ceremony with Tanjiro and Nezuko due to American voice actors Zach Aguilar (Tanjiro) and Abby Trott (Nezuko) taking part. The fan panels were also plentiful.
You also had access to the staples of any convention such as the… The dealer's room was filled with all sorts of exhibitors. You've got the classic figures and status, manga, DVDs, body pillows, and plushies. We also saw a couple places selling kimonos and chopsticks. You had the chance to support a lot of the smaller vendors this year due to the nonparticipation of companies like Crunchyroll, Funimation, and Aniplex due to Covid-19. The artist alley had plenty of space to display their work too in the convention hall selling prints of all sizes, keychains, and commissions.
You can't have a convention without a cosplay contest. The staff at Otakon made sure that you had a great mix of fan performances and funny skits on the stage in the massive ballroom. We even got an after hours look at cosplay as the D.C. Gurly Show brought us a burlesque show to bring us ecchi comedy and strip teases into the early hours of the morning.
---
Cosplay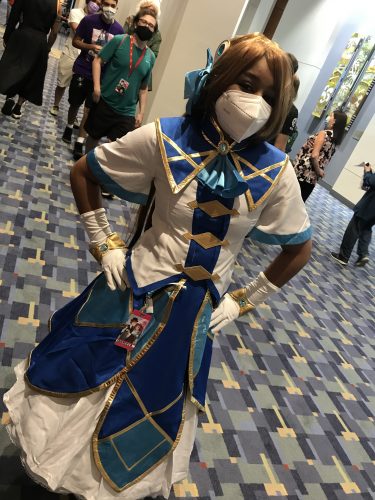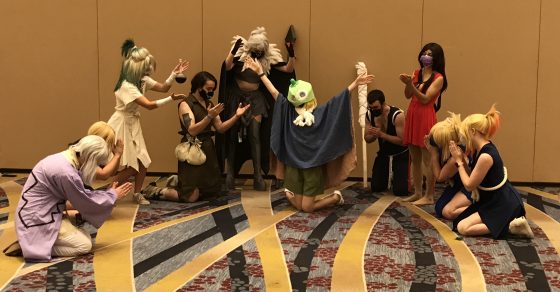 ---
Final Thoughts
The chance to enjoy the feast for the eyes that is a convention is what many of us needed after a year and a half of isolation. We may have gotten the chance to watch a lot of anime as we avoided interacting with others but we didn't get the chance to talk with others face to face about the shows we liked and the waifus we loved. The convention, Otakon, has always been a safe space for many of us who don't have those connections with other anime fans in our day to day lives to find new friends to share in our love of otaku-dom. We are so happy to see Otakon survive and begin to thrive again building an even better experience each year.
---