"The Dot Eating Mascot Reborn and Recharged!"
Game Info:
System: Nintendo Switch, PS5, PS4, Xbox One, Xbox One Series X, PC
Publisher: Namco Bandai Games
Developer: Now Production, Namco Hometek
Release Date: August 25, 2022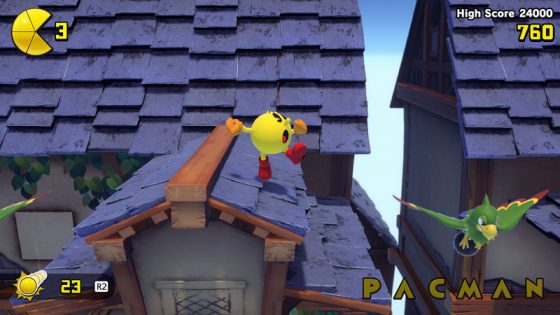 PAC-MAN needs very little introduction regardless of your age or gaming knowledge. Namco's original simple dot-eating mascot, PAC-MAN, has stood the test of time by always being an iconic character and even now, is beloved by many. However, aside from the original simple game, people may not remember that PAC-MAN journeyed to the 3D realm in a fun but not super well-known game simply called PAC-MAN World. Well, it has been years since one of these 3D games was released and Namco (formerly Bandai Namco) has decided to return to its roots in a remake of PAC-MAN World called, not surprisingly, PAC-MAN World: Re-PAC. Is this remake worth returning to the lesser-known greatness of PAC-MAN's 3D adventure or should you stick with the classic 2D titles? We find out in our review of PAC-MAN World: Re-PAC for the Nintendo Switch!
PAC-MAN Fights Back

PAC-MAN World: Re-PAC story follows the journey of PAC-MAN who was supposed to join his dot-like family for his birthday but they've all been captured by the ghosts and a powerful entity called Toc-Man. Not one to back down when his family and friends are in danger, PAC-MAN journeys to Ghost Island and saves the day! The story for PAC-MAN World: Re-PAC is pretty simple in the story premise but it works to keep everything from being too over the top. PAC-MAN shouldn't be a complicated narrative and watching our round hero do what he does best by eating ghosts, dots, and fruits, is still legendary even in 2022. That aside, PAC-MAN World: Re-PAC's story is silly and fun which makes it perfect for all ages. Plus, we always enjoy a simple cartoon-like tale.
Eat, Jump, Stomp and EAT!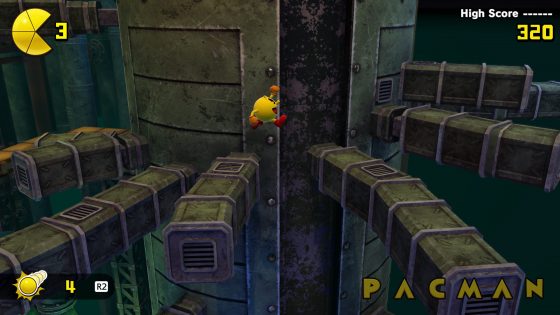 Aside from the simple story, PAC-MAN World: Re-PAC is also a pretty simple game to play as well. Like the original, PAC-MAN World: Re-PAC is all about simple gameplay and it works wonders. As the legendary yellow mascot, you'll be gobbling dots that can be used to eliminate and destroy threats and you can obviously eat super pellets to gobble up the ghost enemies. When you aren't chowing down on digital dots, you'll be traversing levels by climbing platforms, slamming down on buttons to unlock pathways and doors to progress through the various levels. Nothing in PAC-MAN World: Re-PAC is a real challenge—again this is a game made for all ages—but everything from attacking to moving about levels is solid and works extremely well.
Maybe Too Simple

Unlike Crash Bandicoot and Spyro games, PAC-MAN World: Re-PAC is again VERY simple. Honestly, we rarely found a challenge while playing which can make it a bit too easy for those who want a bit more from their platforming experience. There's even an Easy Mode which seems really pointless but again, it's E for everyone for a reason.
Visually Not That Impressive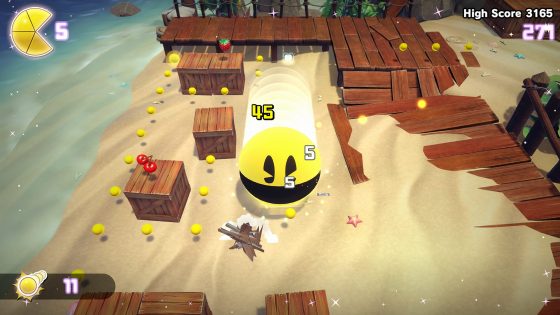 On one hand PAC-MAN World: Re-PAC is only $29.99 which is an excellent price for a remake—and more games should be at this price when they only improve on so many elements—but we can't deny it isn't a lot different in PAC-MAN World: Re-PAC. Yes, we noticed the intro has been updated considerably and there has been a bit done with the bosses but not much is noticeably different. The entire game does look better with updated visuals to make it more HD than the early original PS1 title but even then, it shows some age here and there and doesn't feel like a really big difference overall.
---
Final Thoughts

PAC-MAN World: Re-PAC is a simple and fun game that makes it perfect for those who want just that, nothing over the top. Can it be considered a significant remake like the recent Crash Bandicoot game? No, but PAC-MAN World: Re-PAC clearly is just meant to be a blast from the past and it does that quite well. Plus, the low price makes it easy to warrant a repurchase for those who maybe want to relive the greatness of PAC-MAN World.
Are any of you readers going to buy PAC-MAN World: Re-PAC? Comment why down below and what made you pick it up! Be sure to keep stuck to our anime-eating hive here at Honey's Anime for even more game reviews and, of course, anime articles!
---