Peach Boy Riverside

Genre:
Action, Fantasy, Shounen
---
---
Official Images / Key Visuals
Synopsis
Once upon a time, there lived an old man and woman.
The old man went to the hills to cut grass, and the old woman went to the river to do the washing... and so on, and so forth.
Thus at the end of the tale, Momotaro defeats the oni demons.
However, he catches wind that there are more oni in foreign lands, and departs to cross the ocean in search of them.
Certainly, it was impressive that he vanquished the oni. And surely it should be rejoiced that people were saved.
There was just one problem...
He liked it.
This is a story of "what if"s.
What if there hadn't been only one large peach that had come floating down the river?
What if the peach found in Japan was just one of many more...?
Characters & Voice Actors
Sally:
Haruka Shiraishi
The princess of a small, peaceful country called Alderlake. She embarks on a journey to the outside world upon meeting Mikoto. A certain incident awakens the power of the peach inside of her, leading her to possess the power to fight against the oni.
Mikoto :
Nao Toyama
A boy who possesses the power of the peach, called "the Demon Hunter". He harbors a deep hatred towards oni, and travels the world with his dog to annihilate them.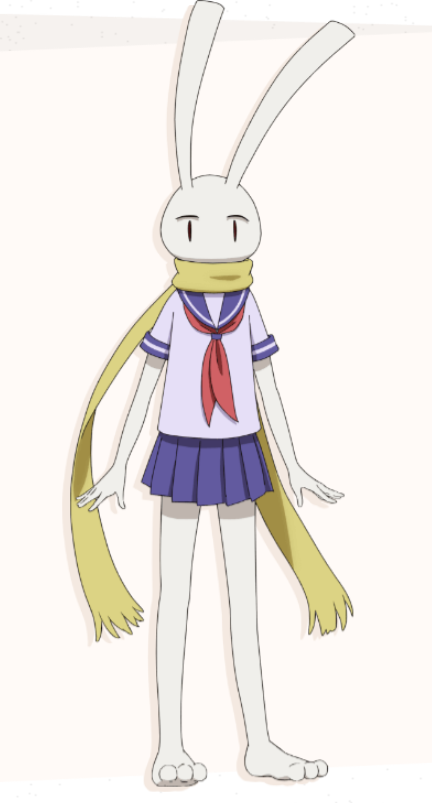 Frau:
M・A・O
Frau is a rabbit-human who wears a middy uniform. Their sex is unknown. Apparently they're friends with Winnie the Witch from before, but aside from that, everything about Frau is a mystery. Sally finds Frau after they collapsed on the street, and since then they decided to set out on their adventures together.
Hawthorn:
Toshiki Masuda
Hawthorn is the captain of the Knights of Rimdal. He's a swordsman with a strong sense of justice. He used to think that demihumans were monsters, but upon meeting Sally and Frau he slowly starts to connect with demonic races as well.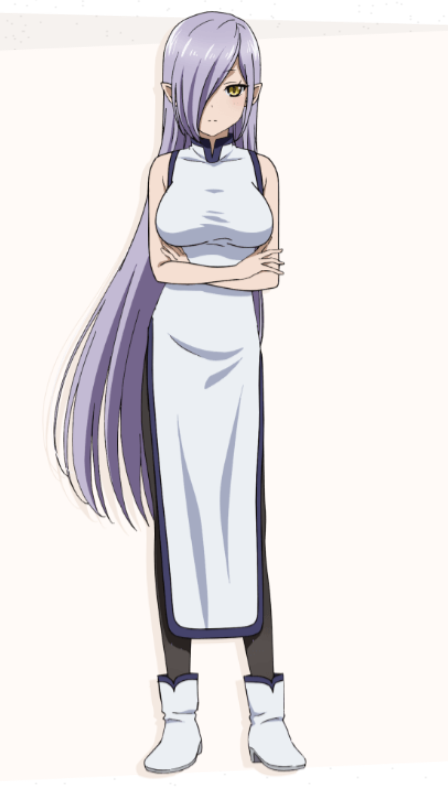 Carrot:
Megumi Toda
Carrot is a former high ranking demon, known by the name "Eyeball demon". After her battle with Mikoto she lost all her demonic powers. Frau gave her the name "Carrot."
Dog:
Jiro Saitou
Dog is Mikoto's travel companion. He knows how to speak and often worries about Mikoto, however she tends to scold him. Actually, he's the same dog from a famous story.
Millia:
Mayu Mineta
An ex-oni, Millia calls herself the "Hair Oni" because she can manipulate her locks at will. She dresses like a nun.
Winnie:
Haruka Tomatsu
Winnie is a witch who lives in the Western Forest and owns her own bar. Despite her youthful appearance, she has lived for centuries. She also has a strong connection to Hawthorn's ancestors.
Sumeragi:
Daisuke Hirakawa
Sumeragi is a high oni who dresses like a priest. Sally's peach power draws his attention and he appears before her... However, his true intentions are a mystery.
Todoroki:
Misato Murai
Todoroki is a high oni with power over lightning. He keeps it under control with the hat he received from Meki, the Eye Oni. He also has feelings for her.
Jucerino:
Yurika Kubo
Juncerino is an oni deity that can create "puppet oni." Though she appears to be a harmless little girl, Juncerino is part of a group of oni deities that possess overwhelming power.
Atra:
Yuko Suzuhana
Atra is a angel who lives in the Heaven. Frau and she have known each other.
Theme Songs

Opening Song: "Dark spiral journey" by Q-MHz feat. Yuko Suzuhana
Ending Song: "Yoru wo Koeru Ashioto" by Mitei no Hanashi

Adaptation

"Peach Boy Riverside" (Manga)


Main Staff

Original Creator: Cool Kyoshinsha / Johannes
Director: Shigeru Ueda
Series Composition: Keiichiro Ochi
Character Design: Satomi Kurita / Msato Kato
Sound Director: Ryo Tanaka
Music: Takaaki Nakahashi
(Credit Honey's Anime when you use our description.)
---