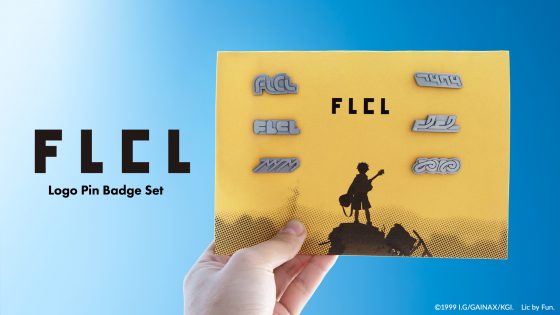 What You Need to Know:
Tokyo Otaku Mode has opened pre-orders for the FLCL Logo Pin Badge Set today on June 20, 2019, at 10:00 (JST). This product includes pin badges featuring the titles of all six episodes of the FLCL OVA series released in 2000 and 2001. FLCL is an original series created by GAINAX, a studio popular for Neon Genesis Evangelion and Gurren Lagann. Having a unique story and experimental and alluring animation, the series has deep‐rooted fans within and outside of Japan to this day.
The display card for the pin badges features an illustration of Naota standing among a mountain of rubble from the climax of the series and can be enjoyed as its own piece of art.
The simple designs of the logos make it so these pins can easily be attached to any item. They can be used as an additional accent for your bag or guitar case or even as a novelty item for your room.
Source: Official Press Release
Product Details
Price: 42 USD
Contents: Six pin badges, display card
Size:
⦁ Display card: 148 mm x 210 mm x 10 mm
⦁ Pin badges approx. 15 mm x 35 mm (The size of each badge is slightly different.)
Weight: 50 g
Materials: Paper, Zinc alloy
Production method: Die cast molding
Plating: Antique silver finish
Country of Manufacture: China
【Pre-order Period】
June 20th to 11:59 P.M. (JST) on July 19th, 2019
【Estimated Shipping Period】
Late August 2019
---
Oh this is kind of cool! I haven't purchased pins in a long time.
FLCL fans will definitely grab this quick!