Intro
The Otaku of Pittsburgh put on their best for a formal occasion. The first-annual gala featured dinner, dancing, live music and special guests in an intimate setting. And because this is a group of Otaku, you know there was cosplay. We aren't talking
your average cosplay, though, we're putting on the Ritz -- or Ouran in this case -- of formal attire cosplay. The evening festivity gave gala goers the chance to share their love of anime and cosplay in a far less chaotic and crowded environment, limited
to 300 guests, with fine wine and a gourmet meal. The attendees also got the opportunity to take a turn around the dance floor with the presenters and guests; what other gathering of anime fans offers that? The theme of the night Ouran High School Host
Club and the gentlemanly atmosphere that requires.
Basic Information
Length of event
September 10, 2016 -Doors Open 7:00pm- 10:00pm (3 hours)
Place / location
Pittsburgh's Grand Hall, 614 Pressley St, Pittsburgh, Pennsylvania, U.S.A.
Cost
General Admission: $120 VIP Cocktail Hour 6-7pm: $50 Open Bar: $30 Advance Purchase Only- No Tickets Sold at Door
Hotels

The Priory Hotel (On Site)
The Double Tree by Hilton (Downtown Pittsburgh)*
The Westin Convention Center (Downtown Pittsburgh)*
Pittsburgh Marriot City Center (Downtown Pittsburgh)*

*All within 20-minute walk or quick cab ride
Event message for fans / attendees
*Ladies and Gentlemen, Princesses and Princes: The Pittsburgh JCS cordially invites you to join us on the night of September 10, 2016 for an evening complete with dinner, drinks, and dancing. Festivities begin at six o'clock sharp for our "Very Important
Princes and Princesses" attending the VIP Meet & Greet with special Guest of Honor, J Michael Tatum. The Pittsburgh Japanese Culture Society is a non-profit organization that advocates for cultural diversity and acceptance in a safe, educational environment
through promotion of international performing and visual arts exhibitions as well as culturally relevant and historically significant interactive demonstrations while fostering collaboration with other charitable communities to create unique enrichment
opportunities for all ages.
What to Expect
Taken by :Maya Puskaric, photographer for the PittJCS Marketing Team
The dinner menu is one of refined taste befitting of the classiest restaurant. The guest will be seated for a formal dinner consisting of four courses, so you'd better leave some stretch room in those pants. Feast on roasted garlic bisque with pesto crouton
and tomato concasse; mesclun greens salad with crumbled feta cheese, artichoke hearts, roasted red peppers, cucumbers, Kalamata olives and ciabatta crouton; a choice of entrées: chicken Florentine stuffed with spinach, ricotta and artichoke pesto Romano
sauce or sliced tenderloin "Chateaubriand" rolled in cracked pepper and herbs, with tarragon demi-glace, both accompanied by sides of sour cream and chive stuffed potatoes and broccoli crowned with lemon and brown butter; and strawberry Grand Marnier
mousse with toasted angel food cake for dessert. You'll want to bring your best moves and your funniest small talk as you'll have the opportunity to dance with the presenters J. Michael Tatum (voice actor/writer), Caitlin Glass (voice actor/ADR) and
the "cast" of Ouran Host Club! Remember ladies, the hosts are there to ensure you have a wonderful evening. A drawing of door prizes will continue throughout the event just to keep it interesting. You'll also need to wear your best since formal attire
is required. You can wear a tuxedo/suit, J-Fashion, or hopefully formal cosplay to help add to the Ouran Host Club atmosphere.
What to Bring in Order to Enjoy the Event
Taken by :Maya Puskaric, photographer for the PittJCS Marketing Team
Your dancing shoes
Formal Attire
Cosplays
The cosplay was perfect for the theme of Ouran Host Club with many of the guest dressed for the series. The rest of the guest did their best to as formal and fashionable as possible.
*note* The pictures were taken byMaya Puskaric, photographer for the PittJCS Marketing Team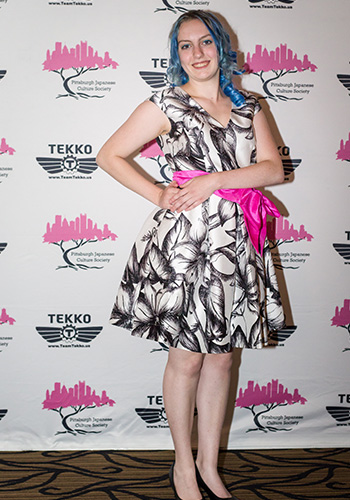 Honey's Final Thoughts
The Pittsburgh JCS is one of the most active Japanese Cultural societies in the mid-Atlantic. We think the gala is a great way to meet and hang out with other fans in a far less hectic setting than the classic convention. You can sit and have a nice conversation
with someone, even a VIP, about your favorite characters and shows without sitting on the dirty convention center carpet and getting tripped over by cosplayers who can't see where they are going. A setting like the gala not only brings out great cosplay,
but allows the attendees to get wrapped up in the fantasy of the world created by the gala. We have already been told there will be a second-annual gala next year. They haven't decided on a theme yet but we can't wait for the chance to attend.