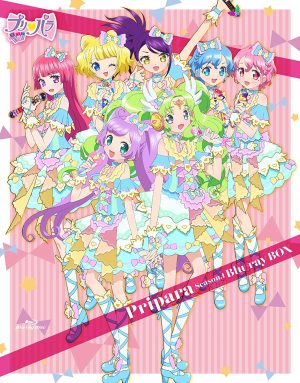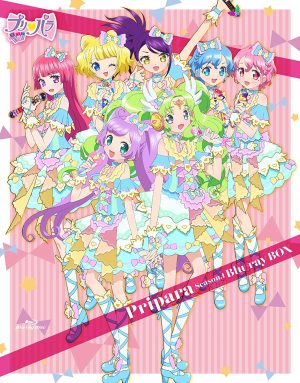 PriPara 3rd Season

Genre:
Shoujo, Music, Magic
---
---
Studios:
Tatsunoko Production, Dongwoo A&E
Official Images / Key Visuals
Synopsis
The 3rd season of PriPara.
One day, a huge UFO appeared in the sky above the town of Parajuku, and glittering jewels sprinkled down from the sky. Now it's been decided that the Idol God Grand Prix will take place at Parajuku's PriPara and the PriPara system has been updated. Around this time, Laala meets a mysterious baby that fell from the sky. This baby calls Laala 'Mama' and refuses to leave her side, so Laala ends up taking care of the child, but what will happen now?!
Characters & Voice Actors List
Laala Manaka

Voice Actor: Himika Akaneya
---
Laala is a sixth grade elementary student at Paprika Academy. She's grown up a lot through experiencing many things at the Dream Idol Grand Prix, and is currently a top-class idol. Somehow she's ended up acting as a mother to Jururu, a baby she happened to meet! Her Charm is Lovely, and her favourite brand is Twinkle Ribbon.
Mirei Minami

Voice Actor: Yuu Serizawa
---
Mirei is a second year middle school student at Paprika Academy. President of the school council and public morals committee. She has a habit of saying 'All according to plan' but this accomplishment is a result of her practicing daily. A hardworking idol. Her Charm is Pop and her favourite brand is Candy a la Mode.
Sophie Houjou

Voice Actor: Miyu Kubota
---
Sophie is a third year middle school student at Paprika Academy. When she's in Fancy Mode she's as elusive as a jellyfish, but whenever she eats Red Flash (Umeboshi), she goes into Cool Mode and flaunts genius-level skills. Her Charm is Cool and her favourite brand is Holic Trick.
Theme Songs

Opening Song: Ready Smile!! by i☆Ris
Ending Song: PriPara☆Dancing!!! by Laala (Himika Akaneya) and Galulu (Asami Sanada)

Adaptation

Manga


Main Staff

Original Creator: Takara Tomy Arts & syn Sophia
Director: Makoto Moriwaki
Series Composition: Michihiro Tsuchiya
Character Design: Shouji Hara
Music: Tsuneyoshi Saitou & Rei Ishizuka
(Credit Honey's Anime when you use our description.)