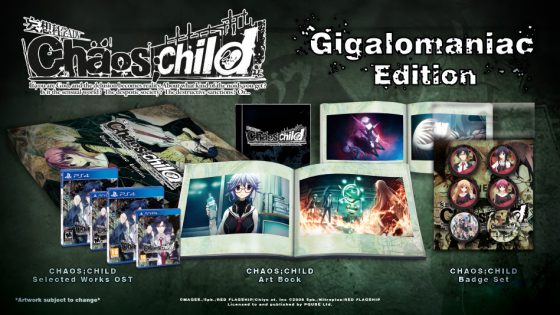 What You Need to Know:
The popular visual novel sci-fi adventure CHAOS;CHILD is now making its way over to the west, and the folks at Rice Digital are excited to bring you the Exclusive CHAOS;CHILD Gigalomaniac Edition! The illustrious title will make its way to the west later this year on the PlayStation 4 and PlayStation Vita. Be sure to scroll down for more details as to what you'll receive in the collector's edition!
If you'd like to pre-order your copy then be sure to check out the respective regions for your version!
Source: Official Press Release
About CHAOS;CHILD
In CHAOS;CHILD, a series of bizarre murder cases occur place in Shibuya, Tokyo. A young man named Takuru Miyashiro notices that the dates of the crimes match up with a series of murders that happened shortly before the fateful earthquake that killed his parents and changed his life six years earlier. Using this information, he deduces the date of the next murder and begins to investigate.
Determined to get to the bottom of the 'New Generation Murders', Takuru, along with his classmates from the Newspaper club, becomes involved in a mysterious series of events that will put them all in mortal danger and irrevocably change Takuru's life once again…
CHAOS;CHILD Gigalomaniac Edition Features
CHAOS;CHILD Standard Edition for PS4 or PSVita.
High Quality Presentation Box.
128 Page Premium Paperback Artbook.
CHAOS;CHILD Selected Works OST.
Set of Six Gorgeous Pin Badges Exclusive to the Rice Digital Collector's Edition.
Pre-Order Information
European, PEGI-rated PS4 version
European, PEGI-rated PS Vita version
North American, ESRB-rated PS4 version
North American, ESRB-rated PS Vita version
---
Great to see another great franchise make its way overseas. This will surely help to grab more attention and build a stronger fan base.
That's very true. If sales do well then we may see more content make its way overseas more often!
---