Multiple Hachimaru Clones?!
Mangaka : Kishimoto, Massashi
Publisher : Shonen Jump
Genre : Action, Samurai, Sci-Fi, Shounen
Published : August 4, 2019
Discussion Time
There's something kind of cruel about this week's Samurai 8: Hachimaru Den chapter. In our 13th chapter, Hachimaru tries to hold his own against Ata despite the latter being quite overpowered even with only half a body. Utilizing his partner, Hachimaru defends himself against Ata for a few attacks and even surprises the mighty samurai with some clever techniques! Daruma comes in—now semi-recovered—and takes over for Hachimaru revealing that long ago, Ata was his pupil. After Daruma unleashes a truly magnificent—and clearly Naruto themed—attack Ata finally seems defeated…or was he? Turns out Ata isn't actually there and was using a double of himself to attack/test Hachimaru!
After that depressing realization that Hachimaru's dad was almost killed by a double of Ata our surprises don't end. We learn our samurai's father was a scientist long ago who was out to create something truly magnificent. The goal of our father/scientist was to create Spare Keys—which sounds silly when you say it out loud—to open the boxes. What's worse…Hachimaru learns he isn't the only Hachimaru made as several more look alike Hachimaru appear! What does this mean for our current samurai? Well we have two weeks to wait for some much-needed answers but this new development makes our interest in Samurai 8: Hachimaru Den peak a bit. Let's talk about why chapter 13 of Samurai 8: Hachimaru Den has once more shown us this series can—and is—showing some life.
Why You Should Read Samurai 8: Hachimaru Den (Samurai 8: The Tale of Hachimaru) Chapter 13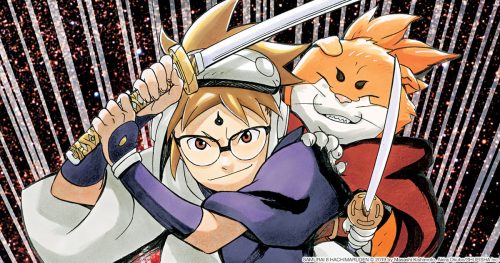 1. Ata Is Far From Dead
Despite Daruma's ultimate attack—which was a beautiful series of panels—Ata is far from dead. Despite the destruction, Ata wasn't even actually Ata but a projection of the original! That means we are sure to see some more destruction from this ultimate space samurai in future chapters and that kind of excites us.
2. Hachimaru and Hachimaru and Hachimaru!
Samurai 8: Hachimaru Den biggest end panel reveal comes in the form of not one but several Hachimaru that appear! As we learn, Hachimaru's father—Furuta—was trying to make multiple Spare Keys and apparently succeeded. This might be why Hachimaru was called Hacikaku by not only Ata but now the other clones. What does this mean for our young samurai? We have some ideas but till we see chapter 14—or another future chapter—we'll keep our theories to ourselves.
---
Final Thoughts
Samurai 8: Hachimaru Den chapter 13 was yet another solid chapter that shows some intriguing plots for the future. Ata isn't dead, spare Hachimaru have appeared and we have Hachimaru's dad possibly facing his end of days. If Samurai 8: Hachimaru Den keeps this up, we might begin to really dig this series and we truly hope that is the case. What are your thoughts about Samurai 8: Hachimaru Den? Comment below to let us know! For even more Samurai 8: Hachimaru Den chapter reviews and other manga reviews, be sure to keep stuck to our hive here at Honey's Anime!