Time to Save The Planet!
Mangaka : Kishimoto, Massashi
Publisher : Shonen Jump
Genre : Action, Samurai, Sci-Fi, Shounen
Published : September 1, 2019
Discussion Time
Samurai 8: Hachimaru Den chapter 16 was all about saving Hachimaru's planet as the falling moon above was easily going to obliterate it. While many wanted to evacuate the doomed planet, Daruma quickly chimed in saying he could stop the planet from its ill fate. With Hachimaru's aid, the two went about getting prepared for a special attack that would help save the planet and those residing on it. Daruma quickly informs Hachimaru that in his cat-like body he won't be able to do it alone and needs Hachimaru more then ever before! Despite the fear of being unable to perform such a massive feat, Hachimaru is reminded that he's gained all the elements needed to be a true samurai in the form of the Trinity's completion. Heroism, a princess, and his sword. Realizing that Hachimaru owes this planet for giving him so much in life, he listens to his master and the two of them perform the attack—which we talk about more down below—saving the world in the process. Hachimaru has taken a bit of a hit as his body has shrunken like All-Might but apparently with some rest, he will regain his original form! Now that our planet is saved our samurai don't get to rest, they depart immediately to save the galaxy! Wow folks, we honestly can't believe how strong Kishimoto's Samurai 8: Hachimaru Den series has gotten as of the last several chapters. What we can say is that we have a lot to focus on with this week's chapter and can't wait for the 17th chapter next week!
Why You Should Read Samurai 8: Hachimaru Den (Samurai 8: The Tale of Hachimaru) Chapter 16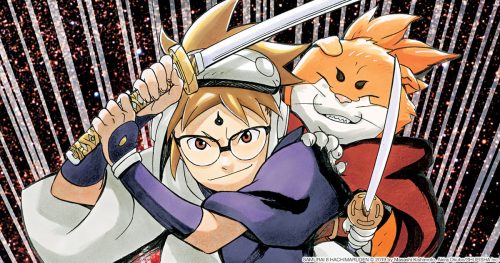 1. Hachimaru Has Leveled Up
Readers of Samurai 8: Hachimaru Den have learned early on every great samurai needs to obtain the Trinity. Well, according to Daruma, our young samurai Hachimaru has done just that! If you really dwell on it Hachimaru probably had the Trinity for a while now due to his experiences but with it being revealed to him he was able to work alongside Daruma to save the planet with the coolest special attack we've ever seen…speaking about that special attack…
2. OKUBU YOUR ART IS AMAZING
Chapter 16 might be amazing because our boy has gained the needed elements to be a true samurai, but all of that kind of took a back seat to what happened near the end of the chapter. Okubu—the illustrator behind Samurai 8: Hachimaru Den—blew us away with easily one of the coolest panels we've seen in a while. Both Hachimaru and Daruma combined forces to make a whirlwind of energy that looked like a dragon and that said attack consumed the falling moon above them as if it were Pac-Man! The amount of detail in that attack and how epic it looked could only have come from a master artist and it's why we bow to Akira Okubu.
---
Final Thoughts
Samurai 8: Hachimaru Den chapter 16 was easily one of the coolest chapters. With some beautiful art and a true beginning to our mission commencing Samurai 8: Hachimaru Den hit all the notes needed to make us smile! If you've been skipping out on Samurai 8: Hachimaru Den, we can't blame you as the first handful of chapters were definitely pretty lackluster. Yet, these last 4 or 5 chapters have been wonderful and if this series can continue its pacing, we think Kishimoto's Samurai 8: Hachimaru Den will truly be recognized by Shonen Jump fans! Are you loving the direction Samurai 8: Hachimaru Den has been going? Tell us using the comment's section below and keep stuck to our hive for even more reviews of Samurai 8: Hachimaru Den—as well as other anime—courteous of us here at Honey's Anime!