Of the same cloth
Mangaka : Kishimoto, Massashi
Publisher : Shonen Jump
Genre : Action, Samurai, Sci-Fi, Shounen
Published : May 19, 2019
Discussion Time
Samurai 8: Hachimaru Den chapter 2 wasted no time in introducing a new—possibly big—character in the form of an androgynous samurai in training named Nanashi or Nameless. Hachimaru literally drops in on this strange individual when he ends up falling into a building during a flight on his now flying companion Hayataro. Hachimaru learns the building he fell into is actually a dojo for those wanting to become samurai, but in the case of Nanashi, he—or she—is unwilling to leave his room due to phobias. It doesn't take long for our newly turned Samurai to realize Nanashi is like him, but it takes him winning in a fighting game—that Hachimaru is ranked number one in online—to convince Nanashi to leave his room and venture outside. While a new possible friendship is forged between the two, a group of thugs aiming for treasure and are making a B line right for the dojo! Next chapter should lead to a fruitful battle for our samurai warriors and we can't wait till it launches. In the meantime, here are a few reasons to read Samurai 8: Hachimaru Den and one reason you might want to skip it.
Why You Should Read Samurai 8: Hachimaru Den (Samurai 8: The Tale of Hachimaru) Chapter 2
1. Interesting New Character Revealed
Kishimoto is a master of making cool and unique characters and that can be seen in chapter 2 in the form of Nanashi. As we learn, Nanashi doesn't know if he's a boy or girl due to his lack of movement outside and it makes us intrigued if this will be a possible friend to Hachimaru or maybe a love interest in later chapters. We're probably going to learn Nanashi's gender sooner rather than later, but feel free to take some guesses in the comments below!
2. New Battle So Soon!?
Samurai 8: Hachimaru Den started off with a rather cool first major battle to kick off the series, but already it seems chapter 3—which will release in less than a week—will have a big battle awaiting our newly introduced samurai. We are digging that aspect of Samurai 8: Hachimaru Den as Kishimoto excels at making awesome fights in manga form. Let's see if our hunch is right and chapter 3 does indeed deliver an awesome fight.
Why You Should Skip Samurai 8: Hachimaru Den (Samurai 8: The Tale of Hachimaru) Chapter 2
1. By the Numbers?
While we do love how Samurai 8: Hachimaru Den is shaping up, there's always a fear we have in most shounen like it. If this series becomes a shounen filled with occasional dialogue then battles and repeat, it will become just another Naruto clone. We have faith in Kishimoto's skills, but shounen series can be very filled with tropes and cliches, and Samurai 8: Hachimaru Den has some signs it could end up down that road.
---
Final Thoughts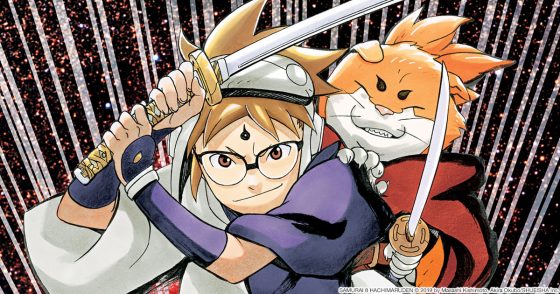 Samurai 8: Hachimaru Den chapter 2 was overall another strong chapter with some interesting elements in the form of Nanashi and a new threat incoming. While we aren't sold this can be Kishimoto and Okubo's new big series, it equally has potential and that we won't deny. Are you enjoying Samurai 8: Hachimaru Den? Comment below as we want to hear your thoughts and theories of what awaits in chapter 3! Make sure to keep stuck to our hive for even more manga reviews done by us here at Honey's Anime!