True Colors
Mangaka : Kishimoto, Massashi
Publisher : Shonen Jump
Genre : Action, Samurai, Sci-Fi, Shounen
Published : November 10, 2019
Discussion Time
Kotsuga…say it isn't so. Alright, before we continue being shocked by the most recent surprise—in chapter 26 mind you—found in Samurai 8: Hachimaru Den, let's go through everything from the beginning. We originally though Kotsuga was going in to save Princess Ann but we quickly see a speedy Hachimaru fly and punch our "thought to be hero" in the face. For his own survival, Kotsuga was planning on holding Ann hostage and give to Ben our fake tournament coordinator. Besides the kind Ryu being surprised by this, we can tell everyone was a bit shocked to see Kotsuga's sudden move.
On the defensive from an army of puppet-like beings, Hachimaru cries out to the thief samurai but this is where Kotsuga reveals he has never considered himself a samurai due to his human set up. We also get a few panels that show that, as a child, Kotsuga was a failure as a leader for a clan and as a samurai in general. This revelation shows why he most likely pursued the path of a thief. After that minor past showing, the fight continues and our samurai heroes are engaged in a huge conflict. Kotsuga tries to convince Hachimaru that eventually his master will tire of him but Hachimaru ends the chapter with a proclamation to be the one who decides if he—himself—will be that disappointment or not! With such an intense chapter of Samurai 8: Hachimaru Den we can only wonder if Kotsuga will continue to follow this crooked path or if Hachimaru will change him…maybe even his newer friend Ryu. Till those revelations let's dive deeper into chapter 26 of Samurai 8: Hachimaru Den!
Why You Should Read Samurai 8: Hachimaru Den (Samurai 8: The Tale of Hachimaru) Chapter 26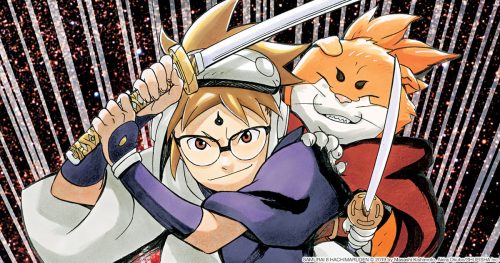 1. Kotsuga's Allegiance
Just when we thought well of Kotsuga does he turn around and pull a stunt like this! Our newest ally seems to have had a tough background and this, in turn, changed his character to a thief who doesn't believe he's a samurai. Hopefully Kotsuga can be changed by Hachimaru after a good beat down!
2. Epic Fight
One of the most exciting elements of chapter 26 of Samurai 8: Hachimaru Den is the giant fight going on at the moment. We have a small army of puppet-like warriors, a giant warrior and an ally turned traitor. What else does Samurai 8: Hachimaru Den have in store for us that can topple this incredible chapter!?
---
Final Thoughts
Samurai 8: Hachimaru Den 26 continues to prove Naruto creator Masashi Kishimoto has an aptitude for making truly epic stories. While Samurai 8: Hachimaru Den started off rocky, the last few dozen chapters have continued to add cool characters, a deep narrative, and some interesting plot developments. Will Kotsuga continue walking the wrong path or will his allies change his mindset? We shall find out soon but until comment below to let us know what you think will happen in upcoming chapters! Be sure to keep stuck to us here at Honey's Anime for even more chapter reviews of Samurai 8: Hachimaru Den!
---