Nick of Time
Mangaka : Kishimoto, Massashi
Publisher : Shonen Jump
Genre : Action, Samurai, Sci-Fi, Shounen
Published : January 6, 2020
Discussion Time
Waiting two weeks to know if Hachimaru and his allies saved the planet wasn't an easy task but we made it. Not so ironically, our heroes also saved the day in chapter 33 of Samurai 8: Hachimaru Den! With the timer at a literal second, the warrior hit the control panel, stopping the missile launch! Everyone on the planet and above could finally sigh in relief even if some people ended up getting arrested due to their involvement in this illegal tournament devised by Benki. Hey, it beats being blown up, right? Back in the ship, Sanda has some final words with his old "friend" Ben and we learn that Benki killed Sanda's dad not for revenge but for jealousy.
Unlike Yoshitsune—Sanda's dad—Ben had nothing and that left the big samurai to feel less fortunate. In a surprising last twist, Sanda seems to want to help Ben escape if he forks over one billion yen to their account. Ben gladly does so but Sanda ends up betraying him—no surprise there—and cuts his head off so the federation can detain him. Sanda then gives Hachimaru the money as a form of apology and thanking him for avenging his parents! Sanda and Ryu will be tried for their actions—in a thirty-minute hearing—but we're sure the council will be lenient seeing as how they saved a planet and our heroes!
After a grueling tournament, making new friends, and a nice cash reward, our samurai have finally reached the end of this exciting arc which should mean chapter 34 will be the start of a new journey for team Hachimaru! Till our young samurai takes his next steps to a new battle/journey, let's discuss why reading chapter 33 of Samurai 8: Hachimaru Den is a must for those loving this series.
Why You Should Read Samurai 8: Hachimaru Den (Samurai 8: The Tale of Hachimaru) Chapter 33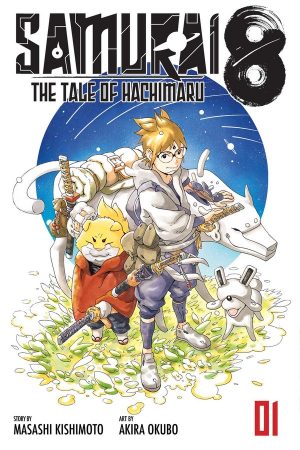 A Planet Saved!
Samurai 8: Hachimaru Den chapter 33 felt a bit like an action movie with that last-second save and we loved it. Finally, Ben has been defeated and our heroes have some cash to fund their next adventure! Hachimaru and his team are one step closer to saving the universe!
Ben's Heading to Jail
Benki has easily been one of the few samurai we hoped wouldn't just get defeated but also face the hard arm of the law, and he did in this 33rd chapter! What's even better is that Sanda was the one to deal the final blow, making sure our giant samurai won't be recovering anytime soon!
---
Final Thoughts
Samurai 8: Hachimaru Den 33 ends everything on a nice/clean note and that works quite well with this series. Now with the arc complete, our samurai are probably going to head off to find more allies and keys to save the universe and we're all too pumped to see what battles/adventures await them next!
Did you love or hate this arc of Samurai 8: Hachimaru Den? Comment below to let us know! Be sure to keep checking back for even more Samurai 8: Hachimaru Den chapter reviews done by us here at Honey's Anime!
---