A Samurai's Spirit
Mangaka : Kishimoto, Massashi
Publisher : Shonen Jump
Genre : Action, Samurai, Sci-Fi, Shounen
Published : June 9, 2019
Discussion Time
Swords that can become guns eh? Samurai 8: Hachimaru Den chapter 5 was quite interesting indeed. As Hachimaru and Daruma head to their training destination, they end up facing off against two powerful statues that seem to want to crush them like pebbles. Hachimaru bravely jumps in to face the statues while Daruma sleeps—the nickname Daru-Nap made us laugh out loud—but he's unable to put up much of a fight. Daruma wakes up in the nick of time and shows his new apprentice samurai the ability of a Samurai Soul. With this power, a samurai can alter their sword and make it change to work for the situation. In the case of Daruma, he used his Samurai Soul to make a sword and then dual guns which was actually quite neat to see. Daruma ends chapter 5 by telling Hachimaru that if he learns the samurai powers he has, he can make Hayataro truly his own! Overall, Samurai 8: Hachimaru Den chapter 5 felt like a good sign of things to come for the series and we're now curious what Hayataro could do once Hachimaru masters his own abilities. For the first time in the series, we have no reason you should skip chapter 5 of Samurai 8: Hachimaru Den!
Why You Should Read Samurai 8: Hachimaru Den (Samurai 8: The Tale of Hachimaru) Chapter 5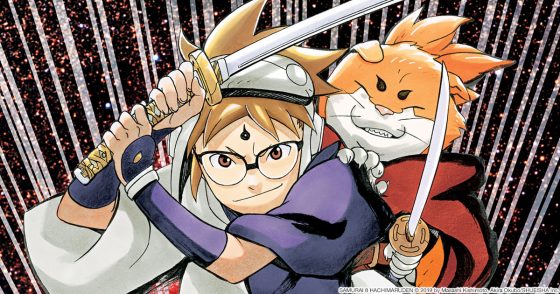 1. Daru-Nap Isn't All Talk
Samurai 8: Hachimaru Den has shown that Daruma isn't just a talking cat teacher, but we think chapter 5 really proved his skills. When he took down those giants with both a sword and those dual guns, we had a bit of a smile on our faces. Daruma finally has proven to us he might teach Hachimaru some truly neat tricks that will help him become the samurai the galaxy needs!
2. Samurai Souls
We've obviously seen super powerful abilities and skills in various manga. The Samurai Soul in Samurai 8: Hachimaru Den seems it could be something pretty neat when we get further in the series. With the ability to change form and ability based on the samurai user, Samurai Souls could be what Samurai 8: Hachimaru Den needs to set itself apart from Naruto and series like it. Comment down in the comments sections what abilities you think Hayataro will have once Hachimaru learns his own samurai skills.
---
Final Thoughts
Samurai 8: Hachimaru Den chapter 5 was one of the better of the series so far, hands down. This week's chapter gave us hope that Kishimoto's newest work might become its own series rather than relying on being like Naruto or most shounen series in general. What are your thoughts on Samurai 8: Hachimaru Den chapter 5 and the series so far? Talk to us via the comment's section below! For more Samurai 8: Hachimaru Den reviews and articles, keep stuck to our hive here at Honey's Anime!