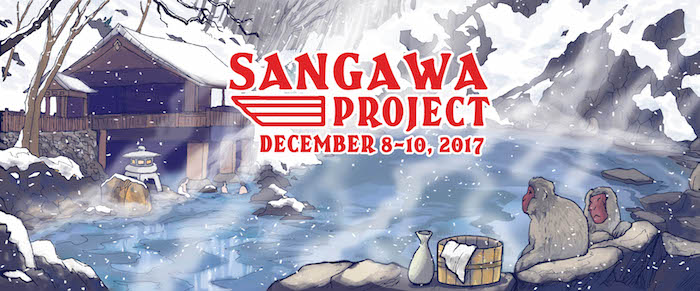 The Sangawa Project is a small convention with a lot of punch packed in the three-day event put on by the Pittsburgh Japanese Cultural Society. The total attendance count for this year was near 500 which is a 22% increase from last year. One thing that sets it apart from other anime events, this one is strictly NO KIDS ALLOWED. The convention has a slower pace with plenty of time between events and a short distance to travel between each panel. You don't have to worry about standing in line either; unless you want to get into an autograph session, each panel has plenty of seating. The Sangawa Project has panels on topics ranging from cosplay techniques to panels like Anime Journalism 101: How to Write about Anime and be Taken Seriously and, true to the over-18 audience, late night sessions like Let's Dub a Hentai. The attendees got the chance to share their love of current anime as well as visit panels on food, culture and (for the over-21 crowd) Japanese libations. The event has been a great place for many fans to share their love of culture and take discussions about the industry to a whole new, adult level.
Basic Info
When it was Established
2011 by the Pittsburgh Japanese Cultural Society

The Sangawa Project Official Website: http://www.sangawaproject.com/

Length of event
July 30th, 2017
Place
The Double Tree by Hilton in Green Tree, PA is the host hotel for the convention. The suburb of Green Tree is only 20 minutes outside of downtown Pittsburgh.
Price of Admission
When you register by August 31st, a General Admission badge is $30.
When you register by October 31st, a General Admission badge is $35.
When you register at the door (December 8th-10th), a General Admission badge is $40.
Hotel
The Double Tree Hilton has a lot of rooms, but to get one you'd need to have booked it by early November.

You can also find a booking nearby at the Crowne Plaza Pittsburgh West Green Tree, Hampton Inn Pittsburgh/Green Tree and the Days Inn Pittsburgh. The hotel rooms are a steal as far as conventions go at around $120 a night.
---
What to Expect

Sangawa Project is an intimate convention; that's one of the things that makes it one of the best. You almost never have to worry about the inability to talk to a panelist in the hallway after their time is up. The panelists are passionate fans and really love that you share their passion and the structure of the Sangawa Project lends to that. The advice of wearing comfortable shoes isn't as necessary as it is at most cons because you won't find yourself walking a mile between panels or standing all day. The freedom for the panelists to really go for it and push the boundaries by alluding to concepts and mature scenarios without worrying about warping young, fragile minds is a refreshing change from all-ages conventions. As a more mature otaku, you can really enjoy the relaxed atmosphere. The Sangawa Project isn't a shopping trip, though. The dealer room is very small with only a handful of vendors, which could be a good thing so you don't have the temptation to drop to much money on the six different figures you found. The environment, like most anime conventions, is an accepting one with panelists and fellow fans willing to teach and share their love for anime, manga and Japanese culture. We watched super panelist Charles Dunbar spend 20 minutes talking with an attendee in the hallway and searching his laptop for the title of a book to recommend for the eager learner. That kind of interaction is what Sangawa Project is all about.
---
What to do while there, what to see and what to do:

Friday, December 8th
The convention starts with a couple of panels as early as 4:30 this year. One is called Shounen Deconstructed, which was a look at the Shounen genre and the ways it is has adapted and changed over the years. The other, Anime Journalism: 101, is where Honey's Anime writer and retired TV journalist Zeke Changuris gives a primer on journalism and how to write about anime like a professional.
The con officially opens on the main stage with brief introductions by the Sangawa Project committee to give visitors an overview of the weekend's events and rules. You can then spend the rest of the evening taking part in Otaku Sing! Sangawa Karaoke, attending panels such as Fetishes in Anime and Yaoi Kisses Goes Bump in The Night. The official activities shut down around 2 but remember most of the guests are over 21 and aren't quite ready for bed yet.
Saturday, December 9th
The morning lets you ease into the day with some tame events like advice on cosplay cosmetics, and archaeology in Japan. You can take a look at the end of the world with the portrayals and sociological look at Apocalypse in Anime. Or take a deep look at Revolutionary Girl Utena as we hit the 20th anniversary of the ground-breaking series. The coloring contest for Hentai pictures goes all day long with an awards ceremony at midnight. The 21+ Taste of Japan also runs from 12-5pm and gives you a good chance to really enjoy yourself with unlimited tastings of Japanese wines and spirits. The Sangawa Gambling Hall also opens in the evening as a place to play and socialize. You can even get the chance to attend Q&As with Colleen Clinkenbeard, the voice of inner Moka from Rosario to Vampire and Monkey Luffy from One Piece, and Robert McCollum, the voice actor behind Stiyl Magnus in a Certain Magical Index, and Kaze in Kaze no Stigma.
Sunday, December 11th
The morning schedule for the last day of the convention is pretty light allowing the late-night partying convention goers to get a slow start. The panels like Pet Ownership in Japan and The Artists of Mecha are pretty low-key and filled with great information. You can even indulge by just chilling in the video rooms that don't close until the closing ceremonies around 4pm.
---
Cosplay

The cosplay population isn't as extensive as at other larger conventions. It wasn't nonexistent, though, and even had a judged competition and a cosplay improv contest where the cosplayers were given random scenarios to act out.
---
Final Thoughts
The Sangawa Project is truly a refreshing convention; it can even be nostalgic for those who attended cons 10-15 years ago. The small size of the event makes it a very personal one letting the people make connections with the panelists, guests, and fellow con-goers. The Sangawa Project is also a convention that lets adults be adults -- and be kids at the same time. We were able to talk with other fans without feeling like were odd for having a nine-to-five with a 401k and yet we watch anime and collect figures of magical girls. The Sangawa Project is continuing to be one of the best 18+ conventions for anime fans. If you're old enough to get in you can find a great event where you can spend the weekend sharing your love for anime.
---