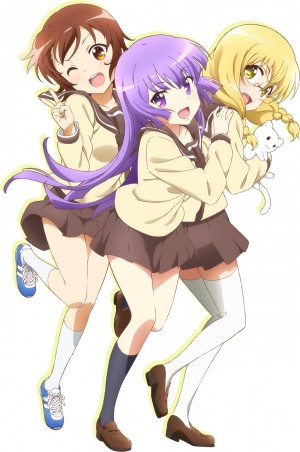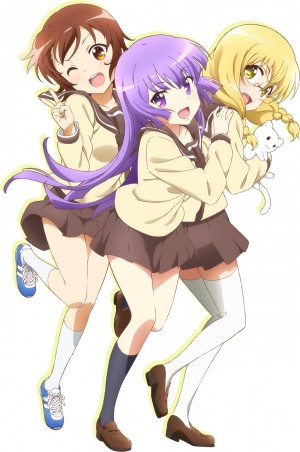 Sansha Sanyou

---
Genre:
Slice of Life, Comedy
---
Airing Date:
April 10, 2016
---
Synopsis
Big eater Futaba Odagiri, former rich young lady Youko Nishikawa, and two-faced president Teru Hayama are the best of friends. But add their new friends into the mix and all hell breaks loose! With the forever number-two cold-natured girl in class, Serina Nishiyama, the kind-hearted blabbermouth Asako Kondou, and Shino Sonobe, Youko's former maid with a love for conspiracy, what on earth will happen from now?
Characters & Voice Actors List
Futaba Odagiri

Voice Actor: Mai Kanazawa
---
Full of energy with an appetite to match. A lively girl with a bright personality. Her hobby is eating, so she often enters eating competitions. As a result, she has broken many records and is enshrined in the Hall of Fame of several different stores. But she's not just good at eating - she's also a great cook. Her favourite food is rice.
Youko Nishikawa

Voice Actor: Yuu Wakui
---
A former proper young lady. She used to be a rich well-to-do girl, but since her father's company went bankrupt she has been living in poverty. She's ignorant when it comes to commoners' ways, but she seems to slowly be getting used to her new way of life. Recently, her favourite food is mayonnaise.
Teru Hayama

Voice Actor: Ayaka Imamura
---
The two-faced president. She may look serious with her glasses and braids, but that's all a front in order to make herself look good in front of the teachers and those around her. In reality, she's got a scheming personality. She loves animals, and she becomes a totally different person when it comes to them. She likes salty foods.
Serina Nishiyama

Voice Actor: Machico
---
Classmates with Teru and Futaba. She sees Teru as a rival and will challenge her over almost everything - and lose. She adores animals - the only thing her and Teru can agree on. She has a cat called Eternal.
Asako Kondou

Voice Actor: Aina Suzuki
---
Classmates with Teru and Futaba. She is one of Nishiyama's few friends and tries to placate her, but she can't read the atmosphere and often says too much. She has absolutely no ill-intent, though.
Shino Sonobe

Voice Actor: Rika Momokawa
---
She used to work as a maid at Youko's house, but is now the manager of Secret Flower Garden, a Western confectionery shop. Loves conspiracy and playing tricks.
Other Title
三者三葉
Airing Info

Legal Streaming:

Theme Songs

Opening Song: Kurobaa♣Kakumeishon by Toripuru♣Fuuringu
Ending Song: Guuchoki Pareido by Toripuru♣Fuuringu

Adaptation

Manga


Main Staff

Original Creator: Cherry Arai
Director: Yasuhiro Kimura
Series Composition: Hideaki Koyasu
Character Design: Jun Yamazaki
Animation Director: Jun Yamazaki, Motohiro Taniguchi
Sound Director: Masaki Tsuchiya
Music: Shuuhei Mutsuki
(Credit Honey's Anime when you use our description.)