PinocchioP and sasakure.UK Presents
"Tour Rice - Harvest Festival - Okawari"
Sunday August 21st, 2016
Super Deluxe, Tokyo
Intro: Exploring the Digital Soundscapes
This last May, vocaloid producers
PinocchioP
and
sasakure.UK
announced that they were going on tour together bringing their music to different cities in Japan, but also making a detour for a show in Taipei! They named the tour "Tour Rice - Harvest Festival". The tour was very successful, but it was not enough, and fans wanted more. It seemed that PinocchioP and sasakure.UK's fans needed an extra helping of Rice, and they were asking for おかわり(okawari), which means "seconds" in Japanese. This is why our beloved vocaloid artists decided to extend their Tour Rice by adding a couple of dates in Sendai and Tokyo, and they called this extension "Tour Rice - Harvest Festival - Okawari".
If you're new to vocaloid let us introduce the masterminds behind this tour. The first performer, is sasakure.UK, also known as sasakureP (ささくれP), who has a vast experience in producing vocaloid songs and BMS (Be-Music Script). He complements his music with illustrations and animated videos he creates himself! He became noticed when he created the Doomsday Series, which consists of songs that show the gradual destruction of the Earth and humanity due to a war. How cool is that?!
And then we have, PinocchioP who is a vocalist, lyricist, and also a vocaloid producer known for his fast-paced beats and witty lyrics reflecting on everyday life's unconformities. He is also the creator of the two characters that are sometimes the subjects of his songs: Aimaina and Doushite-chan. These two characters are featured in most of his videos and merchandise, they are very attractive and intriguing. PinocchioP does not perform alone, he joined forces with DJ PinocchioP MK-2 (pronounced: mak two) who is in charge of the scratches and samplers. Also, to complement the team is VJ HappiTaro in charge of the visuals.
Honey-chan and Bee-kun put on their best dancing shoes and headed to Roppongi on a Sunday night, excited to experience a show full of digital music and creative visuals depicting another world. A parallel world, maybe? They reached the entrance of the Live House called Super Deluxe, this place is famous for hosting shows of famous international artists. Super Deluxe is not a big venue, which is good news, because you really want to see these guys very close and enjoy a more intimate atmosphere.
Woohooo look at all these people here ready to have a good time, wait a sec! I'm gonna get something to drink.
This venue is really nice, visuals are being projected on three of the main walls, I feel like I'm in outer space!
Oookey, I'll fly right back to you!
Performance: The Narrow Line Between Reality and Virtuality
The gig started with two opening bands: experimental electropop ESME, and the playful and dreamlike ambient electronic ふんわりちゃん (Funwari-chan). Their performances created an relaxed and psychedelic atmosphere, perfect for what was coming next. We would like to check out more about these artists in a next opportunity. You can find them in Soundcloud and Bandcamp.
sasakure.UK Performance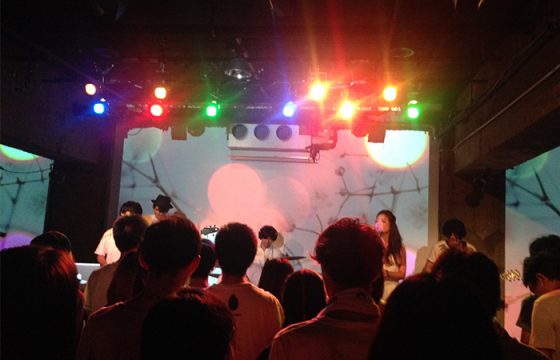 After that warm and fuzzy feeling ESME and Funwari-chan left us with, everyone was ready to enter into sasakure.UK's apocalyptic soundscape. He entered the stage wearing a long white blazer, making him look like a scientist, a sonic scientist!. He only uses on stage an MPC and parts of an electronic drum set, he plays both skillfully switching from one to the other.
sasakure.UK started his set with "Prologue", which is his usual way to introduce the audience to the story he will tell through his songs, let's not forget that sasakure.UK is an audivisual storyteller that engages his audience with a message to be discovered in his songs. He played "オーロラを食べた子", this is the first song from LostPirika Album, this song was followed by "Patchwork Eden" featuring Gumi, from his 3rd album The Fantastic Diagram of Future Playdreams, this pico popish song made the whole audience dance to the rhythm of the catchy cute vocals. Soon after, the intro of "Mr. Wonderland" started to play and everyone went crazy, this faster chiptune song has a very funky bassline, you can't help moving along.
Earlier this year, producer sasakure.UK collaborated with singer and songwriter lasah in an mini album that was released on September 14th called "CLOCKWORK ALPHA". This is why sasakure.UK invited on the stage miss lasah, and both performed together a preview of the upcoming mini album, starting with "ネジ巻き師と太嘘鳥". lasah's voice and way of singing is jazzy and soft, this song was followed by "2 HAL 9000" which is from lasah's first solo album Innocence, this song was written by her fully in English, and she sang it with a breathy beautiful voice. lasah left the stage but the jazzy beat didn't, as sasakure.UK peroformed his instrumental hyper fast jazzy song "bAd Companyz".
After all those intenese tunes, sasakure.UK performs "Little Cry of The Abyss" a softer dream pop song, followed by the very popular "Anti-Gravities" featuring Gumi. Then it came another favorite, "Spider Thread Monopoly", a pop ballad, with a beautiful piano melody, this is one of his masterpieces. This song is inspired by "The Spider's Thread" (蜘蛛の糸 Kumo no Ito) which is a 1918 short story by Ryūnosuke Akutagawa. "MillionGhostWander" started and everyone pumped up to the rythm of the percussion that sasakure.UK plays live, defenitely this is one of his most interesting songs.
Later he played "Our 16bit Wars", "Tiger Rampage", "LaLaLa Doomsday" and "Wanderlast". sasakure.UK finished his set with "Hello, Planet" from his first album featuring Hatsune Miku, this song has a very well-done combination of contemporary piano and digital instruments that never seems to go against each other, instead, they blend in perfectly making a dream-like atmosphere.
---
PinocchioP Performance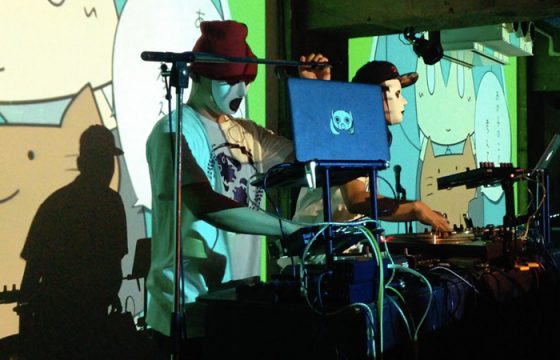 Then it was PinocchioP's turn, who entered the stage together with DJ PinocchioP MK-2 wearing their usual white masks. They started off with "At the Mercy of Emptiness" a song that have a 90s feel, heavy on the guitars and slap bass. Later they played "Motivation is dead", with a solid BGM and one of the catchiest chorus, here PinocchioP sings along Hatsune Miku repeating enthusiastically: From the moment we are born, we die.
The percussion of "Nice To Meet You, Mr. Earthling" blended well with the rest of the synths. Miku sounds so crisp in this song. The way the percussion was composed for this song definitely leaves a deep impression on the listeners. It was followed by "Tonchinkan Feast", a chiptune-esque track with a super fast vocalization from PinocchioP, he took the mic and stepped in front of the crowd. The audience kept singing along to the lyrics enthusiastically. The audience knew well "All I Need are Things I Like" which is another chiptune-esque anthem,
that sounds like mini-game BGM while Miku is going full speed singing, this was followed by "Crappy Fantasy Days", "動物のすべて" and "Antenna".
The highlight of the night was definitely the song "It's Matsuri, Hey Come On!" This particular song is loved by most of PinocchioP's fans, and it became a bit of an anthem for summer, the chorus is that great, it sticks on your mind for days, this song has an interesting progression on the vocals, the audience loves screaming at this song. The last song was "Slow Motion", another favorite, this one is more like a rock track. PinocchioP knows exactly how to engage the audience, he went forward to face the people singing along and jumping to the song. This whole performance put a big smile of people's face and made everyone hyped.
Wow, Hatsune Miku never sounded so deep and emotional. PinocchioP really knows how to make her sing wholehearted, she had like a what-a-crappy-world aura.
Music-wise, both, sasakure.UK and PinocchioP have unique composition skills, one song is different from the other. I enjoyed all of them, from the dark and deep songs, to the more danceable and poppish ones.
Outro: Concert's Over, but the Music and the Images Kept Running in Our Minds for Days
This concert was an amazing audiovisual experience. Every song was accompanied by its visual interpretation projected on the wall behind the musicians, so the audience had a lot to look at: the artist executing their sound and the background displaying colorful characters in an animated world. Also, we could read the lyrics! As most of them were shown jumping on the screen in very original fonts. The visuals were really very creative; some of them combined animation with real life images. It was impossible to ignore the pictures running behind the artists, they really added something special to the songs; the atmosphere, the mood, and bits of a story.
We strongly recommend to check out sasakure.UK and PinocchioP's music and videos, they both send a direct and interesting message through their lyrics and composition we all can relate to. PinocchioP's catchy, complex songs have the capacity to get you hooked and thinking much more deeply than you might have expected. And on the other side, sasakure.UK creates such adventurous melodies that take you on an emotional trip.
I want to be featured in a vocaloid song, singing side by side with the beautiful Hatsune Miku
Can you even sing?
Everything is possible in vocaloid world, I'm sure sasakure.UK or PinocchioP will make of me a hell of a singer.
LOL! Can't wait to listen to your voice!